back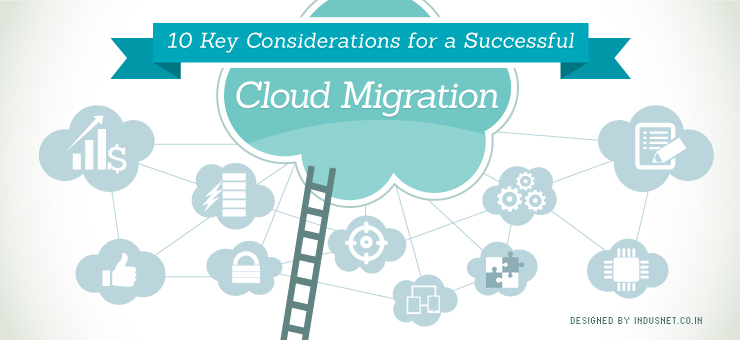 General
10 Key Considerations for a Successful Cloud Migration
Traditional businesses are often weary of moving their business to the cloud. After all, there is a mixed perception about the flexibility, safety and customization offered by cloud services. Every business has a different set of needs and complexities. Following considerations will help you to successfully move your business over cloud servers.
1. Cost-effective scalability
On-site ERP systems cost a lot of money in maintenance and expansion. For a growing business, it becomes almost impossible to bear the operational cost. Cloud services are the best solution for growing small-scale businesses. But many businesses are reluctant to shift to cloud because of unawareness, fear of losing business, high turnaround time and effect of migration on their existing system.
Depending upon the modules you use and the number of users, you may be required to change the capacity of servers, hardware and software. Most of the cloud service providers allow you to manage the scale of your business. Your existing resources can be scaled up to accommodate increasing requirements of your business. Check with the vendor, the ease of expansion without having to make expensive changes to the system. Choose the service provider who understands your business needs and bends accordingly.
2. Compliance obligations by vendor
Off late, serious problems in the IT infrastructure have become talking point in the industry. Sensitive corporate data is being blatantly shared with a third party by service providers. The critical business information is vulnerable to system crashes with poor back-up plan for restoration.
The companies end up spending a lot of money on third party security applications without getting expected returns. Clearly discuss the security measures taken up by the vendor and the accountability in case of system failure or data hacking.
Assess a series of cloud providers on the basis of their frequency of conducting penetration and vulnerability tests. Evaluate the level of certifications granted to the service provider. Insist upon them to provide unconditional co-operation in complying with your own audits.
3. Effect of server crash
Server crash can happen because of various reasons like technical glitches, virus attack, hacking or any other malaise by notorious attackers. In any case, your business data is vulnerable. Discuss the impact of such crashes on the continuity of your business. What is the system turnaround time?
Many companies are considering having multiple vendors to lower the risk inflicted upon them by depending upon a single provider. The nitty-gritty of data recovery and back-up plans need to be worked out. You need to also decide what information is stored on the cloud. Critical information can be stored on in-house servers while the rest can be laid upon the cloud.
The Amazon cloud server crash three years ago had a catastrophic effect on many companies who permanently lost some of their customers' data. While many providers assure data back-up, they, usually, back up the data in another system on same location, which is practically of little use. The ultimate data back-up plan is one stored on multiple independent locations in real-time.
4. Security across the enterprise
Cloud computing security is a necessity when considering a vendor. A complete audit of the cloud vendor with the help of an IT professional needs to be a part of company's selection process. Basic security like encrypted data and two-factor authentication are the bare minimum measures to be taken by cloud vendors.
Have a thorough assessment of existing and new applications in your organization. This is important to know the possibility of application development in the cloud environment. All cloud-based applications need to be mapped distinctly to know their overall strength to integrate with the cloud.
They need to also undergo deep scans to know the level of vulnerability. Understand the risk associated with open-source software as they can have issues like lack of source code; and by using security solutions from cloud vendors, you can mitigate such risk.
5. Alignment with business goals
In comparison to on-premise ERP systems, cloud computing helps you to tune your investment in a more value-driven way. On-premise systems involve a certain element of fixed cost, which eats away a significant portion of your IT budget without actually generating value for your business. On the other hand, with cloud, you are able to increase the responsive time of the system to your business.
Benefits generated are significantly high as there is little investment required on hardware, software and project implementation. Despite all the benefits listed, you need to find out whether moving to cloud is suitable for your business goals because there are certain threats and compatibility issues related with cloud.
There is risk of data breaches, data loss, hijacking, insecure APIs and abuse of cloud services. Furthermore, cloud systems offer a lot of limited flexibility and customization as compared to on-premise system. Is it really going to be suitable for your business?
6. Support on multiple devices
The organizations, which plan to migrate to cloud services today look much ahead. You have to make sure that cloud applications are available for different operating platforms like Windows and Mac. It needs to be easily accessible on smart phones, tablets and other internet-connected gadgets.
The most common mobile platforms include Android, Windows, iOS and Blackberry interface. Provided your organization follows BYOD (Bring Your Own Device) policy, a multi-device access increases the efficiency of your organization as employees can access the cloud services through the device of their choice.
It keeps your services and work active on the go, especially, if you have a significant chunk working as mobile workforce. The usability of cloud services needs to be excellent on various devices accompanied by responsive design and full-feature access.
7. Ability to provide a complete solution
An ideal cloud service provider needs to be able to provide you with planning, budgeting and forecasting solution as well. Advanced cloud services like Oracle offer self-service business applications delivered on an integrated development and deployment platform with tools that rapidly extend and create new services.
Such solutions allow the business user to manage the solution directly with no IT involvement. The plans and budget created across the organization can be aligned with a cost center plan. This makes it easier for owners to have a comprehensive view of organizational planning strategy and make amendments accordingly. Impact of changing key plan assumptions can be instantly reviewed making the entire planning process easier for the management.
8. Type of cloud : Public, private or hybrid
A public cloud hosts data of multiple tenants. We already know the risk associated with public clouds. Because of huge amount of data available from various companies, public data centers are a target for many hackers.
But it is definitely available at a low cost and the cost of security measures taken by the cloud service provider are offset by multiple users. In private cloud, though you are using cloud services, the data is stored on your own server so that your information does not go to third party.
But the cost of maintenance goes up for your company with high investment required in data security. The best option, which many businesses are considering is hybrid solution where critical business information is stored in private data centers while the rest is stored on public data centers.
9. Hardware compatibility
Hardware compatibility is a must to operate your services on cloud, especially, when you are maintaining your own data center. Cloud data center needs to support self-service provisioning of resources so that the capacity is added only when you need it.
It needs to know where its data needs to be located to manage the workload efficiently. Traditional models have a lot of software linked at system level while in clouds, it is very limited to increase the operational efficiency.
10. Content management and governance by vendors
Cloud service providers are often faced by challenges of content management and governance in accordance with regulations specified by Government in different countries. Smart routing devices allow business owners to store their data at a location of their choice. This is important for organizations that are operating globally.
It allows companies to mark their data and use an intelligent cloud management system to store files in the appropriate location. So, if a business wants to store its entire customer related information from a particular country in a specific server, the associated files are marked accordingly and the system ensures that files are stored in correct location.
Subscribe to our Newsletter