back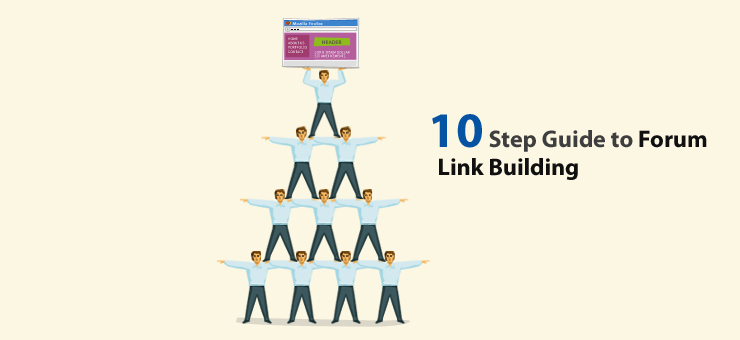 SEO
Strategy
10 Step Guide to Forum Link Building
Forums are a great way to make sure that you are getting the links that you need the most. High quality links can actually come from forums both directly and indirectly. It is possible that forum members link your post and link back to your from a higher authority website they work for, or own. It is also possible that the high PR forum itself will link back to you. Though it sounds very attractive, it may actually be a bit difficult for novices. Here are 10 steps for successful forum link building.
Step 1: Search for Relevant Forums
It is important to make a list of forums that are related to your chosen or identified niche. It goes unsaid that you must not engage yourself in link building activities on forums that are not relevant. The easiest way to look for forums within your identified niche is to run a Google search. All that you would need to do is type in your identified niche + forums. For example: logo design forums, if your niche is logo design. Several forums will appear in the search results and it makes sense to visit each one of them and assess their relevance and also make sure that these forums are active.
Step 2: Short-listing Forums to Target
Once you have a list of forums derived from your search results, it is important to eliminate forums that may not be relevant, active or useful. This requires a little time and you will have to individually visit each forum and check for consistencies and relevance. You must make sure that the links are all from do-follow forums. You must remove any forum that may contain pornographic material. Also, if you suspect a forum is spamming, take it off your list as well. Forums with hateful, provocative and racist comments need to be avoided as well.
Step 3: Register and Introduce Yourself
Register on every forum that you have shortlisted and introduce yourself honestly. Tell the members who you are, what you do for a profession and why their forum interests you. Be as subtle and classy as possible, but try to be intelligent in your remarks. Initially, instead of typing in lengthy self-important forum posts, it makes sense to acknowledge other members' posts and appreciate their posts with compliments and thanks yous.
Step 4: Begin Slowly but Participate Effectively
Do not start posting on the forums with a bang and do not leave links all over the place. It might get you banned or people might just ignore you. Instead, start slowly and engage fellow-members in conversations that are genuine. Actively and effectively participate in existing forum discussions and share your opinions and tips.
Step 5: Be Resourceful and Helpful
The next step is to actually provide members with tips, suggestions and valuable lessons in the niche area. You might want to share links that direct to neutral and third party websites before sharing your own links. Do not promote your website or blog hastily but take a slow and prudent approach.
Step 6: Forum Signature Links
Every forum allows its member to have a unique signature. This signature space can be used for promotional purposes but in a subtle way. Always have a link to your website or blog as a signature and that helps in building SERP. It is a well known fat that forum backlinks increase SERP. Moreover, it also helps in getting referral traffic.
Step 7: Build Brand Awareness
Once you have established yourself as an authoritative, genuine and knowledgeable member, begin to build your brand pretty much the same way as you would amongst a group of people in a real-life social situation. Share information, resource and also why your products or services need to be given attention to.
Step 8: Targeting Anchor Text
On forums, you may target any target text and engage in deep linking. The links would be ready with the post almost immediately. Sometimes, the links may need to be approved by a moderator but usually they don't have to be. These links can be used to drive referral traffic.
Step 9: Foot in the Door Theory
Always give something for free, and present your promotional offer soon after. This psychological method of getting people to do what you want them to do derives from the belief that when you ask for something little and they oblige, they will also be obliged to do something bigger than those who weren't asked to do the smaller favor. Thus, offer valuable resources, information or services for no cost at all. Once you build your subscriber list, present your promotional plans and offers.
Step 10: Clarity and Relevance of Keywords
Use your keywords and keyword phrases in as many posts as possible. However, do not overload your forum posts with keywords and keep them clear and relevant. Use them only when required but do build your personality on the forum around your niche keywords.
Subscribe to our Newsletter