back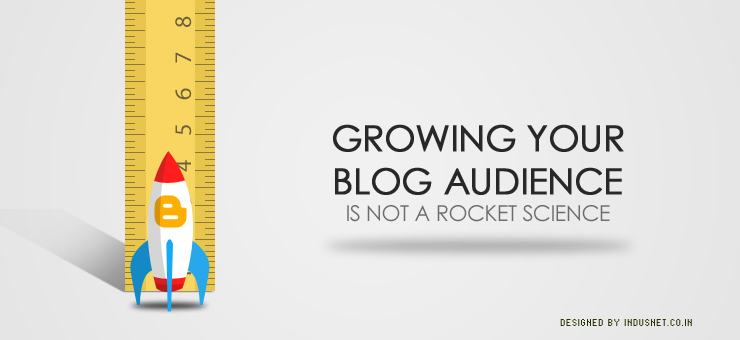 Content Marketing
Digital Marketing
SEO
Growing Your Blog Audience Is Not A Rocket Science
Whether it's blogging about leaders or blogging about your favorite food joints, writing great stories and publishing them in your blog does not carry any value until they are exposed to the outer world. Do you know blogging can do a lot of your marketing effort? It can drive traffic to your website and help you capture leads. Provided you know the right ways, it can expand your reach to an extended network of individuals. Your blog can help you connect with people without spending any additional marketing dollars. All you need is a right strategy and not luck as many believe.
Today's blog post aims at focusing on your efforts to gain attention of people and help you to grow your blog.
Quality is the King
A blog post may contain 2,000 words or 4,000 words. Well, that's quite a lot of text. To add to this, it should also have screenshots and images. However, only if the content has valuable information to impart, you're bound to get traffic on a consistent basis. Most importantly, consider writing the hot topic of discussion in an extremely detailed manner so that no one dares to copy you. But of course, editing remains a crucial part.
Conversational Tone of Writing
By making your blog post sound like conversation, instead of an essay, you're actually inviting more audience to read your content and encouraging them to comment naturally. The simple ways to bring in a conversational tone is by:
Using 'you' and 'I' within your content
Keeping the paragraphs short and to the point
Using common words
Asking questions in your blog post and solving readers' problems
Respond and Build a Fan Base
If you're thinking that why would anyone want to be your fan, you need to immediately stop thinking that way. Reciprocate and build your blog fan base. How often do you reply back to the comments on your blog? Comments are a great way to increase your readers' loyalty. If people comment on your blog on a consistent basis, it means they're reading your content and they're more likely to share it via social platforms. Also when your readers email you, are you taking out the time to email them back? If not, it's high time you start caring about your readers and help them as far as possible. They'll certainly come back.
Syndicate Your Content to Third Party Publications
Third party sites are usually cited by a variety of people quite frequently. Therefore, syndicating your content to these sites will have a higher likelihood of getting more social shares. These sites can better expose your company, links, name and thought leadership to a wider spectrum of audience and turn steer more people back to your own site. However, you need to find sites that have high traffic and social sharing numbers and whose subject matter is relevant to your brand and content strategy.
Promote Your Content
The best way to grow your blog audience is to promote your content through different channels. Do not stick only to social media to share your post. You may email your list and reach out to influencers in your niche or pin the shares of your post either in your Facebook page or Twitter profile. You can also use social media advertising to promote shares of your blog post.
Content Publication on a Consistent Basis
Writing one or two content a month can never increase your fan base. It is important to write and publish content on a consistent basis. One blog post should get published at least once a week. If your readers are expecting a new article every week, don't disappoint them. Give them the confidence that if they visit your blog, they'll be greeted with a new content.
Use Forums
Forum like Quora is an effective way to drive relevant and targeted traffic to your blog. Search for questions and topics relevant to the subject matters you had covered and answer them with valuable information. If possible, add a link back to your appropriate blog post. Remember not to include a link forcefully. This helps establish you and your blog as a trustworthy and useful source of information.
Link Other Relevant Sites to Your Own Post
Readers, bloggers and even search engines appreciate valuable links. When your own material in-content are referred in such a way that is not manipulative, you automatically draw visitors to your content. Besides, it is always valuable to refer content of others, especially, the high quality sites and great content. When the site owners get to see that you've linked to their content, they'll also reciprocate in the future.
Guest Blogging
Another best way to get your name or company's name in front of a broader section of audience is through guest blogging. Make a list of relevant blogs who have the best crossover with the audience that you'd like to connect with. Now, start reaching out to the bloggers or editors who are most willing to accept high quality, free content on their site. Pitch in the specific blog topic ideas in your first inquiry email. Send a brief synopsis of what you'd write about. However, make sure you write all original content for any guest posting you do.
Build a Strong Social Media Profile
There are tons of social media networks that you could potentially use to market your blog. Most of the social media channels also have paid options that allow you to market to targeted individuals. Promote the best work through paid amplification including PPC, influencer outreach, social ads and different social networks. Community building is an art, what works for one community may not work for another one. Therefore keep engaging and optimizing your social efforts for the best outcomes.
There is no rocket science behind growing your blog traffic. A few simple strategies should be able to get you visitors more than you expect in a month. So, why not give it a shot?
Subscribe to our Newsletter