back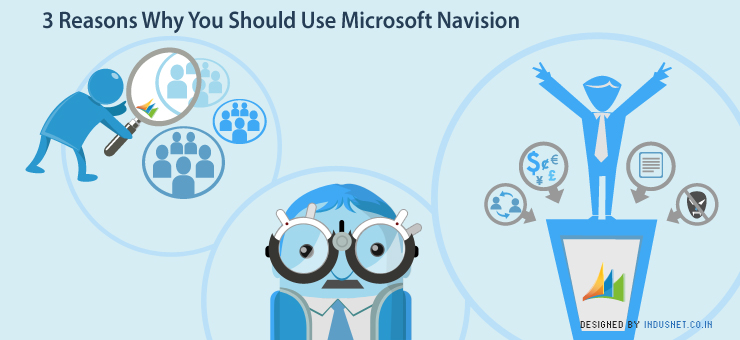 Emerging technologies
Technology
3 Reasons Why You Should Use Microsoft Navision
It is no secret that Microsoft Dynamics NAV (formerly, Navision) is one of the most efficient ERP systems around. It has helped thousands of enterprises to integrate financial management, manufacturing, business intelligence and reporting, supply chain management, sales and marketing, HR management, project and service management and other processes which are usually treated as different departments in most companies.
Microsoft Dynamics NAV enables companies to integrate these various processes under one comprehensive software program, save money, time and become more productive and efficient on the whole. However, we still get questions asking why a company must choose Microsoft Dynamics NAV. We have put together a list of reasons why Microsoft and we think that Dynamics NAV is one of the best enterprise resource planning systems around.
Gaining Control over Different Processes and Department
The first thing that Microsoft Dynamics NAV does is integrate the various functions of your company. It increases the insight level of managers and administrations and helps them to actually know what is happening within an organization in its purest definition. It increases visibility and makes managers confident about taking the right decisions and streamline operations.
Financial management will not seem as threatening as it did earlier, and thanks to a great user interface and built-in workflow charts, you will be able to make better financial decisions. Microsoft Dynamics NAV helps administration and managers to look forward, instead of looking backwards.
The software comes with self-service reporting tools and real-time business intelligence which at the end of the day are required to make informed decisions. With a clear view of what is happening in your business, you will be able to address current issues and prevent future problems. Moreover, the detailed audit trails and transaction history will ensure there are no loopholes in your accounts.
Microsoft Dynamics NAV Helps You Increase Margins
When it comes to running a business it is all about increasing margins. Increased margins not only help a company to make more money, but also increase investor confidence and boost stock price, if you are already a listed company. By allowing you to get a clear picture of what is happening within your organization, Microsoft Dynamics NAC helps you to make smarter decisions and increase operating margins.
When your margins increase, your cash flow increase as well, giving you more operating cash flow to run your business and make wise investment decisions. If you are looking for improving your fundamentals including management effectively in terms of return on sales and return on assets, NAV helps you to increase your profitability eventually.
Moreover, Microsoft Dynamics NAV helps you to cut operational costs and minimize errors, which are very important if you want to improve your fundamentals. The coolest thing about Microsoft NAV is that it is a great software program with an amazing UI which allows you to automate key business processes. There is nothing more important than being able to analyze financial data easily to identify trends and then take the necessary action to increase overall cash flow.
Microsoft Dynamics NAV Helps Companies Grow
All companies want to increase growth and success. Microsoft Dynamics NAV ultimately helps you to grow as a company and as a professional. It increases profitability and adjusts as your company grows in its own way. Whether you connect with people on the desktop through SharePoint, over the Internet, or with the help of instant messaging, email and voice, Microsoft Dynamics NAV allows you to transform the way you work with people and connect with them.
It helps you to choose the right deployment action, and provides you with greater facility with regard to IT systems. Multi currency support, flexible accounting processes and increased knowledge about risks help you to grow your business without encountering any of the negative side effects that come alongside running a business.
It is safe to say that Microsoft Dynamics NAV is one of the best ERP systems around and it will help you to integrate various functions of your business under one easy software program. It is an affordable and wise decision to install Microsoft Dynamics NAV. If you are unsure or want more details, you could contact one of our professionals who are specials in ERP solutions.
Subscribe to our Newsletter