back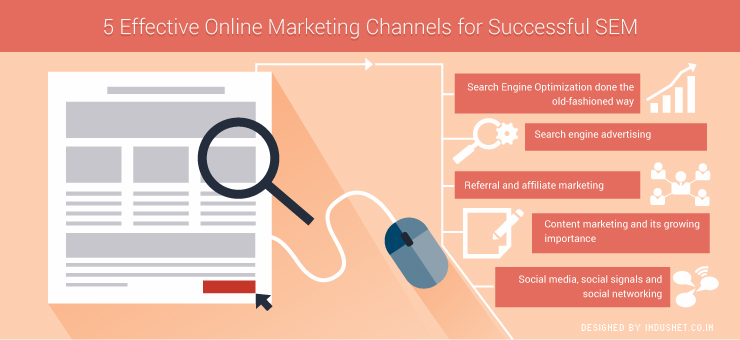 Digital Marketing
Internet Marketing
5 Effective Online Marketing Channels for Successful SEM
An online marketing channel can either make or break your search engine marketing campaign. It is important to know what one is getting into and which channel is most suited for one's needs. On this note, it makes sense to familiarize oneself with the five most important online marketing channels that have been around for a while, and that which refuse to vanish from the face of SEM.
These online marketing channels ensure that you have a good traffic driven back to your website. They also ensure that you get the kind of traffic you are looking for. In this article, let us take a look at five of the most important online marketing channels which help in optimizing search engine marketing.
1. Search Engine Optimization done the old-fashioned way
Organic SEO depends on good quality content and ethical SEO practices. This means, fixing your meta-tags, adding images in the right places, fixing broken links, weeding out spammy backlinks and ensuring that the website is administered well. It also means that you will often need to maintain the website so that error pages, slow browsing and other problems are weeded out in order to boost traffic. Organic SEO is still one of the most important sources of traffic and it is known for its high quality leads.
2. Search engine advertising
Advertising on Google, Bing, Yahoo! and other search engines are very important to divert traffic. Paid advertising is a tried and tested online marketing channel that ensures a high rate of success, when it comes to driving traffic. There are different kinds of paid advertising and you could choose the one that will best suit your company and its products. Pay Per Click, Pay Per Impression, Cost Per Lead, Cost Per Action and other forms of paid advertising have been around for a long and will continue to be so.
3. Referral and affiliate marketing
Affiliate marketing is still one of the more reliable forms of SEM. They can be particularly useful for retail ecommerce. Performance-based marketing can be very useful, and, as it makes use of the Internet to get referrals, it is one of the cheapest and most effective forms of search engine marketing (SEM). Another way of getting traffic and leads is through referral traffic. This involves capitalizing traffic that arrives from other blogs and websites. This kind of traffic depends on a number of factors and one needs to work constantly on nurturing those referral sources.
4. Content marketing and its growing importance
This is one of the most important forms of online marketing channels today. While it is not as obvious and in-your-face as a banner ad or a PPC campaign, content marketing builds referrals and helps you with organic SEO as well. In the long term, publishing great content and marketing it to the right target audience will help you to crystallize your authority and thus gain a higher SEO ranking. Ultimately, content marketing is one of the most important channels of SEM and this phenomenon is only likely to grow and increase further.
5. Social media, social signals and social networking
With the advent of social media marketing and with Google placing importance to social signals, SEO professionals have realized the importance to marketing on social networking sites in order to boost SEO. Facebook, Twitter and LinkedIn have all proven to be important platforms to market online. All of these social platforms offer various advertising options to companies. Moreover, being active on these social platforms will help to build audience organically, which place an important role in ensuring that you rank high in search results.
Looking forward
Every business wants traffic that could probably lead to more sales. This means, we need to channelize traffic from sources that are reliable and targeted. We must remember that all channels are not made equal and, some channels may work great for some, while others may not work at all for someone else. With this in mind, the 5 tried and tested online marketing channels we discussed above will surely boost traffic to your website and help you with your SEM, no matter what kind of business you run.
Subscribe to our Newsletter