back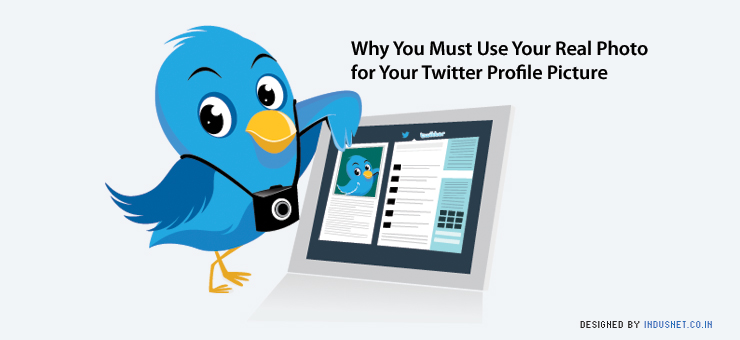 Internet Marketing
Marketing
Why You Must Use Your Real Photo for Your Twitter Profile Picture
Using Twitter is undoubtedly the first step a company or enterprise would make towards digital marketing. Twitter is undeniably the most important social media tool out there and probably the most efficient of them all. An often neglected aspect about Twitter is the profile picture, which shows up each time you tweet or engage in a conversation.
Why Is a Twitter Profile Picture Important?
Psychological research has consistently proved that profile pictures can elicit subliminal responses among users which can make or break initial opinions. With this in mind, Twitter users must ensure that they put their best foot forward. The profile picture helps you and your brand to be recognized by even those who do not follow you but read your tweets when someone else tweets you often. Thus, a Twitter profile picture is crucial to brand identity and personal identity of the Twitter user.
Should You Use Your Real Photo?
Most people tend to wonder what the Twitter profile must be, and if it should be a real picture. The answer is, yes. A Twitter profile picture has to be your real picture and must clearly be the photo that you would choose to best identify with.
Twitter Profile Pictures of Companies and Organizations
If we are talking about an official Twitter account of a company, one can either use the logo as the profile picture or the picture of the company's headquarters, especially if the building is classy enough. However, if the office space is rented and if you plan to move your headquarters soon, it may not be a great idea to upload the picture of the actual location. In such a circumstance, it is best practice to use the logo of your company or enterprise.
Twitter Profile Pictures of Individuals
If you are an employee or have a Twitter account that is professional/personal but is not the official Twitter account of a company, you must your clear face picture as your Twitter profile image. This is extremely crucial in ensuring trust, confidence and reliability among your followers. A person who uses graphically designed images as a Twitter profile picture will have less credibility and may even be mistaken for spam. For this reason alone, it is important to use an image that clearly shows your picture in a professional and stylish manner.
How to Choose the Best Twitter Profile Picture?
You do not have to hire a fashion photographer to set up your Twitter profile picture. You could just ask one of your friends or colleagues to take your picture on a Smartphone against a professional looking background. You need to make sure that you are dressed in formal attire and not a T-shirt, as that can send a message of you being sloppy or laidback. No one who wants to project an image of professionalism should wear a t-shirt and take pictures for their social media profiles. This doesn't mean you need to wear an expensive suit for your picture, but that you should wear collared shirts and be clean shaven (if you are a man).
The key is to appear as trustworthy and professional as you can. Twitter users do judge you by the way you look, and it is crucial for you to ensure that your followers think you are professional. No matter how much we try to deceive ourselves, the way we dress and carry ourselves leave lasting images.
Creating a Professional Twitter Persona
Carl Jung spoke about persona, which is an image that we use to hide our real identity. This persona need not be a fake one and must in fact be the best image you can portray to your followers. Your Twitter persona should thus elicit positive responses and should encourage people to follow you.
Whether we like it or not, many people follow or unfollow us based on how our profile pictures look. We cannot afford to lose even those biased followers who may one day turn out to be prospective customers. The key is to appear as professional, pleasant, and appealing as possible and avoid images that hide the person you are. It is one of the simplest actions that could catapult your Twitter account to success and all it takes is a professional looking profile picture.
Subscribe to our Newsletter