back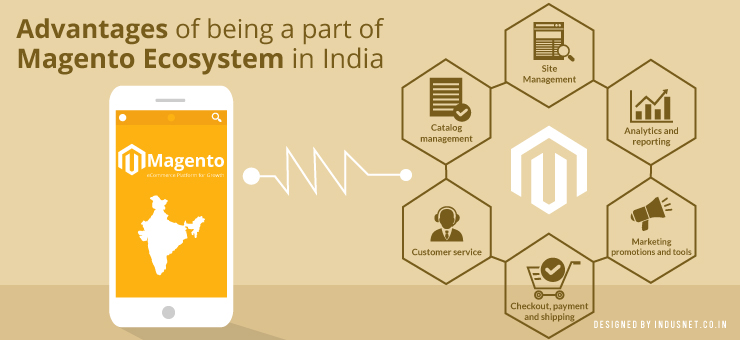 E-commerce
Advantages of being a part of Magento Ecosystem in India
Magento is an open-source content management system specially designed for e-commerce web sites. This magnificent software was developed by Varien, a US based company and was launched in March 2008. According to research done by aheadWorks in October 2014, Magento's market share among the 30 most popular e-commerce platforms is about 30%.
Magento is a resourceful platform with a flexible cart system, gives the website owner good control over the look, content and functionality of their e-store. It acts as a powerful marketing tool, facilitates search engine optimization and catalog-management tools. It is available in various editions ranging from open source to large-scale enterprise SaaS based systems.
Why companies must choose it?
Magento has been specifically designed keeping in mind the need of e-commerce businesses. Businesses of all sizes use Magento to their advantage. Some big names using Magento include Samsung, Olympus, Men's Health, Nestle, Nike etc. Though WordPress and Drupal are the closest competitors of Magento, over the years Magento has formed its niche as e-commerce.
Magento has a lot to offer as it is highly scalable by allowing e-store owners to host few products to thousands of products. A number of plug-ins and themes are available to enhance the customer experience. Though every e-store needs to be configured according to the needs of the business, Magento is always a great choice when it comes to custom functionality. Following are some of the most important reasons to use Magento-based e-commerce website.
1. Open-source CMS
The best thing about Magento is that its Community Edition is available for free. It is can be installed and exploited the way you want to. New features can be added to achieve required functionality by installing Magento extensions which are easily available through Magento Connect. A huge developer community across the world is constantly working on it to improve the security, usability and experience of the users on a Magento website.
2. E-commerce is the USP
Magento is considered superior than all the leading CMS today as its e-commerce solution is the best with hoards of features and specifications suitable for a fully functional website.
3. Scalability
Magento website can be scaled up or down depending upon the customers being served or the traffic on the website. The demand for scalability rises with the growth of the business and Magento always lives up to more than your expectations.
4. Remarkable performance
A Magento website guarantees high performance especially high page load speed, query processing and related performance parameters to make sure that visitors don't abandon the website. These parameters play a key role for any website especially when the share of traffic coming from mobile devices is increasing rapidly. Furthermore, Magento utilizes high-end caching techniques like Varnish so that e-commerce companies are left with no reason to grumble about.
5. Flexibility
Magento enables the website designers to create unique user experiences irrespective of the device they use to access the website. Magento is a flexible platform enabling you to add customized back-end workflows to meet specific business requirements. The look and performance of your website are in complete control.
6. Multi-tenant capability
Magento is highly capable to create multiple online stores. It gives you full control of your inventory, billing, customer information and records from a single admin dashboard.
7. Seamless integration
With Magento, you don't have to worry about third party integration. It is enabled to integrate seamlessly with payment gateways, database applications, shipping services, tracking, customer orders and so on. Integration makes the whole transaction process very smooth, starting from user placing the order till the fund transfer to your bank account.
8. Magento is SEO-friendly
Magento website had to be SEO-friendly considering that it is used specifically for selling products. Every Magento website has set of preloaded features like search engine friendly URLs, site maps, layered navigation, meta-tags, meta-descriptions etc.
9. Mobile commerce friendly
Mobile shopping is on the rise, thanks to the growing internet penetration and increase in the number of smartphone users. Magento incorporates multiple HTML5 capabilities to facilitate incredible shopping experience for mobile users.
What are the various features of Magento CMS?
Magento is the fastest growing CMS in the market for e-commerce websites. It is a feature-rich CMS platform broadly subdivided into Magento Community Edition and Magento Enterprise Edition (includes exclusive features).
Following are some of the features of Magento in general:
1. Site Management
It gives you the ability to control multiple websites and e-stores from a single administration panel. The amount of information being shared is completely under the control of store owner. It has a robust administration permission system to a lot specific roles to the users in the organization. It is equipped with various APIs to make third-party integration simple. A number of design templates make it easier for the designer to customize the website. Content can be managed easily with a click of a button. It also enables the store owner to conduct A/B and Multivariate testing with Google Website Optimizer.
2. Analytics and reporting
Magento is integrated Google Analytics to keep a track of visitor metrics. It helps the store owner to generate sales report, enable RSS feed for new orders, generate tax report, abandoned shopping cart report, best viewed and best purchased product report, stock report, total sales invoices and total sales return and a lot of other benefits.
3. Marketing promotions and tools
Magento is quipped to conduct polls and newsletter management. It provides you with a landing page tool for managing campaigns. It enables catalog promotional pricing and flexible coupons aligned with stores, product categories, time period and target customers. Magento offers you free shipping, and bundled product options. Multi-tier pricing for bulk discounts is another sought after feature of Magento. Magento facilitates up-sells in shopping cart and cross-sells on product pages. Sending wishlist to friend via email or RSS and new items promotional tool are all part of Magento's marketing ability.
4. Checkout, payment and shipping
Magento enables to have single-page checkout. It is integrated with Amazon payments and multiple PayPal gateways, Google Checkout, and Authorize.net. It enables the customers to save credit card details for making offline payments. Shopping cart also includes tax and shipping estimates. It gives the ability to the user to save shopping carts. Magento provides a high security SSL support for both front-end and back-end orders and it can process multiple shipments per order.
5. Customer service
Magento CMS is enabled to provide a great customer service. Order history can be viewed with status updates. Users can view recently ordered items, save default billing and shipping address. They can even add comments to their wish list. Customers can easily submit product reviews and tag products. Apart from that, they can manage personal information and newsletter subscription.
6. Catalog management
Catalog management is user-friendly in Magento. Store owner can easily manage the inventory containing backordered items, minimum and maximum quantities. They can do batch import and export of catalogs. Batch updates to products can be done in admin panel. Magento is capable to create store-specific attributes in a matter of few minutes. Customer sorting is made easier by defining the attributes like price, brand, and product category.
Besides including the above features, Magento Enterprise Edition boasts of some exclusive features. They are as follows:
Recurring Payment Profiles
You can increase revenue with recurring payment profiles. It allows merchants to configure billing schedule, setup optional trial periods prior to billing the client and enables automated charging for subscriptions.
Gift registry feature allows you capture valuable customer data and customize settings for products and customers. Customers purchasing gifts can search for the registry by the owner's name, email or gift registry ID and Magento gives you the option of privacy settings.
Automated email marketing reminders
This amazing feature in Magento allows the store owner to increase customer retention by sending configurable, automated email reminders to customers who abandon shopping carts and wishlists. This further allows them to do targeted promotions based on the browsing activity of the customers.
The store owner can utilize this feature to implement unique programs designed to enhance user experience and improve customer loyalty. The reward points are awarded based on wide range of transactions and customer actions.
Conclusion
It is clear that Magento offers a number of features for online merchants. There has been a spurt in the number of online shoppers and Magento promises to offer the best experience. Furthermore, shops should start building websites using Magento to attract the new Indian consumer who shops with his mobile phone.
Subscribe to our Newsletter