back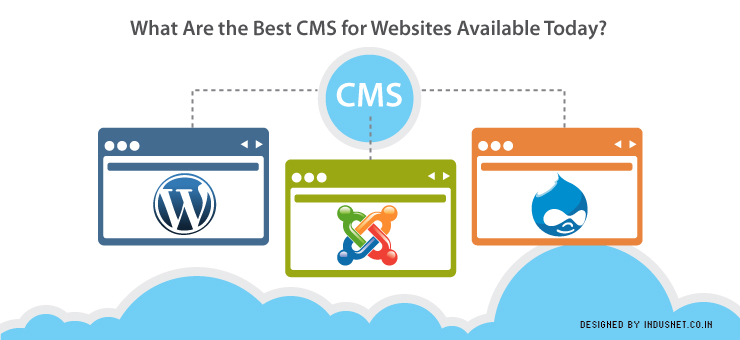 Web Development
What Are the Best CMS for Websites Available Today?
When we look at building websites using popular content management systems, we should look at what they offer to you as a business. The idea of having a website is to ensure that information is readily available and that certain commercial and interactive aspects can be carried out as well. When it comes to eCommerce websites or business websites, CMS platforms may not be of great help.
It is better to contact web developers who will focus on individual needs and build a website just for your need. However, if we are talking about a regular website that contains a blog, a few static pages and probably several sub-pages, we have only 3 choices that are worth considering. They are WordPress, Joomla and Drupal. All the 3 names are popular among web developers, web administrators and even those who run businesses themselves.
Sometimes, it may not even be necessary to contact a web developer to create a website using one of the hundreds of templates already available for WordPress and other CMS platforms. However, we need to understand what each of the platform offers and why one is preferred over another. In this article, let us take a look at the advantages and disadvantages of Drupal, Joomla and WordPress.
1. WordPress
There are many advantages of using WordPress. WordPress is a platform that is familiar to most of us and the learning curve is not very steep. Everything is self-explanatory and most hosting services offer one click installations. There are thousands of templates available for every need and each of those can be customized as well. Moreover, web designers and developers can personalize or even build a WordPress theme from scratch.
Some of the most important features of WordPress are that it offers multiple authors, something that is required by websites that look for a more magazine-like appeal. It comes with a huge plugin library for every need. It is user friendly and is very good for SEO. Moreover, it is also very flexible and easy to handle and manage. On the other hand, it has disadvantages like security deficits, incompatibility with older plugins, limited design options and content management capabilities are limited too. However, if you are looking for a simple website that is decent enough, WordPress is more than what you require.
2. Joomla
If you have been in the blogging and content business for quite some time, you will remember how popular Mambo was. Joomla was carved out of Mambo and is an open source software that functions better than WordPress when it comes to content management. It is user friendly but requires more learning than WordPress. It has a strong developer community who will help you each time you run into trouble.
The extension variability is impressive and is divided along languages, modules, plugins, templates and components. The strong content management abilities help Joomla to be more powerful than WordPress. It has several disadvantages. It is not very SEO friendly and requires a bit of learning. It comes with limited ACL support and can be cumbersome in the long term.
3. Drupal
Drupal is often known as the most powerful of all CMS platforms. It offers some of the best features and comes with very impressive SEO capabilities. It is extremely flexible and developer friendly. This enterprise friendly CMS platform is stable, secure and offers a lot more than just eye candy.
However, it has a number of disadvantages like having to learn a lot, with its steep learning curve. It also doesn't have many free plugins and the themes are never as attractive as WordPress themes are. However, one can always hire a professional developer and designer to customize Drupal themes in order to make them look more attractive.
No matter which CMS you end up using, you should always remember that it should be SEO friendly. That leaves us only with Drupal and WordPress. You may either choose the easier way by opting WordPress or hire someone professional to tweak Drupal for you. Either way, you will be able to maximize your content capabilities and ensure success in the long term. No matter what, WordPress continues to be the easiest CMS platform available right now.
To get an in-depth comparative analysis and a comprehensive guide on how to choose the right CMS for your business, download our whitepaper "The Big CMS Comparison Report" for FREE!
Subscribe to our Newsletter