back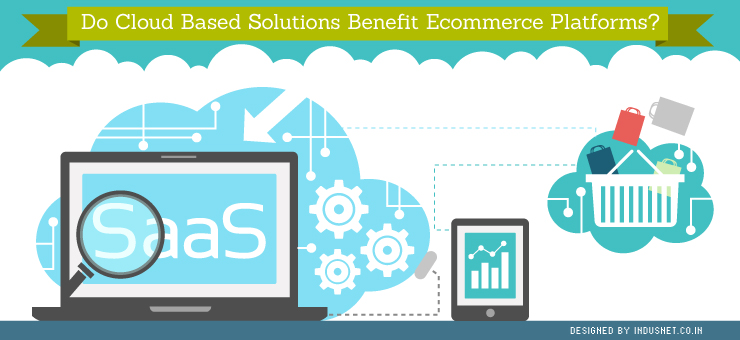 E-commerce
Technology
Do Cloud Based Solutions Benefit Ecommerce Platforms?
As the internet continues to democratize information, it has also not failed to revolutionize the eCommerce industry. With the advent of Software-as-a-Service (SaaS), eCommerce sector adopted the cloud technology to access big data, analytics and other applications online, from anywhere across the world. The industry implementing the Cloud Technology does not have to depend on physical server as they're hosted in the Cloud.
Why SaaS?
SaaS is affordable and easily scalable to drive more traffic. It also enhances the overall product sophistication and customer support experience. They are more technically advanced and capable of hosting global infrastructures. The majority of the SaaS platforms have come a long way in terms of feature richness and customizability. However, to start your store on SaaS, you have to sign up for the service, pay subscription fees in order to launch your website. At the most, taking everything into consideration, it takes approximately 30 days to start your store, as payment gateway integration might take some time.
Who does it benefit?
Companies Looking for Easy Automation and Assimilation
SaaS platform contains API, therefore, customer data, order data and products can be easily manipulated both through inbound and outbound automatically. Such a feature benefits the companies and enables them to develop customization in their ERP infrastructure and allowing them to keep the shopping cart lean and flexible.
Companies looking for Ecommerce as a Spoke and not as a Hub
If SaaS platform can be used in a broader scale making it connect to the back-office systems and turning it into a simple shopping cart, nothing could be better than this platform as it offers great economy and utility.
Companies Looking for Rich Features
Any SMB that wish to set up an online store quickly can highly benefit from SaaS platform. SaaS is ideal for organizations wanting to offload the hosting and management tasks of their eCommerce platforms with minimum expenditures.
Companies Looking for Great Customer Experience and Contemporary Design
When the entire platform is treated as a spoke in an ERP back-office project, SaaS can be redesign and reset in a short period of time. All large SMBs or mid-market companies should update their interface and think of redesigning their store every quarter.
How does it benefit your Company?
SaaS – Not only Flexible but also Scalable
SaaS flexibility allows companies to have complete access to not only the front-end features that are visible to the customers, but also to the complex back-end system integration. A company needs technology and direction to improve its infrastructure. An improved infrastructure always ensures to convert customers and increase revenue year-over-year. In this respect, SaaS solution takes care of the technology aspect and put experts on their toes, allowing them to redistribute their money to the different sections of their department in order to amplify the brand name and customer service.
The Solution is Time-Effective
Besides allowing for inexpensive maintenance, cloud-based solution is also time-effective. The majority of the self-hosted solutions, especially in the holiday seasons become unresponsive as they're unable to cope up with the consumer traffic demands. However, quality SaaS providers offer a whole digital suite to optimize your eCommerce performance. The service provides proper redirects and site hierarchies that make sense to Google's crawling bot and also ensures that their networks are capable enough to handle peak traffics.
Easy Access to Order and Customer Data
When an organization can access source code and database directly, they automatically get access to many other internal and external information in several ways, typically for back-up automation and integration purposes. This is undoubtedly, a huge benefit for larger organizations that believe in real-time data mining and want to have access to their own data whenever in need.
Proficient Security with Excellent Uptime
A SaaS platform always ensures that your store is up and running at top speed. The experienced professionals work hard to maintain a consistent and quality user experience for their clients. The larger SaaS eCommerce platforms enjoy a 99.99% uptime and which stay over many years. Also when it comes to security of a site, software updates and patches to address new vulnerabilities are the common elements required by an eCommerce technology. However, with SaaS solutions, these updates and patches occur automatically, allowing retailers to focus on their business.
Managed PCI Compliance
Credit card data management is a sensitive and time-consuming subject. Most importantly, managing PCI Compliance, which is a process of ensuring that an eCommerce platform is securely dealing with credit card information, is completely managed by SaaS providers. This complicated task should not be handled by any online retailer in order to prevent errors and confusions.
A Streamlined Overall Experience
When it is a matter of smooth checkout experience, SaaS platforms provide rigid workflows. They produce a frictionless checkout process, both on mobile and desktop platforms while performing professional A/B test. Also, the flexibility of easily modifying graphics, colors, layouts and updating themes on a SaaS platform allows the online merchants to stay up-to-date with the changing technology.
How to go about Creating Ecommerce Site on SaaS?
SaaS allows the required ease of getting a site up and running in less than 30 minutes. The basic steps involve
Sign up for the service and create an account
Connect the domain
Enter company information
Add shipping information
Choose the design template
Choose a payment gateway
Select a template
Add your business logo
Add your site content
Add a product
It is time to utilize the democratizing capabilities of the internet technologies to increase ROI and grow your business. You're ready to go with your eCommerce store on Cloud solution now. However, do not forget to include social media accounts, plan for email list, add additional products and promote your site.
Subscribe to our Newsletter