back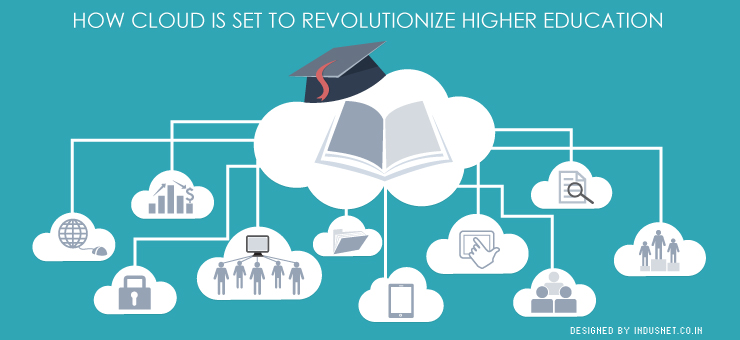 Web Development
How Cloud Is Set To Revolutionize Higher Education
Cloud computing, a revolutionary technology, today has empowered businesses and individuals to store, manage & process their data through online applications. It has made it far too easy to collaborate in real-time at a humongous level with the help of a simple and a cheap mode of communication network – Internet.
Similarly, education is not bound by geographic barriers in the world of cloud computing. Educational institutions across the world are using cloud computing for administration, teaching and enhancing the learning experience for the students. Though the effort is still at a nascent stage, let us explore the potential of cloud computing in supporting higher education.
1. Virtual classrooms
Instead of traditional classrooms, cloud computing facilitates online teaching through virtual classrooms. There are many courses that can be taught online. There are a plenty of tools and applications available that assist in online teaching. Students from different corners of the world can be taught together. They can easily share notes, discuss ideas, work on assignments and projects.
2. Reduce operating cost and increase efficiency
Cloud provides an opportunity to administrators for deploying applications and deliver web-based services to students. Quite often, such capability is added without proportionate increase in budget for hardware, software and human resources. It helps in reducing overhead expenditure of the university as the demand for infrastructure is cut down.
It helps both teachers and students to save cost by avoiding physical presence in the campus, which might be located in a different country altogether. The teaching process becomes highly efficient through state-of-the-art communication tools. Thus, it can resolve many problems often associated with traditional ways of classroom teaching.
3. Online demonstration
Even the demonstration process has become easier. If the teacher requires making some product demonstration or explaining a certain process through gestures, it can easily be accomplished with cloud video conferencing tools.
The students can use these tools to pin-point the problems and clarify their doubts. Teachers seek help of online video platforms like YouTube to share explainer videos with the students. The overwhelming experience of learning is way too advanced than traditional teaching.
4. Information durability
Cloud storage enables the information and lessons to be stored online & accessible to all the parties as and when required. For instance, students can be provided with digital campus storage for class notes, papers and projects.
The huge online database can be created to share, download and read the material. The whole system of teaching becomes paperless. The use of paper is costly not only in monetary terms but also a threat to the environment. Cloud computing ensures the longevity of data till the time you want to keep it.
5. Mobile access
Students flood the campus with multiple internet-connected devices like smartphones, tablets and laptops. All these personal gadgets can be used to take advantage of cloud computing. Faculties and students can easily collaborate with each other from the device of their choice. Universities and colleges need to make sure that the cloud application is accessible on multiple platforms & has a responsive design.
The traditional IT infrastructure needs to be replaced with upgraded hardware and software to accommodate growing number of personal gadgets. Therefore, the bandwidth offered should also be enough to manage peak loads in network usage.
6. Administration
Enrollment and admission processes are both costly & time-consuming for universities and students. Cloud technology will allow them to work swiftly without passing through multiple levels of processing from one department to another. The data can be processed, stored and shared through a common platform without involving any paper. It will also help the administration to maintain transparency in the admission process.
Thus, removing the admin burden will allow educational institutions to concentrate on their core business and be more productive. Furthermore, the IT administration like licensing issues, software updates and IT security management will all be handled by the cloud service provider.
7. Security
Security is the key concern for universities to prevent breaches and leakage of student information. Traditional storage systems like hard disk, pen drives and other storage devices are prone to thefts & crashes leading to complete loss of confidential and critical data. In contrast to that, cloud storage allows the users to have password protected files stored safely on a distant data server and access them from any device over internet.
8. Competition
Universities across the world are rapidly adopting student-friendly technology to differentiate themselves from competitors. The better the services, the higher is the marketability of the university. The upcoming generation is already aware of the cloud technology; so, universities need to do their best to understand the students' need.
They can choose subscription packages that are scalable and provide options to be flexible. Cloud computing offers schools, colleges and universities a low cost option for using high-tech technology. The low cost internet requires minimum investment but provides maximum returns.
9. Boon for small institutions
Public cloud computing has tremendous scope for small educational institutions that do not have strong IT infrastructure and personnel. With cloud technology, their worry is arising due to inadequate computerization, lack of data security and insufficient IT skills can be eliminated. Small colleges can adopt cloud technology with ease by contracting with the cloud services of a larger university. This helps them to save a lot of time and money, otherwise, invested in complex computing techniques.
10. Plan of action for education managers
Higher education managers need to attain a thorough understanding of cloud computing technology, follow the trends and find out how it can help to redefine the concept of education. There are a variety of cloud services available including applications, computing and storage.
Besides email and document creation, managers need to think of out-of-the-box solutions like investing in private clouds for core applications in partnership with other institutions to save cost and get maximum value. They need to engage faculty members, a student group and the cloud service provider to share ideas to provide quality education in the best interests of the students. They need to select a cloud provider who understands their need and helps them build the most appropriate cloud deployment model.
Challenges of cloud computing
It is quite obvious that cloud computing technology is new to the education sphere. Think tanks and experts in the field need to sit down and discuss the possibilities of extracting maximum benefit from the cloud. A relatively advanced approach is required to generate benefits for higher education sector.
Administrators need to think beyond cost and technical factors to attain long-term benefits. A well-thought implementation will have influential effects on the political, social and economic environment of the country as the graduates will turn out to be street smart with the ability to bring a change.
Engaging a third-party cloud service provider without any direct legal or governmental jurisprudence is perilous to the integrity of the institution. Trust factor plays a major role in such a scenario. Apart from that, data security, performance, accessibility and integration are some of the major challenges still troubling many institutions.
Building a private cloud is definitely a good answer to these challenges but it needs experience in cloud deployment that can be gradually fortified. The cloud services are going to be available on multiple devices. IT infrastructure and personnel are required to fix the bugs, especially, in the beginning.
Students and teachers who don't carry their device need to be equipped with resources to access the data. Teachers need additional training to use Web 2.0 tools like blogs and wikis to maximize the benefits. Meeting the bandwidth demand owing to huge number of devices accessing the server is going to remain another inevitable challenge.
What to bear in mind
The CIO in university stands to be a critical interface between the cloud and its users & needs to strive hard to bridge the connection. It is exciting to see how cloud can transform the lives of students. The extent of collaboration and productivity is endless for students. With SaaS model expected to remain popular among universities and colleges.
The challenges of traditional teaching methods can easily be bypassed. It will drive down the capital cost of IT in higher education and cease to bother the administration to a large extent. Students can work on multiple projects together, synchronize in real-time and update stock of information simultaneously.
Cloud will allow them free access to applications and other useful tools. It will provide them efficient and friendly environment with a feel of real world. The emergence of new technology and devices will further open infinite opportunities to discover the world of cloud computing for both teachers and students alike.
Subscribe to our Newsletter