back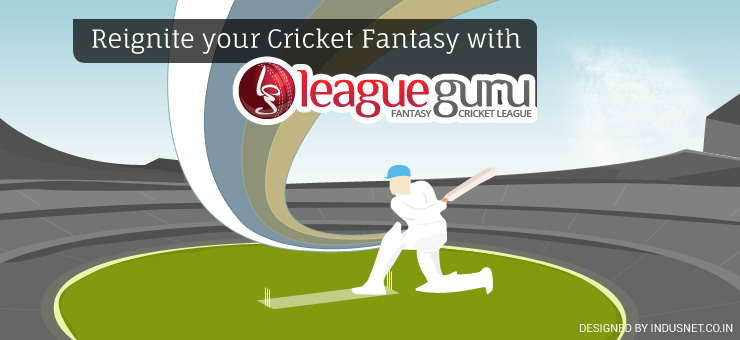 Reignite Your Cricket Fantasy With LeagueGuru.com
Are you among those who love to fantasize about cricket? Then LeagueGuru – Fantasy Cricket League is the most ideal platform for you to reignite your cricketing passion. After all, it is a website "for cricket fans, by cricket fans". We at Indus Net Technologies developed this brainchild of Aan Infosol Pvt. Ltd., a Kolkata based company that comprises of a team of passionate and true cricket fans, who aim at delivering the best ever user experience when it comes to playing online cricket. Being diehard cricket lovers, the team consulted us about the pioneering idea of launching a web based platform that can increase the cricketing excitement and fan engagement, which we turned into reality.
LeagueGuru is a highly engaging fantasy cricket gaming portal that keeps the cricket craziness within you alive by competing with your fellow cricket fans & friends. You can utilize your cricket fantasizing skill for creating a fantasy team to play, celebrate & enjoy cricket like never before and earn real cash in the process. Basically, the platform allows you as an online cricket player to add fantasy to real cricket matches and offers a number of contests related to each live cricket match. The website includes a number of innovative features that make the site clutter-free & highly engaging. Being designed and developed for all cricket lovers, irrespective of their technological expertise, this user-friendly website would never make it difficult for you to access it and navigate around it. Starting from registration to winning monetary awards, the entire process is simple enough for every cricket fan.
Key features of LeagueGuru, at a glance
Easy User Registration: Participate in the game through a simple & standard registration procedure. The Registration Page also allows you to login through social sites like Facebook and Twitter.
Detailed Dashboard: The dashboard on the home page shows details of different cricket contests and clicking on any one of those takes you to the contest page that includes player details, contest rules, score details etc.
How to Play Section: Starting from choosing a contest to selecting team, managing the team and knowing how to earn points, this full-featured section introduces you with the intricacies of playing the Fantasy Cricket Game successfully.
Dedicated Support: This section is informative enough to get your queries about playing the game, point calculation, winning cash prizes, checking account balances etc. answered from the FAQ section. You can even raise ticket for online support from this support section.
Individual "My Account" and "My Contests" Sections: These two sections provide you with your contest and transaction histories.
Add/Withdrawal Funds Tab: This page shows you the detailed account balance including your deposits, winning amount, cash bonuses and total balance. You can even verify your account & directly add or withdraw cash amount from this page.
Administrator Functionalities: With these functionalities, you can easily create player lists, teams, game types, contests and leagues, live score cards for ongoing matches, different user reports etc.
Cross-browser and Cross-device Compatible: You can access the website of LeagueGuru from both mobiles and tabs with different browsers like Apple OS, Chrome, Firefox, IE, Windows OS etc.
Live Data Feed: Inclusion of live data feed from XML data provided by 3rd party database helps you stay updated about real time cricket matches.
Chat Server: A distinguished chat server for private leagues allows you as a participant to stay connected with other participants.
Multiple Payment Gateway Integrated: With this feature, you can easily transfer the money you win as and when you want.
All in all, jam-packed with multiple attractive features and especially, the option of adding fantasy to cricket matches, make LeagueGuru – Fantasy Cricket League quite addictive to cricket lovers. With this platform, you as a cricket fan can easily reignite your spirit of cricket. Log in at leagueguru.com to create your fantasy cricket team & win cash !!! As it is the time to "Show the world what a cricket pundit you are!"