back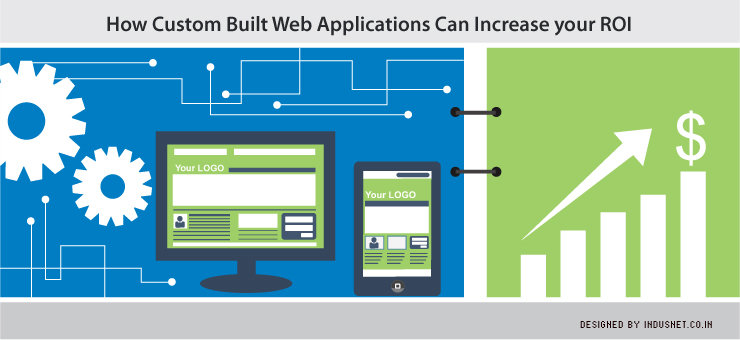 Design
Web Development
How Custom Built Web Applications Can Increase your ROI
Custom built web applications are usually expensive to build but they offer more ROI than using something that's a rehash of something that already exists. Before we proceed to discussing the benefits of building custom web applications, we must differentiate them from regular mobile applications. Web applications usually use a browser to run and they almost always make use of HTML 5 to run. Using HTML 5 based web applications serve the purpose of running not only on regular browsers but also on mobile browsers without having to build different apps for different platforms.
Web applications are nothing new. There are several web apps that we continue to use and most make use of HTML 5. In order to increase the ROI, one needs to identify the purpose of creating a web app and the reasons for not using a regular website. There are several scenarios that we need to consider:
When regular websites are just not good enough
Sometimes, regular websites are just not enough to satisfy growing app demands. Also, certain scripts and applications do not run on regular websites and instead need web apps. These HTML 5 based applications are easy to use, do not force clutter on the viewer or user and load fast enough. Some examples of web apps are Hootsuite, BufferApp, GrooveShark and others. These tools are as good as apps and do not work on regular websites. For instance, Internet radio station Jango runs on what looks like a website. However, hidden within is a powerful radio app that brings customized music lists to listeners.
Web apps are mobile friendly
Web applications, as discussed earlier, work on HTML5. All mobile browsers, including Safari, BlackBerry browser and Android browsers use HTML5. This way, even if you are not able to design mobile apps, a single HTML app is enough to cater to mobile users. We must remember that most people access the Internet using their mobile browsers. The latest smartphones come with some of the most amazing browsers and browsing on them is very easy. With that in mind, it may be quite unnecessary to go ahead and design mobile applications for different platforms when all that we need is a web app.
Web applications are attractive
Web applications make use of rich graphics and colorful formats which make them attractive to users. Chances are, users will return time and again just for the experience of using it. Web applications can be a powerful way to market one's brand and the way we design and make them look and feel can go a long way in attracting future clients. There is nothing better than a well designed web application that is easily accessible both on the desktop and on mobile devices, to increase traffic and ROI.
Web applications offer more ROI
When we look at the amount of money we spend on mobile applications and on web applications, web apps are relatively less expensive. They offer the same stability and security that mobile apps do, and in fact, they reduce the necessity of upgrading constantly and fixing bugs on different platforms. All that you need to worry about is HTML 5 and that can reduce costs in the long term. If you are not willing to spend money on mobile applications, web apps can certainly increase your ROI.
Easy to manage
Web apps are not difficult to manage or run. They need basic HTML 5 knowledge and access to a web professional or developer. The professionals can take care of most of your needs and ensure that you are not going way past your budget just to manage your web apps.
At the end of the day, web applications offer versatility, cost effectiveness, stability, security and the ability to work on almost all platforms regardless of whether it is a mobile device or a computer. Web apps also offer more freedom in designing and they can be an excellent way to market and brand your products and services. Attractive web apps can attract more traffic and thereby increase your ROI. If you need more information about web apps or mobile apps, you could contact one of the web professionals who will be able to guide you further.
Subscribe to our Newsletter