back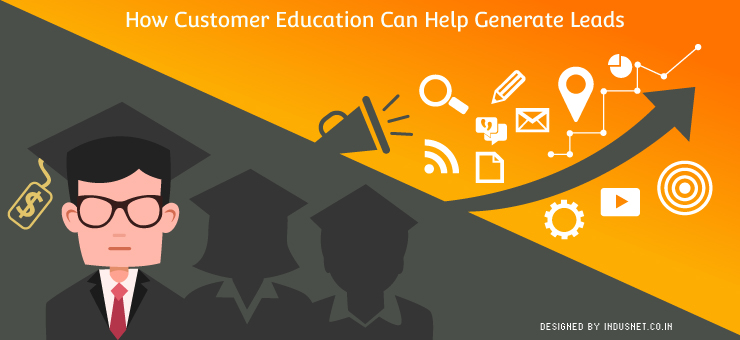 Content Marketing
How Customer Education Can Help Generate Leads?
Consumer education is often defined as training individuals to choose the best products and services with the money they can afford to spend, and also make them aware of industry standards and trade practices within that area. Well, that sounds a little stuffy and complex. When you write a compelling blog post about your products or services, you are adding material to educate your consumer. In fact, much of what we do today as part of content marketing is consumer education.
Consumer education is an important part of content marketing
Educating the consumer should be one of the primary goals of content marketing. This not only helps to retain aware and conscious consumers but will also build your own credibility in the market. A company that works towards educating its consumers is looked at with respect and awe. For example, if a consumer did not know what kinds of bamboo are available and if they ran into a website that offers objective information about different kinds of bamboo, their applications and the kinds of products that the consumer can expect to purchase, the publishing site becomes an authority in that field.
This helps that website to build credibility and trust which usually leads to sales. Content marketing is not about stuffing content pieces with marketable information. Instead, it should be looked at as an education resource with the help of which we train our future clients and consumers to make the right decisions concerning purchases. Customer education helps to generate leads as well, when incorporated with content marketing.
In this article, let us take a look at how it does so:
1.      Compelling content adds to knowledge resource
If you regularly publish content that is compelling, you will begin to notice that you are adding value to your field. Information that previously didn't exist or information that was curated can help you to add to knowledge resource. When clients and consumers go looking for information, it will probably be your website that they run into. This helps to build credibility and garner more sales leads.
2.      Targeted content plans help in building site authority
Targeted content with minimal use of key phrases and high quality content is valued by SEO professionals. Even if you publish infrequently but regularly, it helps your website to get indexed and thus arrive at a position where you will be able to build site authority. Over time, regular updates to your content platforms can help to bring your website higher in search results.
3.      Helps companies to display expertise and attract leads
When you publish compelling content, you are invariably displaying your own authority and expertise in your chosen field. This is important to make sure that people take you seriously. When you become the go-to resource for whatever you are doing, you are in a better state than others to garner leads that can convert to sales.
Retain your customers
At the end of the day, customer education can help you sustain your own content marketing strategy while it also helps to build revenue. Not only that, a well planned content marketing strategy which seeks to educate consumers will help you retain your existing customers. If your customers feel they learned something new because of what you publish, your products and services become part of the training which you offer.
Thus, you do not even need to try hard to sell what you offer. You simply have to bank on your customer training programs, which will ensure they keep coming back. Only, as long as you create compelling content it will  go alongside top-notch products and services.
Subscribe to our Newsletter