back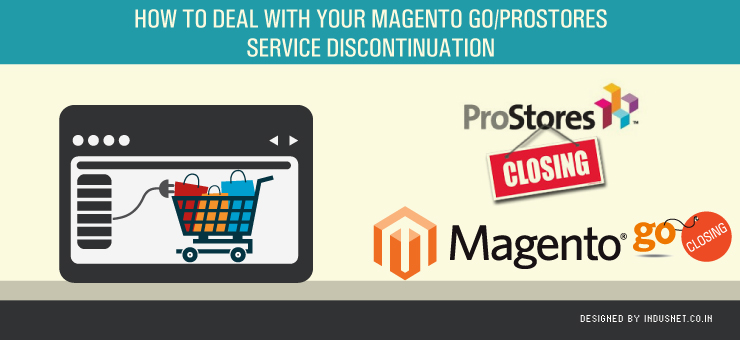 E-commerce
How to Deal with Your Magento Go/ProStores Service Discontinuation
This February Magento has planned to discontinue Magento Go and ProStores giving small e-retailers across the globe using any of these platforms a headspin about how to continue with e-retailing business. Are you among those e-retailers? Then here is how you can sail through this challenging phase.
Magento, the most popular e-commerce platform and a prominent offering of eBay Enterprise, has already announced the discontinuation of two of its most important products, Magento Go and ProStores, from 1st February, 2015. Being geared towards serving the small and medium-sized online retailers, both of these e-commerce products serve 10,000+ e-commerce merchants like you, around the world. Hence, the discontinuation of Magento Go and ProStores would not just affect a large part of the global e-commerce business but is even more likely to make each of the e-commerce websites based on any of these Magento products go through a tough time within the next 30 days of the discontinuation.
Would it affect your e-business?
Here are some of the most viable issues that you might come across, in case you have a Magento Go or ProStores based e-commerce website:
Your e-retailing store would become non-functional
Access to customer data would be lost
Access to e-store content including images would be lost
Customer support for these platforms would become unavailable
How to solve it?
Magento has come up with the following two ways to solve the issue and help the e-commerce merchants like you to continue with the existing e-stores:
Solution #1: Magento would still continue offering the Community and Enterprise editions that are mostly geared towards big e-retailers. According to Craig Peasley, the Senior Marketing Director of Magento, it would be worthy for you to go for any of these options if you are looking forward to customizing your e-retailing store more than before or your e-retailing shop is growing fast.
Solution #2: You, as an e-retailer, can migrate your e-store from Magento Go or ProStores (whichever your e-store is based on) to a similar SaaS based e-commerce platform offered by Bigcommerce, an e-commerce platform provider that Magento has partnered with. Mr. Mark Lavelle, the Senior Vice President (Product and Strategy) of eBay Enterprise thinks this partnership would help the small e-retailers to continue with their e-retailing business without any difficulty.
How to migrate?
Indus Net Technologies can help you to migrate your Magento Go or ProStores based e-store to both Magento's Community or Enterprise editions and Bigcommerce, depending on your business requirements. Indus Net Technologies, a certified partner of Bigcommerce, has got 10+ years of industry experience that can help you move from Magento Go and ProStores & leverage the Bigcommerce platform for a smooth continuation of your e-retailing business. Moreover, the company has got a proven track record of seamless e-commerce website migration and the required expertise to offer full support for both Magento Go and ProStores platforms all through the transition phase.
Besides full customer support services, you can reap the following benefits if you transform your Magento Go or ProStores based e-commerce website to this new e-commerce platform:
Free e-commerce website migration
No 1st month charge
Advanced eBay integration without any monthly charge through ChannelUnity
Discounted and free services up to $ 1,200
Want to go for this transition?
The transition process might take a period ranging from a day to a week, depending on the size of your e-store & customization you require.
Consult us at info@indusnet.co.in to plan your e-store migration and continued business operations.
Subscribe to our Newsletter