back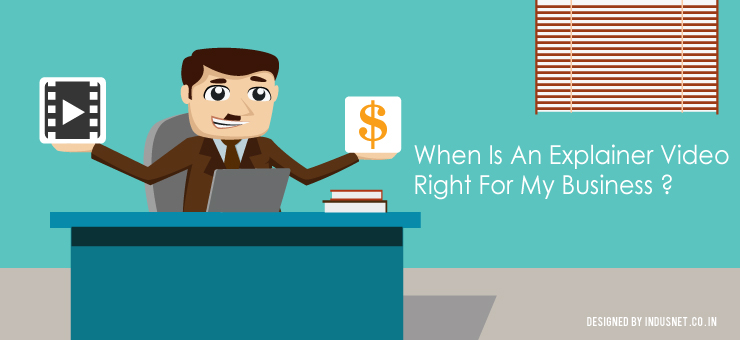 Explainer Video
General
Marketing
When Is An Explainer Video Right For My Business?
Considering its visual appeal, explainer videos are quite effective in fulfilling marketing goals of a company. They work 24×7 for you online and market your business across the globe. Explainer videos are usually employed by the companies with complex or seemingly complex products for better understanding of the target audience. Explainer videos are not only good for your customers, they also help you in providing support assistance to employees and pitching your business idea to investors.
Is it the right time to create an explainer video?
The modes of online marketing are evolving quite rapidly, leave apart the creativity booming in the existing modes. The time is just right to create an explainer video. You need to immediately consider making an explainer video that represents your business online.
Assess the current state of your business
You are running a small-scale business with the determination to make it big.
As a small-scale business, customer acquisition is a major challenge for you.
You are lagging behind your competitors.
People hesitate to buy your product because they don't know you and they haven't heard about you.
You have a good elevator pitch but still your customers don't pay heed to what you say.
You get limited traffic on your website, which means poor visibility and unsatisfactory conversion rate.
You have tried all kinds of digital marketing tactics like SEO, e-mails, social media marketing, search engine marketing including PPC, conversion rate optimization but you feel there's something amiss.
You have lost a lot of money in online marketing but can't see light at the end of the tunnel.
You are looking for a speedy return on investment.
Before we proceed, you need to know why you need an explainer video at first place: 
Assists in conversion
Explainer videos help the marketers to keep a track of their visitors and find out what engages their visitors. Video metrics including number of views, likes, comment, play-through rate, play rate etc. help in determining the response received to your video. Marketers gather and analyze this data to improve their videos that generate widespread interest and positive feedback. A visitor satisfied with the information provided in the video has a higher chance of turning into your customer and pass a positive word-of-mouth. 
Higher visibility and awareness
Most of the time, a new customer does not specifically look for your video on the internet; they just bump into it. An explainer video does the job of educating the customer about your product. Customers get to know about the benefits and features of your product. Besides that, customers get to know about the existence of your company.To say the least, higher visibility means you have been successful in achieving your SEO objective. For a small business owner, it becomes difficult to get noticed online and they need to have quality content to obtain higher ranking in search engine results. In such circumstances, an explainer video needs to be powerful enough to grab the attention of the viewer throughout its play time. The content needs to be to-the-point and simple to understand.  You need to respect the time of your viewers as people ditch you if you serve them long and boring content.
Build your brand
Start-up and small companies always have a budget constraint for marketing their business the way large corporations do it. Explainer videos are much cheaper to create as compared to commercial ads. Rope in a professional production team to create videos for you. They need to clearly understand the nuances of your business to create something that reflects your business standard. Explainer videos give you an opportunity of using animation, colors, brand logo and your company name so that it gives a unique look to your video. A consistent look, content and quality of your video defines your brand. Do not compromise on it to get magical results.
Higher information retention
As a matter of fact, 90% of information stored by human brain is visual. This helps in retaining much higher information through explainer video as compared to text. We have seen businesses work hard and spend a lot of money to write SEO-friendly quality content on their website but to no avail. We are not denying the relevance of textual content but search engines give more preference to video over text.Text has to be used to provide detailed information about your company and product. Videos, on the other hand, in their crispy format portray a bigger picture about your product and business. A good video will generate further queries about your product and visitors are likely to spend more time on your website for browsing information.
Easily sharable
Viewers share content if they find it valuable and people love to watch videos over reading boring text. Videos can be easily shared across social media networks. Make sure that you add social media links when you post a video on your website and blog. Integrate all the social media networks so that viewers can share your video on the platform of their choice. Video sharing feature gives your video more exposure to the extent that it can go viral on the web. To your surprise, the solution to all these problems is just a mile away. You need to start with video marketing. Explainer video is the answer. Explainer video is a short video clip created for explaining a product or business to the target customers. It is also used for resolving the issues through video demonstration after problem diagnosis, especially, for complex products.
There are also certain precautions to take so that you don't go wrong:
Pay attention to script
No matter how good is the quality of the video, you need to be clear with your objective and what you want to say. Don't get lost in the beautification as it does not help unless your script is clear. Your video needs to be able to do away with misconceptions about your product, if any and provide an answer to the concerns of potential customers.
Do you homework before you write a script
Before you start writing a script for your explainer video, you need to know what your potential customers say.  A market survey will help you in accomplishing that goal. For instance, their concerns about your product, reason that deters them to purchase, any additional information they seek and what can you do to resolve their issues? Their answers will become a road map for your script writing.
Writing a script
A good script is the one that keeps the viewers intrigued throughout. Start by explaining a problem faced by your potential customers and then stress upon the solution to their problems. Introduce how your product is the master solution. Ask your viewers for video subscription or sign up for your newsletters. Provide your website address for further queries.
Don't overspend on video production
As a small business owner, you will not like to spend a huge sum in video production. But you need not worry. Instead of going to a production company, you can hire freelancers. Money you save is one part; your job gets completed fairly quickly. There are many quality freelancers available. Ask for their references to proceed.
Test your creation
Testing is important to find out the response being received to your video. There are many tools available that assist in A/B testing. You can tweak your video as per the results received and then re-test. Keep a track of video metrics to have a better understanding of your customers.
Conclusion
You've known your business very well but it is time that you empathize with your customers and know the ground reality. Explainer videos give amazing results. While explaining, do not stress on the features but on the benefits of your product and how does it add value to your customers.
Many companies owe their success to explainer videos and their ability to win the trust of the customers. The sheer simplicity in approach make explainer video a star of your company homepage. Besides the homepage, you can create explainer videos for other landing pages to get higher visibility.
Are you ready to create an explainer video for yourself? Do let us know once you are ready and Oomphbox would love to watch it. Better still, allow us to help you. 
Subscribe to our Newsletter