back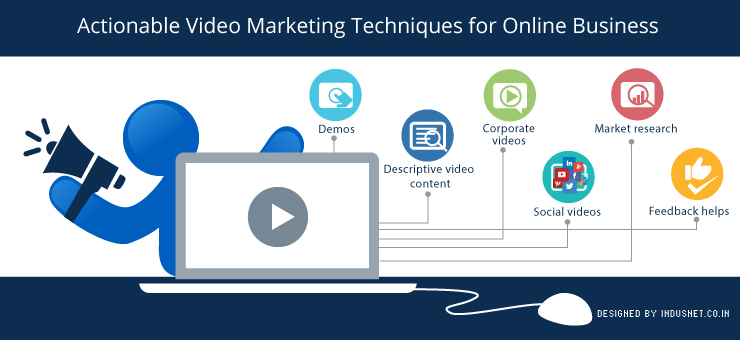 Content Marketing
Digital Marketing
Explainer Video
Marketing
Actionable Video Marketing Techniques for Online Business
In an era where digitalization has taken over traditional ways of businesses, companies also must invest in digital marketing to maintain their market presence. E-commerce is trending like never before and with it, there are new marketing techniques coming up. Video Marketing is a relatively new strategy in the digital world, which has become very popular among various audiences.
Consumer psychology shows that when you market a product through videos, it remains in the memory of the audience for a longer time. It is a well-known fact that human beings process visual information much better than textual content. Yet, we have always been used to reading books, web copy and now, blogs. While we do not discount the utility of textual content and words, it is also useful to publish and create videos that help to present content in an audio-visual format.
A lot of people prefer videos to text and we could be using videos to tap into this sub-section of the audience. While it is quite a task to create videos, it is yet another to create actionable videos. Actionable videos encourage the user to take some action, mostly respond to a call to action. This could involve signing up at the end of the video, providing e-mail address after watching the video or even buying the product. However, to create such actionable videos, we need to bear a few things in mind.
Let us find some video marketing techniques that can act as a catalyst in boosting your business:
Demos
Descriptions of a product or a video demonstrating a product works well with the audience, as there are many websites and products competing for attention. You need to find a USP or unique selling proposition to increase your audience base and also to turn your audience into your future clients. You can do this by making your website more interesting; create small videos to showcase your product. You can use animation or a music video format to be different from others.
Product demos can also be used to encourage viewers to take some action. This could be in the form of a covert message within the video to contact you for further information or to sign up at the end of the video, which is a more overt form of asking to take action. Both these methods work very well and demo videos are increasingly being used by companies that have a flagship product.
Descriptive video content
You can also use descriptive content for the videos on your webpage. You may wonder why anyone would want to add descriptive video when you can just post a video. However, research studies show that descriptive video content adds to the effect. It is quite natural, as we have been used to reading pages of content and all of a sudden, videos are becoming more visible. Adding the content will entertain the audience who are getting used to the new format. However, content need not be too long; it needs to be short and crisp. If possible, add in humor and quirkiness.
This can be used as a subscript or as textual matter that is inserted within a video. What this actually does is, it grabs the attention of those people who are not very fond of watching videos. By making descriptive videos, we are targeting two different and opposing kinds of audience – one that loves videos and the other, which is still getting used to video content but is very much happy with text.
Corporate videos
Corporate videos are a big hit among the audience as it evokes a sense of loyalty in your customers. Everyone is interested in what goes on in a company, especially, a corporate company. Use this advantage and boost up your video marketing by bringing in more corporate videos. The themes could be anything from production of a product or showing the fun you have while working.
In order to make corporate videos actionable, you could request viewers to add you on LinkedIn at the end of the video. A short note, which screams out your LinkedIn profile address, can also be useful. Another option is to have a running message at the bottom, which occasionally reads out your e-mail address or your LinkedIn address. This will help interested viewers to contact you and probably clinch a deal or two.
Social videos
What are social videos? Basically, using the marketing videos on social platforms constitutes the idea of social videos. You can use Facebook, Instagram and Twitter to share your video, to reach out to a larger crowd & increase your audience base. You might probably think that if your target audience is youth or the IT sector, then this is the best way to turn them into your clients.
However, this is not quite true. Social media is used by all ages and demographics & it is a great platform for you to showcase your products. If you can manage to create videos that can go viral on YouTube, Vimeo and DailyMotion, you can achieve surprisingly high rates of conversion. The key here is to make videos that can go viral. For that to happen, you need to hire good script writers and video producers.
To make social videos more actionable, ensure that you always have a call-to-action when you share them on social platforms. This could include urging your audience to follow you back like your page or simply, share your content more.
Market research
Market research is a must. You need to be aware of new trends in video marketing, if you don't constantly update your knowledge on the current themes and also the format of product videos. This will help you to bring innovation in your videos. The more 'newness' you bring into your videos, the more client base you will gain.
The reason why market research is an actionable video marketing technique is because it helps you understand your audience better. You need to save all the information and data you collect from your market research & then use it to create videos that are best suited for your target audience. Also, it makes sense to create CTAs that are more attractive to your audience.
Feedback helps
When you make a video to market your product, make sure you take feedback from people who are into the field. It could be anything like the length, the editing, the theme, the colors, the text or anything else. All of these play a very important role in making your video more attractive compared to others or your own past work. When you visually represent yourself, every minute thing has to be given a magnified importance.
The most important aspect of feedback is from your audience. This also is a call-to-action that you need to urge them to respond to. Urge your audience to leave feedback about your videos in comments below or ask them to write reviews about your videos. This will not only help you to understand what they feel about your videos but also assist you in SEO, as comments left on social platforms, websites and blogs will invariably improve your search results.
Conclusion
If you haven't ventured into the video marketing world, you need to do it immediately. An effective video under a minute can have an impact much larger than pages of content explaining your product. If you want to rule the e-commerce market and want to be the trend, then make sure you keep learning, unlearning & relearning the techniques of video marketing.
A combination of short text and video can work wonders for your company. Text by itself can take a long time to be processed, analyzed and retained, whereas, a video can convey your message in its entirety in a more convenient and palatable way. Use the above techniques and improve your marketing strategies in a more actionable way and gain yourself new clients.
The saying "a (moving) picture speaks a thousand words" still holds water. We might wish to avoid clichés but this is one cliché that still makes sense when it comes to ensuring that our marketing strategies achieve success. In the future, we will only begin to see more video marketing strategies being applied. In order to survive in a changing world, it is better to begin at the outset. This will help us to brace for a brave new world dominated by video marketing techniques.
Subscribe to our Newsletter