back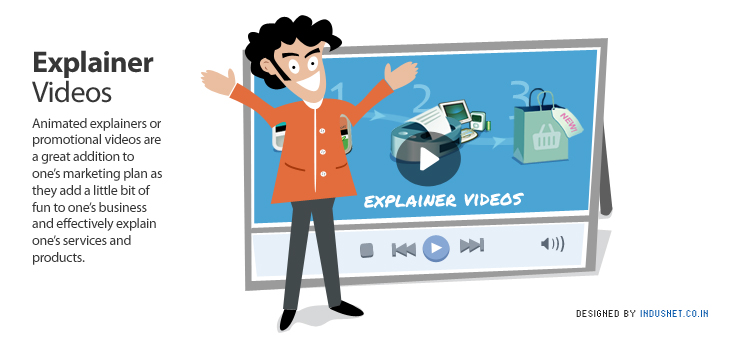 Explainer Video
Internet Marketing
Marketing
Reviews
Explainer Videos: A Potent Internet Marketing Tool
Once companies manage to get a slick website to entice customers or clients, they tend to believe they are all set to make their foray into the Internet. However, marketing oneself or one's company isn't all that simple and one needs to tap into the consumer's psychology.
Psychological theories of learning emphasize on the importance of sensory inputs. For instance, a website that only has text is the least appealing. When it offers images and colourful pictures, a visitor stays on a page for a longer time. Similarly, when the website appeals to the auditory sensors, depending on the situation the visitor to the page may lurk around a little much longer.
Also, having text, images, audio and video would be a complete sensory experience and this is perhaps why one should consider uploading and publishing explainer videos that grab the attention of the visitor, provide information and also allow for interactive sharing through social media. Most importantly, explainer videos are viral, if they are good enough.
What Are Explainer Videos and What Are Their Benefits?
Animated explainers or promotional videos are a great addition to one's marketing plan as they add a little bit of fun to one's business and effectively explain one's services and products. First off, explainer videos grab the attention of the viewer and also help in sustaining it. This means, the page visits last for a longer duration and helps in increasing web traffic. This automatically helps in increasing page views, brand awareness, ad exposure and finally helps in memorizing one's company's information and reach a wider target audience through social media or otherwise.
What Are the Key Features of a Good Explainer Video?
If one were to ask what must be included in an explainer video, it is rather simple and clear. The explainer video needs to be simple and non-intrusive. Much as a video is sensually stimulating, it must not prove to be intrusive and annoying. The information and the video must be clutter-free and must avoid unnecessary information. An explainer video must also not be very lengthy and should not last for more than 2 minutes. The idea is to grab the viewers' attention for a few seconds more than usual, and not make them get distracted from the actual content.
Explainer videos must be interactive and fun. This means that one must make use of rich animation, graphics, visual effects and an attractive voice over in order to convey the message effectively in a non-intrusive manner. It is a good idea to approach a video production company or speak to web designers themselves if they could play around with animation and make an attractive video. It is rather simple to create an explainer video and is more affordable than getting actors to play their roles.
How Can One Make a Good Explainer Video?
A good explainer video must have a plan. The plan must describe the content, tone and medium. Once the plan is written, the next step is to visualize it on a storyboard. Storyboards help in visualizing the video and also in editing once the video has been shot. Voice-overs are very important and a soothing background music with or without voice-overs can be a great tool in maintaining the visitor's attention. Once the video has been shot, edited and completed, it is time to share it on as many websites as possible. Social media websites like Facebook, LinkedIn, Twitter and Google+ always come to one's rescue.
How Can Explainer Videos Help in Marketing?
Explainer videos are particularly useful in a web marketing campaign as videos can go viral. They can drive traffic from YouTube and social networking sites. Visitors spend 45% longer on a website which has explainer videos. Research also reveals that people tend to buy products or service twice as likely when videos are present. They help in driving a sales pitch without being too intrusive and eventually help in creating valuable online brands.
Which are some popular companies creating explainer videos?
Oomphbox provides a cost-effective solution for creating compelling explainer videos that can easily grab attention of your prospects and explain your innovative business model, products or services for higher conversion rates. Some of the other companies that make professional videos are Common Craft, Demo Duck, My Promo Videos, Grumo Media, Epipheo Studios, Explania.
Subscribe to our Newsletter