back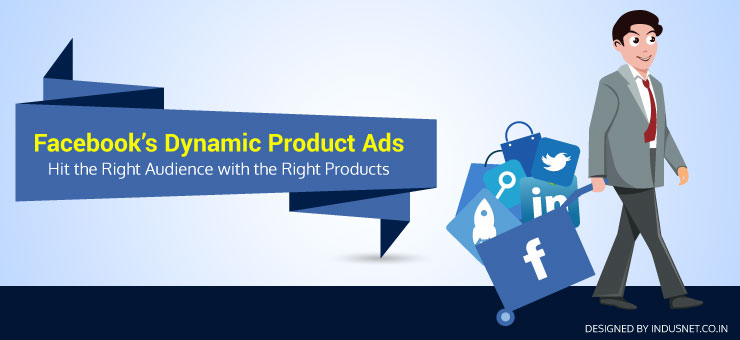 Social Networking
Facebook's Dynamic Product Ads Hit the Right Audience with the Right Products
You think you have the perfect website….but what about those shoppers who just get to the brink of purchase and then, for whatever reason, fall out of the conversion funnel? Abandoned shopping carts account to the loss of trillions of revenue. So how do you advertise and highlight the right products to the right people? Retailers need not have to worry as long as social media networks are with them.
The Launch of Dynamic Product Ads
Facebook announced the launch of Dynamic Product Ads to dynamically promote relevant products to shoppers browsing your product catalog on your website. This super solution offers businesses a number of ways to highlight different products on Facebook across all devices. Marketers can even upload their product catalog and create campaign to target specific products to specific target group. They can also let this powerful platform to automatically showcase the best relevant products to the interested audience. All you need to know is how to set up Facebook Dynamic Product Ads.
Dynamic Product Ads and Its Unique Features
Highly relevant: You can show ads to interested people in order to increase their likelihood to purchase.
Single or Multi-product Ads Unit: You can either display a single product, or a set of three, with their images, description, click target and statistics.
Custom audience improvement: You can build audiences' based on parameters like 'People visiting specific web pages' or 'People who haven't visited in a certain amount of time.
Scale: You can promote all your products without having to configure individual ads.
Cross-device: You can target and reach people with ads on any device they use irrespective of their original touchpoint for your business.
One-time set up: Once you set up your campaign, you can continue reaching people with the right products at the right time.
Dynamic Product Ads and Its Dynamisms
With dynamically optimized ads, products will be tailored based on the user's activity and interests. The ads adapt to show its viewers what they want the most from the online merchants. They can target ads to people who have visited particular pages on their website with specific interests and specific location. Advertisers can now target consumers based on their expressed likes and interests, website behaviour, shopping history, app usage, and relationship with the business. The feature knows a lot about what you intend to buy and allows retailers to watch every move of their consumers online.
The ads also incorporate a format for highlighting multiple products, and update products based on the inventory data, removing the items once they get out-of-stock. In addition, the ads also integrate product feed elements to offer more personal and shopping specific ads including dynamic body copy or product-specific images.
Dynamic product ads offer placements of products on all devices as well as the omnipresent News Feed where the majority of the Facebook users spend time.
Dynamic product Ads and its Strategies
Use Partial Catalog
You may notice certain items that are viewed on your site but have low conversion rate. When you're already retargeting, use the data to determine product conversions through retargeting.
Use Custom Audiences
Facebook enables you to form custom lists using phone numbers, Facebook IDs, email addresses or IDs of mobile advertisers. This helps leveraging segmentation from your existing customers and email programs and highly impacts the creative and targeting strategies.
Use Creative Ideas
Catchy headlines and crisp descriptions greatly affect click through. Give unique headlines to perform better for different product types and customer segment.
Apply Rules
Once you upload your entire product catalog, leverage rules and constraints to make sure that the relevancy of products you make is correct. Build your own rules and closely observe your statistics to validate your instinct.
Business Benefits from Facebook Dynamic Product Ads
More Engagement of Customers
With dynamic product ads, target has been able to engage consumers with highly relevant creative ideas. Advertisers can curate ads as they see fit.
Generate Huge Website Traffic
As Product ads can reach more relevant audience, it drives high-quality traffic to the site. The custom Audience Pixel allows advertisers automatically reach people who have previously visited your website.
Enhanced Website Conversion Rate
As every image has its unique web address, traffic is derived to different pages of your website which leads to higher conversion rates.
Highlight Different Aspects of your Business
You can show more products and promotions in a single advert. Product ads provide you extremely engaging, highly creative and visually rich way to highlight important and interesting aspects of your business to your prospective.
Facebook's Dynamic Product Ads has its own magic when it comes to targeting the right customers.
Subscribe to our Newsletter