back

Digital Marketing
Haven't Included Video In Your Digital Marketing Mix? Wait No Further, We Say
A picture is worth a thousand words. But today, we can also say a video is worth a thousand words. Videos are, undoubtedly, much more effective than text and presently, video marketing has taken the world by storm. The advent and popularity of YouTube have changed the way how we watched videos. Today, with almost all the social media channels (Facebook, Instagram, and Twitter) having video platforms, video consumption has increased astronomically and has become a large share of internet traffic. Snapchat generates nearly 10 billion daily video views.
According to Cisco, IP video traffic will be 82 % of all consumer Internet traffic by 2021. It also predicted that Consumer Video-on-Demand (VoD) traffic will nearly double by 2021.
Now, if you have already integrated video marketing in your business plan, then you and your business are on the right track. And if not, then it's high time you do so.
Did you know an average one minute of video is equal to 1.8 million words? People have always been drawn towards moving images. Just imagine even a few years ago, we used to mostly receive text messages on WhatsApp. But today, we send and receive animated GIFs and short videos on WhatsApp.
According to eMarketer, today an average American spends nearly nine hours a week watching videos online. Do you know that 45% of people watch more than an hour of Facebook or YouTube videos a week?
Now, videos with less than 30 seconds duration have 88.3% completion rate. Also, the in-app video advertising platforms and embedded videos within the website have managed to engage more users in today's time. So, if you want your business to be smart, then you should be smart enough to include video marketing in your digital marketing mix.
The tech giants and venture capitalists around the world have predicted that video marketing is the future of online content marketing and 2017 is the year of video marketing. Also, HubSpot says, 96 % of B2B organizations use video in some capacity in their marketing campaigns of which 73% report positive results to their ROI.
Now, if you are still in two minds whether to take the advantage of this video marketing boom, then this is the year to take the plunge.
We will provide you with top 4 reasons why you should include video marketing in your marketing plan and how videos can be effective for your business.
Videos build trust
Videos encourage social sharing
Videos boost search engine rankings
Videos help in getting better email marketing click-through rate
Videos build trust
Scottish author George MacDonald had said, "To be trusted is a greater compliment than being loved."
If you are in the business, then your most important priority should be to "establish trust and win the confidence of your clients and customers." And if you can retain the faith of your consumers, your job on the hand becomes easier.
But gaining trust isn't an easy job either. However, in this case, videos can come to the rescue and the level of engagement of the consumers and clients can increase manifold if your videos are beguiling and interactive.
According to HubSpot, 64 % of users are more likely to buy a product online after watching a video. Also, 80% of users recall a video ad they have watched in the past one month.
There are four types of videos you can make to increase the level of trust with the consumers. These videos create an emotional connection with the consumers and clients, which is paramount to keep the business running strong.
Testimonial videos
Explainer videos
Product videos
Company story videos
According to Digital Information World, 33 % of tablet owners watch about an hour of video on their devices every day. YouTube has already become one of the most powerful and watched video platforms. Even a few years ago, video marketing was thought to be practiced only by established firms, but today, the scenario has undergone a sea change. From a startup to SME, everyone tries to include video marketing in their marketing plan.
Santanu Mukherjee, head of Digital Marketing, Indus Net Technologies, informs that explaining a product or service in the form of lengthy content to a customer is actually putting a pressure on them. Also, as a marketer, he informs, he never tries to sell a product. Rather, he tries to establish a relationship with the consumer and videos enable marketers to build trust.
"A customer or a client will prefer to watch an explainer video of one minute than reading a three-page brochure," he says. He also mentions that if the video has the presence of a personality, which represents the brand, then it enhances trust and builds a connection with the virtual audience. Santanu also mentions that edutainment video, which means proving education through entertainment, is on the rise. "These videos have a greater chance of winning the trust of the consumers," he says.
However, he also cautions that the success of video marketing depends on effective and innovative planning, proper implementation and promotion.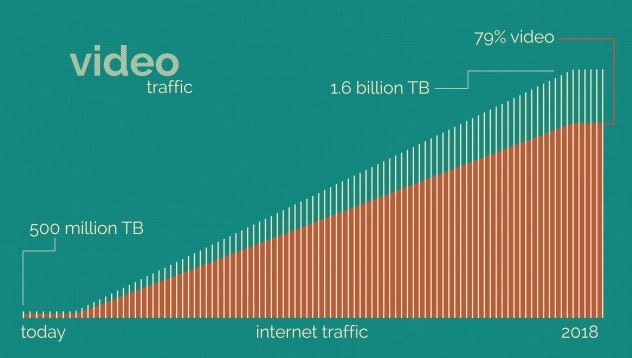 Credit: Replay Science
Videos encourage social sharing
The more your video is shared, the more audience you reach and higher are the chances of conversion. And as we all know, the more conversions, the more chances of getting sales.
Just imagine how many of the auto-play videos on Facebook do you share on a daily basis? Though we might not always like these "auto-play videos" but it can't be denied that these videos have managed to up the engagement level.
Also, with the increasing usage of smart devices, video sharing on social networks has taken a huge leap. 92% of mobile video consumers share videos with others, says HubSpot.
Facebook today is giving YouTube a run for its money through its various video features such as Live Video and Lifestage. TechCrunch reported in 2016 that over 100 million hours of videos are watched on Facebook every day.
As a brand, you should not miss out on the social media platforms when it comes to uploading and promoting your video, especially Facebook, Twitter, LinkedIn, and Instagram. If you are a B2C brand, you should also explore Pinterest and SnapChat. Your video will have a link to your website on social media. This increases the chance of having a new viewer on the website. And that gives a greater probability of making a sale. However, here it should be kept in mind that every digital marketing strategy is different for each client.
Social sharing increases the traffic to your website and if you can create intuitive, relevant, valuable and innovative videos, then it can benefit your inbound marketing strategy.
Roberto Blake, popular designer YouTube creator and marketing consultant, admits that audience on social media has a deeper connection with you. "And if you give them content where they can react and respond, or interact with you, it can be very effective for your business and might lead to conversations later," he says.
According to Social Media Examiner, 60% of marketers used videos in their social media marketing in 2016 and nearly 14% of marketers used live videos in their social media marketing in 2016. So, you can understand the importance of having a proper video marketing strategy in your plan. But let's not forget that videos, which are emotionally appealing and entertaining, are mostly shared by the people on social media.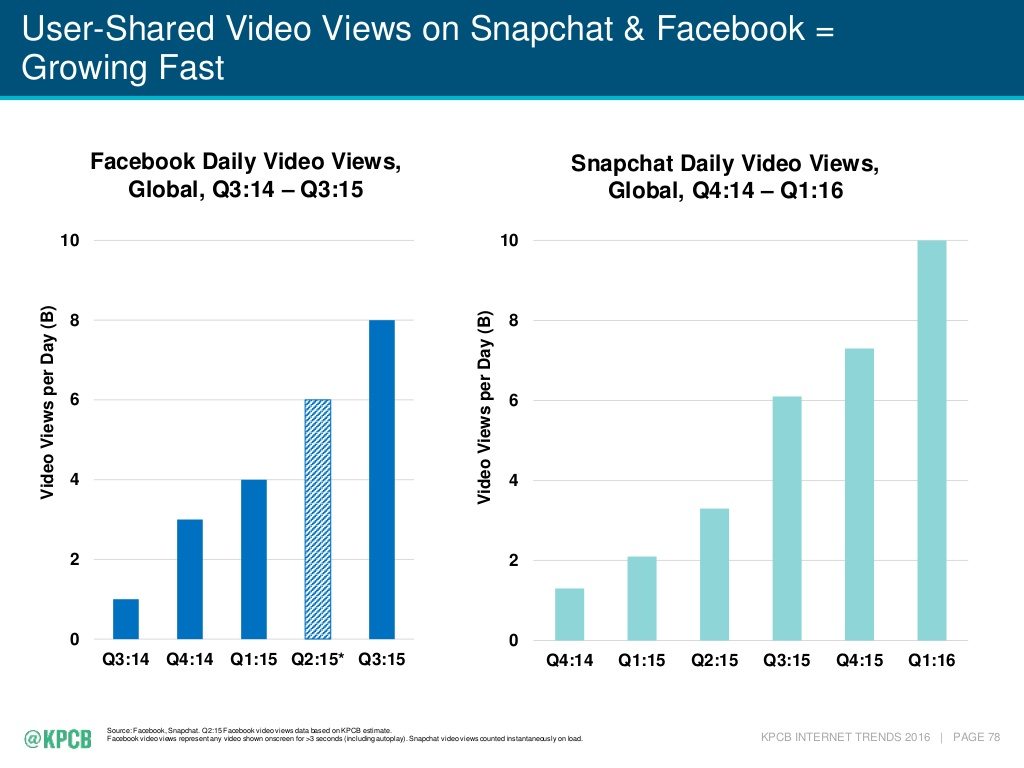 Credit: Buffer Social
Videos boost search engine rankings
Google loves videos. Yes, you read it right. Online studies conducted over the years have indicated that if your website has relevant and valuable video content, there is a significant chance of your website achieving a better ranking on Google SERPs. And who doesn't want to be on the first page of Google?
Forrester Research found that videos are 53 times more likely to receive an organic first-page ranking. Consumers spend 88% more time on a website, which has video. And more time a visitor spends on your website, it sends signals to search engines that your website has new and valuable content.
HubSpot also reported that 39% of business decision-makers contact a vendor after viewing a branded video. Also, studies have revealed that a video placed on the landing page of your website can increase conversions by 80%. So, if you continuously add fresh, engaging, useful and informational video on your website, then it improves organic SEO of your company's website and lowers the bounce rate. If you can add the video's link back to your website, make shorter videos and use a proper keyword, it again enhances SEO of the organization.
Videos help in getting better email marketing click-through rate
Today, email marketing is considered one of the foremost tools in digital marketing mix to generate leads. In today's time of limited attention span, getting your email noticed among piles of emails is hard. As per Animoto, if you use the word "video" on your subject line, it boosts open rates by 19%, click-through rates by 65%, and reduces unsubscribes by 26%. Now, isn't this a great way to make your email stand out in the overcrowded email box?
But then again, you need to remember some quick points.
Add "video" in the subject line
You can use embedded videos, cinemagraphs, animated GIFS within the email
Incorporate social buttons at the end of the video
Keep the videos under 3 minutes
Personalize the email
According to Hubspot, video in an email leads to 200-300 % increase in click-through- rate. So, be creative, crisp and utilize the power of video to make email campaign more effective and generate more leads.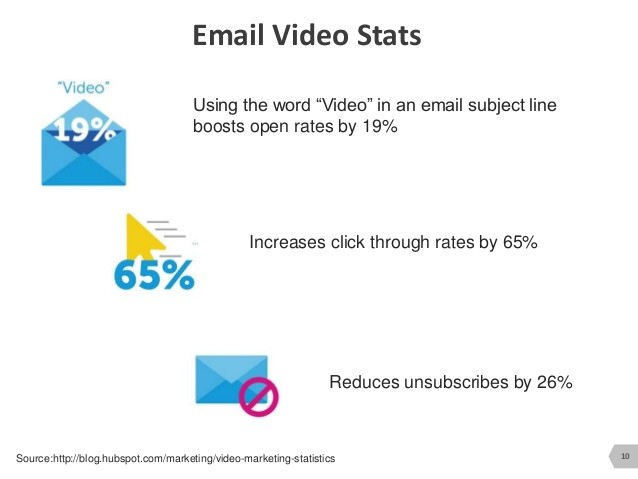 Conclusion
Popular author Seth Godin was quoted saying, "Marketing is a contest for people's attention." And videos are a great way to attract the attention of the users.
The digital video industry is marching at an accelerating pace with major tech giants jumping onto this bandwagon. Amazon announced that it would spend $4.5 billion on video in 2017. Other video producing giants such as HBO, Netflix, and Facebook are also giving tough competition to YouTube, which gets over 30 million visitors per day.
Krishnendu Chatterjee, Senior Account Manager, Indus Net Technologies, who is in charge of Oomphbox, a video company of Indus Net Technologies, which offers 2D explainer videos, live action explainer videos, white board explainer videos, marketing videos, product videos, infographic videos and corporate presentation videos, admits that video content today is the most effective in content marketing strategy.
"People remember videos more than text. Also, if you can make a video entertaining and informative, there are more chances of getting views," he says. Krishnendu also mentions that today a number of online platforms and tools are available to create engaging videos. He also informs that through a video you can easily convey the message effectively to a wider audience easily.
Strange but true that today 6 out of 10 people prefer online video platforms to live TV. And going by the way videos are ruling the world, studies show that by 2025, half of viewers under 32 will not subscribe to a pay-TV service. This is surely good news for digital marketers who have already understood the potential of video marketing and integrated it in the marketing strategy of the company. Are you still waiting to integrate video marketing in your business? Well, then, we are sure your competitors are having a gala time.
Santanu sums up the utility of video marketing with Benjamin Franklin's famous saying, "Tell me and I forget, teach me and I may remember, involve me and I learn." "This exactly happens in the case of videos. Videos have the power to involve a user and that's why it is gaining popularity across all industries," he says.
Subscribe to our Newsletter