back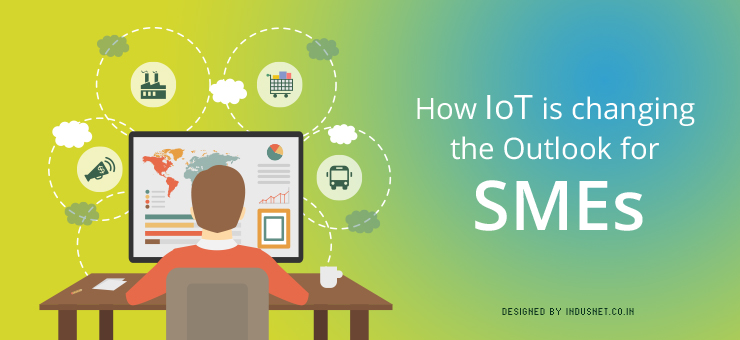 General
How IoT is changing the Outlook for SMEs
The market is abuzz with the term Internet of Things (IoT).  Why are businesses and governments obsessed with this new term?
What is Internet-of-Things?
This is a next-gen technology where everyday objects are connected to the internet with an ability to send and receive data. This ability clearly signals the production of the huge amount of data, often referred to as big data. Big data can be analyzed and processed through machine-learning technology and ultimately deliver refined predictions for users.
Main components of IoT
The main components of IoT are sensors embedded in devices, internet connection, and processing & storage servers. Sensor technology plays an essential role to intelligently capture big data.
Impact of IoT on businesses
This technology is going to have a profound effect on consumers and businesses across the world. Since IoT is a new technology, its progression and impact on businesses will be gradual.  Businesses can aim to improve customer satisfaction, financial performance, and productivity. Besides that, there are endless possibilities for research and development.
[php snippet=1]
Internet of Things is not limited to internet-connected TVs, ACs, or fridges. It includes a growing network of internet-connected products in the industry. IoT will deliver smart products that can take corrective actions to avoid damages. Wearable technology products like smart watches, eye glasses etc effectively utilize IoT to empower the user.
[php snippet=1]
The valuable data, hence generated can change the way SMEs work. Industries ranging from automobile, healthcare, consumer electronics, manufacturing, and agriculture will be benefitted by this technology.
The following article explores untapped opportunities for small and medium enterprises by deploying Internet-of-Things.
Manufacturing
It will enable production and supply chain processes to be highly efficient.  Manufacturers can effectively manage the flow of materials, cycle time with this new set of information about process interdependency. This will enable them to reduce inventory cost and minimize capital risks.
A machine or a manufacturing process can provide information about component wear and tear that helps to minimize operational cost, energy consumption and prevent equipment failure.  A manufacturer can pre-empt a possible breakdown and take preventive measures. He can easily diagnose the cause for poor product quality and take corrective measures.
This eliminates the need for damage control by spending on urgent and costly repairs. It makes sure that there are no order delays or a dent in customer trust.
Retail
Modern retailers are already using RFID (Radio Frequency Identification) that uses tags to keep a track of inventory in the stores. As soon as a stock item reduces beyond a certain level, an alert is sent to warehouse for replenishing the stock. This process significantly reduces inventory load and maintain inventory accuracy.
IoT technology can be used in retail stores to enhance in-store customer experience. For instance, auto payment debit from payment cards while customers leave the store. This eliminates the need for customers to stand in queues and wait for their turn to pay.
Products can be connected to customer's grocery list in their smartphones as soon as a customer enters the store. This technology will draw a flow chart for customers to move in the store depending upon their product list and help them save shopping time by navigating the organized path.
Marketing
Businesses can collect a lot of real-time information from consumers that can be instantly processed. This gives them an enormous opportunity to measure and analyze consumer behavior so that they can guide their marketing decisions.
Imagine sensors can determine the usability of a product. Consumer preferences, trends, and likings can all be ascertained and businesses will be better equipped to steer their marketing strategy.
This technology is a breakthrough for SMEs who often find it difficult to compete with their large counterparts owing to large overheads. They also lack economies of scale. Under such circumstances, big data analytics will provide them a solution to minimize their cost and take bold marketing decisions without going wrong.
Moreover, SMEs don't have enough resources to expend on costly consumer surveys and market research. With IoT, they can quickly and economically collect and analyze a huge amount of data.
Product and spare-part sales
Businesses can closely monitor the condition of connected equipments. Sales department can predict consequently what part needs replacement and accordingly plan their inventory.
They can service customers better by proactively approaching them and informing them about the right time to change the part. Customer woes are minimized because they are prepared to change the part and avoid unforeseen breakdown. If the part is expensive, customers can budget it in their expenses to avoid the cash crunch.
Application development hardware and software
Application development in IoT era will open up tremendous opportunities for developers in SME sector.  IoT will generate the demand for the development of niche applications for specific industry and for a specific product.
Data storage devices and data compression devices will be rapidly sought after to handle and store big data load. Security remains a primary concern for businesses when critical data is exposed to the cyber threat. Cyber security applications will also be in heavy demand by businesses to secure their data.
Product improvement and new product development
Tracking data through IoT will enable SMEs to monitor product condition, settings and usability to devise product improvement.  Engineers can easily analyze data to improve product material and design.  It can give way to new product development.
Transportation
The smart city is a growing concept these days. Smart city residents can use technology to access transportation related services with convenience. Residents can pay toll or parking charges through mobile wallet services or other smartphone applications connected with payment cards and accessible via city-wide Wi-Fi.  They can also find out real-time information about parking availability in parking lots.
Similarly, this technology can be implemented across public transportation systems like metro, buses, local trains etc. SMEs can use this opportunity to develop applications based on government requirement.
Medical services
Doctors, healthcare professionals, diagnostic centers and hospitals can monitor patient's health by tracking data through wearable gadgets. Accordingly, they can suggest better treatment or diagnosis for a health issue.
SME healthcare service providers can use this opportunity to boost their revenue and garner patient's faith in their services.
SMEs have everything to gain from Internet-of-Things
There are endless openings for SMEs in IoT technology in almost every field of business. Organizations can utilize big data and improve customers' lives. However, there are security challenges in this technology and SMEs must ensure that customer privacy and security is not compromised.
Subscribe to our Newsletter