back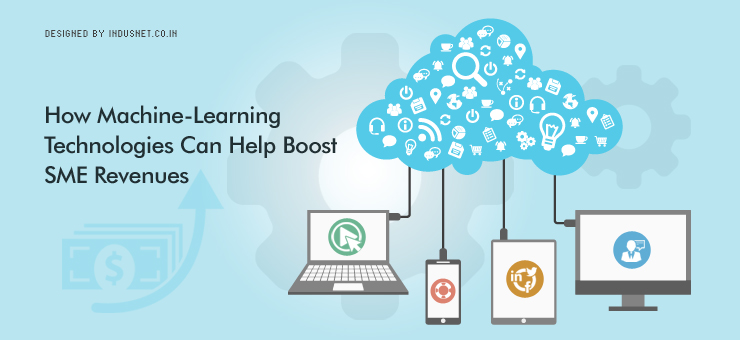 AI & MI
Marketing Automation
Technology
How Machine-Learning Technologies Can Help Boost SME Revenues
The term machine learning was first coined in 1959 by Arthur Samuel, as a field of study that gives computers the ability to learn without being explicitly programmed. Machine learning focuses on the development of computer programs that evolve when exposed to new data. This enables computers to screen and sort data through self-learning and prediction techniques. Computers employ artificial intelligence techniques to learn by itself through repetition and experience.
With big data in picture, machine learning today has grown into potentially a highly significant field of study. Businesses can gain tremendously from machine learning solutions. Machine learning solutions require highly skilled engineers who can build and maintain these solutions. However, small scale businesses usually do not have enough resources to construct their own solution; so, enrolling for machine learning as a service on a cloud is the best way forward to experience its multifold advantages and boost revenues.
Machine learning solutions are enabled to extract quality data from big data. For a business website, blog or social media page that generates a tremendous amount of data on a daily basis, it is practically impossible to sort data manually. And if the data is left unprocessed or unutilized, a business can lose out on many opportunities and market sentiment due to its failure to discern the data.
The following article will briefly explore how machine learning solution can help SMEs in many ways:
Generate valuable content
A lot of user-generated content is produced on company websites in the form of feedback, comments, and reviews. Content produced by users does not guarantee any authenticity. It can be vulgar, false, abusive, or completely negative. Machine learning solutions filter out objectionable content without human interference or manual tagging. The result is that users can view only quality, relevant, and unbiased content.
Email service providers having been using this technology for a long time to filter out spam emails, which we often find in the junk folder. Machine learning solutions enabled mailing software to identify spam and bots on its own based on artificial intelligence. And the ability to filter spam keeps increasing every day based on experience.
Similarly, user-generated content can be filtered by implementing machine-learning solutions for websites, blogs and social media handles of a company.
Recognize visual content
Content generated on the internet is not limited to text but also images and videos. Usually, users need to manually describe and tag visual content for analysis. However, machine learning services are enabled to automatically annotate images. Such solutions use semantic classifiers to recognize objects based on color, texture, shape and edges.
Filter objectionable visual content
Businesses can tremendously benefit by automatically filtering objectionable visual content on social media platforms like Facebook, Pinterest, Twitter, Instagram or their blog. This can save a lot of time which otherwise is consumed in manually scanning every image or video uploaded on social media handles. This is important considering the amount of visual content generated every day. Moreover, visual content can be more sensitive or offensive.
Identify images relevant to a specific product
On the other hand, it empowers businesses to identify images that are relevant to their brand across their network or probably across the web. If any person uploads an image that relates to a specific product and is relevant to a business, machine-learning solutions would be capable of identifying such content. Businesses can measure the impact of their campaigns, product's fondness among users, and conduct other analysis. This is aptly applicable to online retailers who significantly rely on visual content.
Help users find better products
Machine learning is suitable for users who search for better products on the web. Google Image Search, Pinterest, TinEye are popular services that use content-based image retrieval system and greatly rely on the machine-learning algorithm to help find users better products, locate the source of image and web pages, find higher resolution versions, get more information about an image.
There are many e-commerce services that utilize machine-learning technology to help its customers quickly browse and find a better and highly relevant product depending upon their likings and preferences. It can suggest new products to customers by deploying machine-learning strategies.
Provide efficient customer support
Machine-learning solutions have found great acceptance among customer service areas.
Customers generate different types of queries on company's website through the contact us forms. For e-retailers, the load of customer queries is even higher. It is extremely difficult to manually go through the content of each query, tag and then re-route the query to a specific department. The cost of handling queries can be hefty for a small business owner. Moreover, this delays customer query resolution and businesses can lose out on customers.
On the contrary, if customers are asked to fill complicated forms to generate a query, the possibility is that customers will feel frustrated to do that and will never go ahead. Machine-learning solutions are capable of identifying content in the query form and directing it to the specific department for query resolution.
Understand customer behavior
It is necessary to understand the market sentiment to drive critical business decisions. For instance, if a business does a test launch and wants to track consumer opinion across the web, it can monitor so by deploying machine learning techniques.
Marketers can deploy machine-learning solutions that can specifically track consumer review forum apart from their social media handles like Twitter, Facebook. Social media listening has gained a lot of traction over the last few years. Consumer opinion spreads like fire on social media and some controversial posts can instantly become viral.
Keeping a tab on market sentiment will help marketers to understand customer behavior and design better solutions for them.
Invest in machine-learning services to grow
Machine-learning as a service has remarkable potential in future and is still at a nascent stage. It is clearly understood that machine-learning techniques are an absolute necessity for modern marketers. Higher the capability of an algorithm, the more useful it is to the user and the business.
Customers are central to any important decision in the company. Small business owners can no longer afford to ignore the specific needs of a customer. Niche marketing can only advance through the concept of artificial intelligence and machine-learning technology.
Since small business owners don't have enough resources to spend on the development of machine-learning solutions, they should search for the right vendors that understand their needs and customers.
Subscribe to our Newsletter