back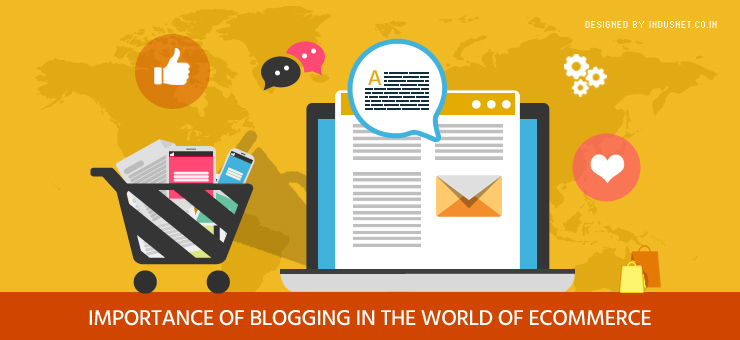 E-commerce
Importance of Blogging in the World of eCommerce
There is a misconception in the business world today that a blog is quite expensive and difficult to maintain. Many business owners also believe that blogging is more suitable for showcasing services as people would be purchasing something intangible. If one is selling products, there really is no need to write blogs, or so goes the belief. Unfortunately, this is not true. A blog drives traffic and all website owners agree that they need more traffic.
A blog can do a lot more than you think it does
Email newsletters, direct sales and marketing can only go so far and will not add anything of importance to the website. A blog, on the other hand, ensures that there is informative content that can be indexed by search engines. While your SEO improves, people will also be able to find your products because of the blogs you write.
There are a number of times when people are interested in purchasing your products but do not do so because they do not find the product description convincing enough. Product descriptions are just that, they do not add anything of value to your brand. When blogs are written for shoppers with their interests and thought processes in mind, you will gradually realize that people often read your blog and then decide to purchase your products.
Blogs also help in nurturing your leads and providing post-sales information. Most of the times, people stop themselves from making purchases because they have not decided yet. If you narrate compelling stories that are informative and entertaining, you have made your job much easier. People will already be hooked to your website and purchase what you probably sell on your website.
It is common for people to purchase ingredients recommended by online recipe blogs than the advertisements that they see on the right sidebar. This is because most people have an innate tendency to believe those who are well informed. If you know what your products do and how they will be used by your consumers, all you need to do is write blog posts about that. When people are looking for a solution, they will find your blog post and have that eureka moment.
Invest in blogging
The most important message to take from this article is that if you are running an eCommerce store, it is in your best interests to invest in a blog. Of course, blogs are not cheap and they are difficult to maintain. You can always hire great writers who will write excellent stories that will captivate the imagination of the readers.
These are the very readers whom you want to attract to your product pages. Once you write frequently (or even infrequently), your credibility as a company increases. People will know that you are not just an eCommerce store trying to sell products. They begin to realize that you know what you are selling and that it will be useful to those who purchase them.
Subscribe to our Newsletter