back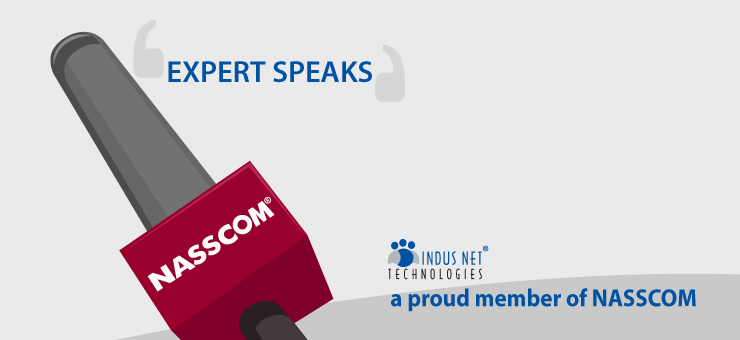 Inside Indus Net
Management
INT. CEO, Abhishek Rungta shares insights about the trends of Global Tech Industry in NASSCOM's Face to face
National Association of Software and Services Companies (NASSCOM), the trade association of Indian Information Technology (IT) and Business Process Outsourcing (BPO) industry, recently interviewed Abhishek Rungta, CEO, Indus Net Technologies (a proud member of NASSCOM) on the key trends of global tech industry to look out for and how Indus Net Technologies is contributing in this arena.
Source : NASSCOM
Abhishek Rungta is the Founder & CEO of Indus Net Technologies, a premiere web development and digital marketing company with offices and subsidiaries in India, UK and USA. Indus Net has rated as #1 IT SME by Dun & Bradstreet, and also ranked in Deloitte Technology Fast 50India. Abhishek graduated from St. Xavier's College, Kolkata and did his Masters from University of Bath, UK. He is also Co-Founder of Seeders Venture Capital which is an angel investment firm.
---
Q: What in your opinion are going to the key trends and disruptions that will drive the growth of the global tech industry?
We are moving towards ubiquitous computing—connected devices, mobile applications, wearable computers, mashups of different apps, that are resulting in contextual, actionable knowledge and creating new opportunities. Applications, solutions and management tools need to be developed to leverage these emerging platforms. A new wave of innovation is simply waiting on the horizon.
Very important trends to watch out for are mobile apps, smart TV apps and social mashups. We can also expect to see major movement in the areas of data storage and computing that will veer towards Cloud infrastructure. Last but not the least, the form of interaction is set to change from typing to clicks to touch to gesture to voice. This is finally coming into practical computing now.
Q: How is Indus addressing these trends?
"As consumers begin using the Internet and the mobile, our clients will need to have more innovative Cloud, mobile and social strategies for their businesses"Indus is playing a critical role, right at the heart of these changes. We are developing user-friendly enterprise mobile solutions to enable organisations to achieve productivity and profitability. We have invested heavily in creating innovative mobile and web products for the BFSI vertical to ensure seamless operational efficiency across these organisations, especially in top-line focused activities. We are additionally working with media houses to create unique social TV experiences for their audience. We are working on gesture and surface computing, conceptualising new ways.
Q: What are the customer segments and verticals that you are targeting?
We are primarily focused on the BFSI (specially Insurance) and e-governance verticals and in the process of developing solutions for media, entertainment and publishing sectors.
Q: What do you feel are the main challenges being faced by the BFSI segment and how are you helping resole these?
Our decade-long experience in the BFSI segment in the European markets tells us that the biggest challenges faced by this vertical are product distribution and risk mitigation. We have innovative solutions which work with existing core systems to enhance and improve the distribution of financial products through multiple channels.
We use the power of mobile technology (primarily tabs) and social media to achieve the same. Indus is offering solutions for all the layers, i.e. manufacturers (i.e. insurance companies, banks and financial services companies), distributors (agents, brokers, etc.) as well as end consumers. We are bridging the gaps in the sales and distribution process to help companies increase their top line.
Q: How are your Cloud solutions levelling the playing field for your SMB clients? What are you offering your smaller customers?
Cloud solutions allow you to pay for what you use, when you use it and scale up as demand increases. Thus they can gain access to enterprise solutions even though they are small, at affordable prices. Our Cloud based solutions are helping these companies reduce their infrastructure costs, since infrastructure is available as a services, providing them 'on-demand' IT resources at rock-bottom prices. We offer hosted solutions to our clients and our billing is based on usage, which is the primary premise of cloud computing.
Q: With the Internet and mobility proliferating at a rapid rate in India, how do you perceive the opportunities presented to the country's domestic market and your role here?
Internet and mobility will bring all the users into the mainstream. As a company, we are leveraging the Internet and mobile platforms and hence, opening up a floodgate of opportunities for your customers. As more and more consumers begin using the Internet and the mobile, our clients will need to have more innovative Cloud, mobile and social strategies for their businesses. This will keep us on the innovation curve and we will continue to help our client grow using these three technology forces. We see a lot of work happening in segments such as BSFI, retail, media and entertainment and of course e-governance. This is where we have positioned ourselves and are creating opportunities.
Subscribe to our Newsletter