back

Automation
Streamline Your Sales Process With These Must-Have Features Of Sales Automation Solutions
Creating value for customers means building a sustainable business for the long term. By creating value, we mean answering their pain points through engagement and winning the business through the customer-centricity process. Sales representatives being responsible for building a stronger relationship with the customer must focus on building rapport with the customer rather than getting involved in non-revenue generating tasks. That's where sales automation solutions come in. Also, "Sales automation has increased productivity by 14% and reduced marketing overhead by 12%."
What is sales automation?
According to Hubspot, Sales or Sales Force Automation (SFA) is the mechanization of repetitive and manual, time-consuming sales tasks using either software, artificial intelligence (AI), or other digital tools. It aims to manage or own responsibilities that sales reps and managers do on a daily, weekly, or monthly basis.
Sales automation benefits your business' bottom line and optimizes the functionality of the sales team. If you are asking how then Sales automation:
Bumps up the productivity and performance of your sales personnel

Boosts your efficiency

Augments the accuracy and accelerates your sales process.

Ensures that your sales leads don't fall through the cracks.

Optimizes the quality of repetitive sales workflow

Lowers response time which can optimize customer satisfaction.

Drives sales data consistency across your sales organization.

Facilitates optimal use of otherwise limited resources (eg. a small sales team or budget)
What can a sales automation system do for you?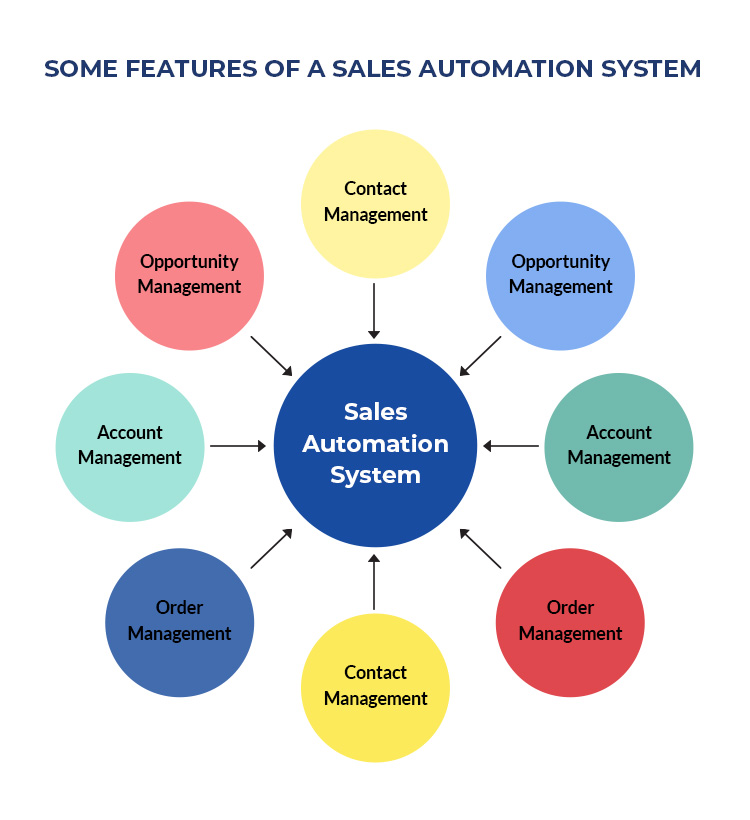 A sales automation system can perform a plethora of sales functions that make it easier for businesses to funnel leads towards the intended target for further processing. Excel sheets are now obsolete technology, where sales managers had to assign leads manually, and the sales force ticked leads off their lists.
Novel tools are in vogue in the market that carries out this work for you. And they do it with clockwork precision so that there is no human error in the sales workflow. Listed below are some awesome features that every automation tool that is worth its salt has:
Customer and transaction management
The main goal of SFA is Customer Relationship Management; some salient features are listed below:
Manage contacts: Easily view customer contact details, event history, historical interactions, and account discussions at your fingertips. You can also gain insights from different social media platforms. The most important part is that all data is available on-demand
Opportunity management: Easily manage ongoing transactions, such as progress, quotations, team status etc.
Salesforce participation: Create bespoke campaigns with a few clicks and monitor how you engage with your customers. All developments will be notified immediately.
Sales cooperation: Find subject matter experts to get relevant information and crack deals on the go.
Business performance management: Improve performance by getting real-time data from your team, setting metric-based goals, providing training instructions, providing feedback, and rewarding your efforts.
Leads Management
Leads are as important as business sales. Without a lead, sales can be difficult. SFA has an intuitive, easy-to-understand lead management system.
Campaign Management: Get the most efficient ways to invest, track real-time leads and transactions, and optimize ongoing campaigns to keep your games in top condition.
Partner Management: Work with your partner network on a whole new level. Proactively monitor engagement, share goals and activities to achieve maximum results.
Increased productivity
One of the main advantages of SFA is that you can leverage the cloud platform to increase your productivity. There are several features that can greatly improve overall productivity.
Mobile: Smartphones are no longer just phones. They have become a portable sales office with a sales force automation application. Record phone calls, verify sales, respond to prospects, and get to know your business anytime, anywhere.
Workflow and approvals: Designing and automating business processes with a simple drag-and-drop GUI is an easy task. Minimize the management of business processes such as commissions, trade discounts, promotions and more with a flexible approval system.
Internal Sales Console: Provide the full support needed for your internal sales team. To build a smarter, faster workforce, sales teams can now access multiple leads from sales intelligence, detailed company information, and a single screen.
Mail Consolidation: You can integrate all existing email applications and make use of them efficiently with the least amount of manual labour.
Synchronize and share files: Effortlessly share files, discuss with your team, and publishing and tracking content in real-time. You are able to query required files, manage access, and be notified when changes occur.
Insight Management
Insight is a sketch of effort and reward. Data from SFA is a treasure trove of insights that translates into demographic data accessible to everyone.
Reports and dashboards: Access your dashboard anytime, anywhere and get real-time reports on the move.
Sales forecast: Deliver intelligent, simple, and accurate sales forecasts to your team dashboards in real-time, with powerful features such as inline editing, the range of visibility, and multi-currency support to simplify sales forecasting.
Area Management: Geographical management is a very difficult business. SFA simplifies the process by creating multiple regional models, previews and allowing you to freely balance and optimize areas after implementation.
Ready to embrace automation?
SFA includes a number of tailored features designed to fulfil your business needs so you can always control your game. Companies must adopt technology to automate and streamline their business processes to become resilient and responsive to new challenges with changing market scenarios. 
To streamline your other business processes, you can book a call with us, and we will take you to the next level of automation that your business requires.
Subscribe to our Newsletter