back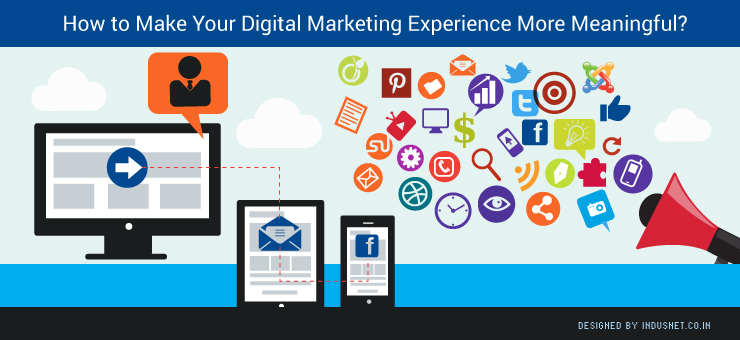 Digital Marketing
How to Make Your Digital Marketing Experience More Meaningful?
As it is rightly said that change is the only constant factor, the same is applicable in every business world, especially when we are talking about digital marketing industry today. The process of integrating platforms and customer's experience through a digital channel is extremely crucial. Digital marketing enhances the prospect of increasing and improving interactions and relationships with the existing and prospective customers. The whole process needs constant upgradation in order to stay relevant in the industry. It is time of the year again when your digital marketing strategy needs a boost to stay ahead of the curve.
Marketers Need to Enhance Their Collaboration Effort
When you're trying to develop a brand as a marketer, you need to have a good collaboration skill to execute your responsibilities properly. Collaboration delivers the best results. It is a recursive process to realize and accomplish shared goals. It is more than the intersection of common goals and collective determination to reach an identical objective by sharing learning, knowledge and consensus. And when a marketer can put together the right people, the right strategy and some well-advanced tools, he has the powerful plan of actions that can make any campaign successful.
Understand the Meaning beyond Money
Being authentic will better connect people to your brand. Understanding the core meaning of your business helps align your messaging and marketing efforts. Your brand story can significantly develop interests and engagement in your business. Your brand story is a picture of facts, feelings and interpretations, which are shared by you, your customers and your community. It is an effective way to keep you real and on top of mind. It inspires, educates, and builds indispensable relationships and loyalty with your clients.
Crowdfunding, the Soon-to-be Digital Marketing Frontier
Crowdfunding has been backing up several projects and has attracted millions of potential investors. It empowers passionate people with ideas to take their shots. The campaign raises a certain amount of monetary funding with contributions coming from a large number of people using the internet as their platform. The industry, as a whole, has ideas that are relatively young. While social media allows things to happen through communication and enables people to share and communicate, crowdfunding has added a commerce element, where people are not just asked to share their ideas but to raise money for them to make them a reality.
Video Marketing Will Continue to be the Buzz
As we all know how the Ice Bucket Challenge was one of the biggest sensations of 2014. The video generated billions of clicks. Video is an effective way for people to share their experience and tell their stories easily. These days, anyone can produce a quality short film using their camera along with the help of several video apps that can be accessed online. The 6 second approach with Vine or Twitter's mobile video is playing an important part in the rising popularity of video content. Content does not necessarily have to be written text. Harnessing this enthusiastic medium to facilitate user-generated content can ultimately yield massive results in widening brand reach and getting target audience.
Embracing Native Advertising
Native advertising is the practice of using paid content to build trust and engagement with the would-be-customers. The content are creatively constructed and placed to flow naturally with the original content of a website. Native ads have the potential to pass as organic content to the untrained eyes. Consequently, you can create strong brand awareness through native advertising campaigns as it helps in generating clicks, shares and comments for the advertisers. This type of content is more likely to increase click-through-rates and encourages audience engagement than average banner ads.
Your Presence in Social Media Channels Makes a Difference
You are well-aware of the influence of social media but did you know the importance of social media data that can influence marketing decisions? Social media data is pretty complex and difficult to put into actions. However, digital marketing marketers can add a hat to their collections – the social media analyst hat. This analytics is the practice of collecting data from blogs and social media websites and later analyzing the data to make business decisions.
Optimize All Marketing Channels
Your biggest responsibility is to ensure that your brand message is unanimously conveyed across through marketing channels including:
Blog post
Paid marketing efforts
Email marketing and follow-up emails to communicate the next steps of action
Social media campaign
Automated emails
Create Micro Goals
To make your goals easier to accomplish, break them into smaller action steps
Create landing page for email list and allow visitors to subscribe to your newsletters
Prepare automated emails and make a plan to send them on particular days of a week
Make use of content idea creation tool to create content and add them to automated email series for newsletters
Track the number of subscribers and improve your email marketing strategy until you found 1,000 subscribers
Remember, not to repeat the mistakes as you had done in the previous years
Are You Calculating the ROI of Your Digital Marketing Activities?
To achieve success, companies must look back in their journey and measure digital proficiency. Companies approach digital marketing strategies in order to create an omnichannel experience that customers have come to expect. This entails starting the required infrastructure, digital strategy's objectives and of course, its measurements. Calculating ROI of digital marketing movements is considered as the Holy Grail of marketing measurement. Although there are several factors that generate positive outcomes typically, two important things account for positive ROI –
Bringing more visitors to the store
Converting more visitors
Businesses are finding it difficult, if not impossible to ignore the need to incorporate digital marketing as a part of their long term business strategies. It has become the priority for businesses around the world. An integrated digital marketing strategy gives you a strong foundation for all the key online marketing activities and helps you take the right decision to make a business successful online.
Subscribe to our Newsletter