back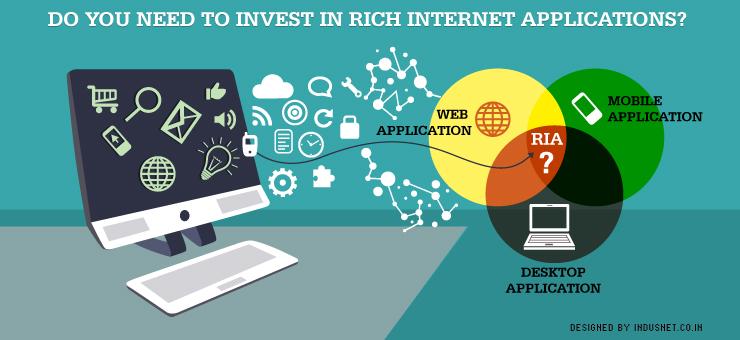 Web Development
Do You Need to Invest in Rich Internet Applications?
Rich Internet Applications are web-based applications bearing the similar function as traditional desktop applications. In the market for quite some time, this technology has enabled the businesses to reach its huge mobile customer base in a short time. RIAs can be rapidly built at a low cost.
The time to market is very less with a meager maintenance cost. These flexible and platform independent applications support animation, A/V application and provides great user interactivity. Adobe Flash, Java FX and Microsoft Silverlight are the three most common platforms used by RIAs.
With the increase in internet bandwidth, HD videos and audio, RIAs become more relevant as they can be run on various internet connected gadgets. RIAs hold a promising future in web development and are sought-after by all sorts of businesses across the world. The article below will highlight the importance of RIAs, enterprise challenges in RIA adoption and the potential of RIAs for you to decide if they are worth your investment.
Evolution from HTML pages to RIA
In the beginning of internet evolution, HTML-based pages delivered static documents through internet browser. Even rich content like graphics, video and multimedia files could be delivered through HTML. Gradually .Net framework came into existence to deliver dynamic content to users based on back-end business logic and database content. Developers started using JavaScript, VBScript and components like Applet and Active to meet the demands of business applications.
With the growing complexity in user demand, all these traditional internet applications were rendered incapable to meet these demands as their fundamental approach was still synchronous and document driven.
Inability to handle complex data and facilitate interactive manipulation by users posed a major obstacle for users. The development of RIA holds a great potential with a power to combine intuitive user experience of desktop applications with internet.
Characteristics of RIAs
RIAs are based on Rich Client Deployment Model i.e. deployment of a compiled client application through a browser rather than thin-client server model.
It makes the application highly responsive and interactive with its easy to use graphical interface.
Maintaining a balance between server and client resources was never so easy. RIAs enable the server to handle higher load.
They don't need any major installation. Its patch releases are easy and are updated automatically.
Security is improved through sandboxes and auto-updates but extensions are subject to vulnerabilities.
It is more accessible as compared to native web applications.
It enables quick search and filtering.
How is it important?
RIAs are web-oriented applications that allow client engine to intermediate between application server and user. With the launch of RIA, the client engine downloads the data. The client engine acts as a browser extension to handle server communication and user interface besides supporting extra downloads. Following are the key benefits of RIA:
1. Responsiveness and interactivity
The processing part with RIA is skewed towards the client's CPU resulting in reduced network traffic and faster response. The faster response is also because of asynchronous reloads. As soon as the page URL is clicked, it is only the particular section of the page that reloads and not the entire page.
2. Rich user interface
RIA offers rich user interface including graphics and high audio/video quality at par with traditional desktop applications.
3. Broad reach
RIA makes it possible for every user connected to internet, access the application. This surely broadens the reach of the application.
4. Real-time communication
Users can use instant messenger, video on demand, audio/video conference to collaborate with other users connect to internet and facilitate real-time communication.
5. Increased productivity
Multi-screen interface has been a major irritant for users in traditional desktop applications. RIA, on the other hand, offers a single application view and reduces iterations in business processes, thereby, enhancing user productivity & satisfaction.
6. Increased customer loyalty
It enables e-commerce business users to make payment, manage account information, track order status and reorder. Companies can use other innovative ways to enhance user experience to garner increased customer loyalty.
7. Get new customers
Besides retaining customers, RIA allows the organizations to double up the first line of interface with the end-customer. Such interaction goes a long way in acquiring new customers.
8. Low operational cost
RIA helps in reducing the load on the server and bandwidth usage by shifting the processing towards web browser.
Common RIA platforms
Microsoft Silverlight
This cross-platform web browser plug-in features animation, vector graphics and A/V playback. Silverlight is supported for .Net framework making it more interactive to RIAs. It includes Deep Zoom technology for images, enhanced media features and limited file system access to applications.
Adobe Flex & AIR
This open-source cross-platform technology runs on Flash plug-in. It is primarily used to develop RIAs. Adobe AIR, a runtime environment for building RIAs, can operate both offline and online.
Java FX
This cross-platform Java technology is used for building immersive media and content enriched internet applications. It helps to create interactive applications for desktop, mobile and TV.
AJAX
AJAX is another commonly used technology to develop RIAs. It includes XHTML, CSS, Document Object Model and JavaScript. Deployable to any browser, AJAX applications are widely adopted.
Challenges in adopting RIA technology
1. Finding common grounds
There has been a lot of debate over lack of standardization in RIA. Many developers question the use of AJAX and Flash. AJAX tools have constantly faced issues of cross-platform and cross-browser adaptability. Many open source companies are working together to solve these issues and make AJAX a more usable platform.
2. Security issues
Again, AJAX-based RIAs face a major security issue. There are many worms that hamper client-side AJAX framework putting confidential information at risk.
3. Limited accessibility
The dependency of RIA on JavaScript for improved interactivity is a cause of concern for many developers. AJAX implementations are often deemed unsuitable for screen readers, text magnifiers and other such tools.
4. Market is still in infancy
There are a number of small players emerging in RIA market with cost-effective solutions. There is still no established player who rules the market. Organizations need to carefully select their vendor by prognosticating all their concerns before heading towards development.
Potential of RIA technology
There has been growing acceptance of Service-Oriented Architecture for managing and organizing enterprise resources. SOA technology, however, has a limitation to provide interactive and intuitive environment for end-users. RIA here will, thus, play an important role in facilitating business and service data to reach the end-customer in an intelligent manner. RIAs are using AJAX to provide the simplest form of service from start to end on a single page as in case of ticket booking websites. Lack of data synchronization between services and transaction failure recovery still remain a challenge.
SaaS has been readily adopted by business houses to deliver a low cost and uncomplicated service to the end-user on a subscription basis. It eliminates the need for complex updates and licensing issues. RIAs act as a smooth enabler of SaaS model. Many enterprises are using RIA to deliver rich experience to the users. It enables SaaS-based websites to offer project management, opportunity management, collaborative calendaring and document management.
Apart from that, RIAs play a major role in defining the UI capabilities of mashups. Mashups combine information from multiple sources to deliver a holistic view to the end-user as in Google Maps. Traditional desktop applications have been incapable of delivering information on a single page without using a popup.
Looking ahead
The question remains whether to invest in RIA or not. Considering the characteristics of RIA, its benefits and potential, one can't agree more that RIAs hold a key to the future. There has been continuous effort on the part of developers to improve the platforms to enhance online user experience. The combination of platforms can deliver splendid results for business users. Traditional web applications are soon going to be obsolete with RIA ruling the roost.  Businesses will be empowered to deliver high value to their customers without adding proportionately to their cost.
The challenges discussed above do turn to be a cause of concern but with consistent effort by developers and open-source community, they will soon be alienated. Moreover, high internet penetration, widening bandwidth and a tremendous increase in online customers reflect a bright picture for RIA technology. Thus, it is high time to invest in RIA and make the most out of it.
Subscribe to our Newsletter