back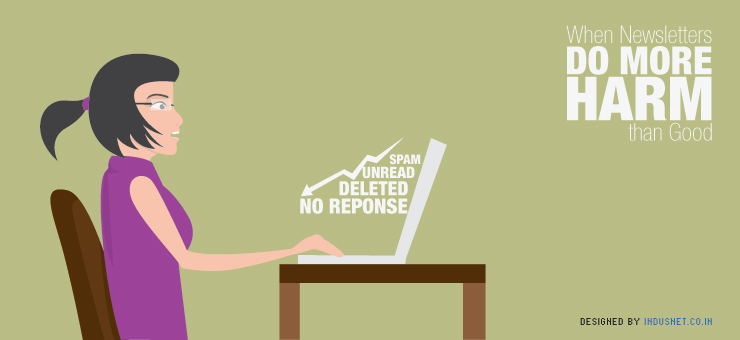 HRD
Inside Indus Net
When Newsletters Do More Harm than Good
Newsletters can be an amazing way to garner attention and ensure that there is a regular traffic to your website. Email newsletters also ensure that news information is always sent to those who care and those who really want to know about your company.
But wait a minute. Didn't someone just talk about newsletter spamming, and how people get annoyed when they receive commercial emails?
It hurts to accept that every newsletter is basically commercial communication which annoys people, to be very honest. No one likes to read about advertorials in their email boxes, not even when it is from Apple. Well, if it is the next iPhone, probably yes. The point is, people do not understand why newsletters often fail and why they are misused so very often. Here are a few reasons why newsletters bring more harm than benefits to companies:
The reasons above may seem ludicrous to some people but they are quite true. People have a negative association with newsletters and a company that sends regular newsletters may bring more harm to itself than others. The psychology behind the aversion towards newsletters is quite simple. No one likes a barrage of information when everything is available online anyway. Of course, it can prove to be a powerful tool if you choose the people you communicate your newsletters to carefully. Even then, sending too many newsletters may just annoy people.
Here is a case study of a newsletter campaign gone wrong:
Nicole loves dogs and heads a local pet saving association in her community. She disliked the fact that most animal shelters are killing grounds where those that can't be adopted are euthanized. She set out to form a nation-wide association that fights against euthanizing healthy dogs and cats at so-called animal shelters. Her noble idea immediately met with a lot of praise and people began to donate money to her cause and engage with her online.
However, when her organization began to grow larger, she decided it was time to 'corporatize' and started to email newsletters. She hired the best writer available and got the writer to write interesting articles for her newsletter. The newsletter was emailed to thousands of people who had all donated to her cause.
Now, these thousands of people were already interested in her cause and had donated money, a further step at consolidating their compassion for her cause. However, when she started to send weekly email newsletters, her audience dwindled and people slowly started to engage with her less on Facebook and on Twitter. When she asked some of her closest associates what the cause could be, they pointed out at weekly newsletters. Even a passionate cause or product that evokes positive emotions may tire people when newsletters come into picture.
What did Nicole do to undo the damage?
Nicole quit her newsletter campaign and instead continued to engage only on Facebook, Twitter and her blog. She asked her writer to write newsletters only when there was something worth writing about, instead of scheduling a newsletter every week. Her visitors, fans and followers returned once again and her cause received attention from local pres as well.
What we learn from this case study is that newsletters may do more harm than good. They do not always bring in traffic but instead drive away even the most sincere and loyal customers. A better format at attracting and engaging audience is to write better content for your website, blog, use Facebook and Twitter. Newsletters may be used only when there is actual 'news' happening. Likewise, press releases should not be written unnecessarily just to prove a point: My company publishes press releases too!
Newsletters and press releases are useful tools but they should never be used at a regular interval. They exist for a purpose and they should only be used when the right time or situation occurs. If they are overused or used when inappropriate, they will cause a lot of corporate damage.
Subscribe to our Newsletter