back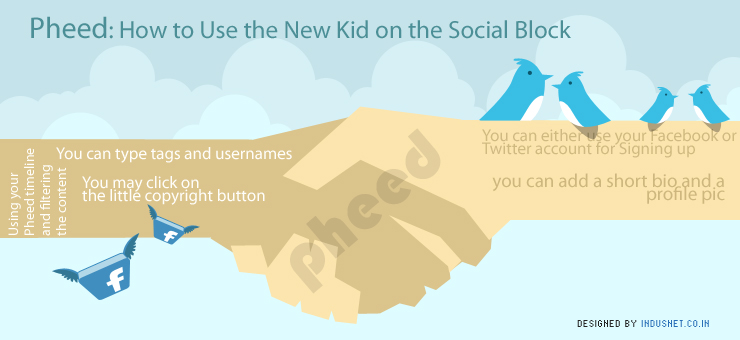 Digital Marketing
Marketing
Pheed: How to Use the New Kid on the Social Block
There are a number of social networking sites that are announced every month and most of them are forgotten by the end of the next month. Very few of them receive any attention at all and even when they do, they are gradually forgotten. Two exceptions to this rule in recent months are Vine and Pheed. While Vine is a video based iOS app announced by Twitter, Pheed is a full fledged social network that allows you to share media, photos, videos, audio and text.
The network was announced late last year and was made public once again in late February. Pheed became immensely popular with teenagers and young adults and quickly became the #1 social networking app to be downloaded on iPhone. Pheed can be used as a mobile application and also on the desktop. It has a very slick and stylish interface and certainly has something in it that will make you lurk around for a little more time than you would normally on any other newer social networking site.
Starting to Use Pheed – Step by Step Guide
Signing up on Pheed is an easy process. You can either use your Facebook or Twitter account from the mobile application or use your email to register. In order to complete the registration process, you need to subscribe to at least three channels, which are mostly at the moment spare.
Pheed offers a Twitter-like profile page, where you can add a short bio and a profile pic along with a background image. You can also choose to set your channel rating to the age group you cater to. If you plan to post adult (not pornography) content, you can choose 17 and above. Similarly, you may choose your own safety filter for the content that you get to see. Pheed also requests you to invite your friends from Twitter, Facebook an email to join Pheed.
Just like Twitter or Instagram, you can type tags and usernames in order to find content and people to follow. The choices are many and you should in fact find a number of interesting people and users to follow and interact with. Pheed lets you share what you post on Pheed with your Facebook account. Similarly, you can do the same on Twitter as well.
Using your Pheed timeline and filtering the content you see is just as useful. You need to tap the house-shaped icon, which reveals a dropped down of filters for you to choose from. You can choose to view all content or block remixes from appearing in your timeline. A remix is similar to retweeting on Twitter and reblogging on Tumblr. Similarly, you can choose to display only text, audio, photo, video or broadcast from the dropdown menu. There is also a Notifications bubble that lets you know when someone subscribes to your channel or interacts with you.
At the moment, you can share pheeds across Facebook, Twitter or email. You may also flag or keep content, depending on how strongly you feel about it. Creating a Pheed is very easy. The interface on the mobile application looks similar to typing a tweet. It lets you add images, video or audio. Moreover, Pheed lets you type 420 characters instead of just 140 on Twitter. What sets Pheed apart is the option to copyright your pheeds. You may click on the little copyright button so that no one can publish your pheeds or content within without your explicit permission.
Popularity among Youth
Pheed seems to be especially popular among the young. 81% of Pheed's users are aged between 14 and 25, though the platform is not targeted only at youngsters. One may explain that most youngsters are looking for a space of their won, and Pheed came at the right time to provide an alternate space vis-a-vis Twitter and Facebook, which are more popular among people of all generations.
Pheed Has Important Celebrity Friends in Hollywood
The popularity of Pheed among teenagers and young adults is also because many celebrities like Acacia Brinley, Pia Mia and others began to use it. We must note that Pheed is based in Los Angeles and the founders have noted that they have a lot of friends in Hollywood, which also explains why many celebrities have begun to use Pheed. While Hollywood connections may have helped Pheed to garner support from teen celebrities, we must not ignore the fact that it is a very well designed platform which is already the #1 application in recent weeks on App Store. This popularity should be enough for us to pay more attention to Pheed before others grab the opportunity to do the same. In fact, now may be the right time to grab your Pheed handles before someone else takes it away.
Pheed Is Popular Among Creative People
Apart from youngsters, Pheed seems to be especially popular among the creative types. It is being increasingly used by filmmakers, musicians, actors and designers. The network's slick interface and ease of sharing not only on Pheed but also cross post on Facebook and Twitter alone (without actually sending a Pheed) makes it ever more popular not only as a social networking site, but also as a social networking tool that can be used to handle Twitter and Facebook. Pheed is already one of the top apps in almost 30 countries across the world, and the number is only growing steadily. Its popularity depends on its ease of use, speed, slick interface and the ability to share photos, video, text and audio.
Paid Subscriptions and Copyrights
Pheed lets people monetize their social status and content, something that no other social networking site has done so far. While it may sound gimmicky and you may wonder why anyone would pay money to read someone's social posts, it makes a lot of business and commercial sense to not only Pheed but also to users to opt for such services. We can expect a lot of investigative journalists, celebrities, politicians and company CEOs to offer their Pheed channels for a premium rate.
Pheed lets you charge anywhere between a little more than a dollar to $35 per month for your feeds. Subscriptions are not carried over automatically and people will need to pay again every month in order to view your tweets, if you make your channel premium. On the other hand, you have the option to keep your channel free and charge only for certain broadcasts which you may choose. Pheed also proclaims that it respects all your content and would never share it with anyone. This emphasis on privacy and copyrights will help Pheed find a lot of fans among those who are concerned about their privacy and intellectual properties.
What We Think of Pheed with Respect to Other Social Networking Sites
Pheed is an impressive social networking service that works seamless on its iOS app and also on its web platform. It is attractive, well designed, intuitive and looks very trendy. Photos appear larger, videos look better and the typography is fantastic. Moreover, it is Facebook, Twitter and Tumblr all combined into one amazing and unique experience. It has a growing user base and 81% of that group belongs to those who are aged between 14 and 25. While this is a strength, they are not the ones who spend the most.
Older millenials and those who belong to Generation X spend more money and continue to remain most advertisers largest target audience. It is not clear if older users will make the shift from Facebook and Twitter to using Pheed. It is also not clear if businesses that are concerned with older consumers should dive in to engage with Pheeders. However, it is certainly clear that we shall should go ahead and grab those account usernames before someone else snatches them.
In the coming months, Pheed will continue to grow and probably more older Millenials and Generation X users will make the switch, prompting us marketing professionals to take Pheed more seriously. At the moment, creating an account on Pheed and trying it out for fun is a better idea than ignoring it. Pheed is certainly not a social networking site that can be ignored. It is one of the best social networking sites that we have come across and it has a lot of potential. Only time will tell if jaded older Millenials and Gen X users will begin to use this amazing platform as well.
Subscribe to our Newsletter