back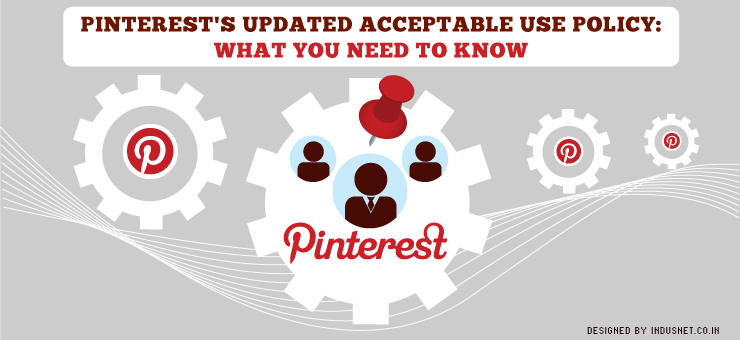 Digital Marketing
Marketing
Pinterest's Updated Acceptable Use Policy: What You Need to Know
Like with any other social networking site, Pinterest has lately seen a number of fake pins, likes and comments. Some of these fake activities have blatantly sought attention and they have managed to get what they want, at the cost of genuine Pinterest users' marketing success. Businesses that have used Pinterest spuriously have, thus, so far avoided penalties and warnings from any regulatory body.
No more spamming and requesting for repins on Pinterest
Thanks to a continued effort by Pinterest users and thanks to realization among Pinterest staff, the company announced its updated usage policy, which bans all spurious & spammy activities on Pinterest. The new update to policies ensures that fake pins and likes cannot be sought and money can't be paid to people who will sit by the system and keeping pinning & liking. This will ensure that Pinterest will remain true to its goal and reliable information is made available to the larger Pinterest community. If you are a business owner who has been trying to figure out Pinterest, one thing is for sure – you need not indulge in any malpractices to build your audience. Instead, be honest and work hard towards building your Pinterest community. Here are some of the most important points that you need to take home:
Do not pay people to pin
You need not pay people for pinning or re-pinning your business pins. You also cannot compensate them monetarily for liking your pins. Instead, you can pay a person who runs the account; and that is obviously fair. What is not fair is, buying pins or likes. If you would like to pay commission for products and services that were sold through pins, you can pay commission using affiliate networks.
How to run contests
A person can pin only once in order to participate in a contest. Repeated pins are not allowed and do not suggest anywhere that Pinterest is your sponsor or that it endorses you. You also cannot ask people to pin from a selection of pins that already exist. Do ask participants not to pin the rules of the contest that you run.
Don't spam
Make sure that you do not engage in old school spamming by asking people to comment on your pins. Do not ask them to re-pin or like your pins. If your pins are good enough, they will like or pin it anyway. Instead, focus on pinning great and informative stuff that people can actually use.
Here is what you need to do:
Like other pins and re-pin others' pictures
Instead of asking people to re-pin or like your pins, go ahead and choose the best pins that are related to your business and like them or re-pin them. Choose wisely so that you are not affected by competition. However, there is always a lot of information on Pinterest that can be liked and re-pinned without attracting unnecessary competition.
Have Pinterest conversations
Talk to people who you think will be great influencers. Find out what they like and go through their boards. Like or re-pin their pins (only if they are really useful to you and your audience). Do not go ahead and like images that have got nothing to do with your intended audience & business.
Create useful boards
Last but not the least, create Pinterest boards and categorize your boards in a smart fashion. Make sure that your audience does not feel inundated with information, no matter how useful it is. Instead, categorize and classify your pins so that they are easily accessible to people.
Pinterest has seemed to understand that a lot of companies have been using the platform in unethical ways. Thankfully, the updated policies ensure fair play and it will no longer be possible to cheat on gaining a good audience. As long as you play fair and ensure that you are doing the right things by not spamming or asking for re-pins, you will be able to make use of Pinterest well. Pinterest is a very powerful visual social bookmarking service that has become wildly popular in recent years. It is also one of the most important social networking tools available for marketers today.
Subscribe to our Newsletter