back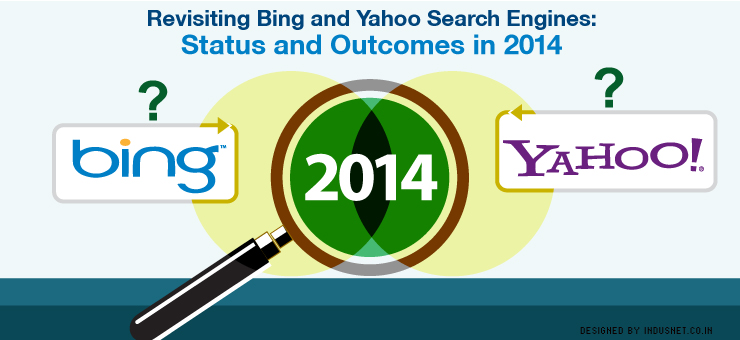 Digital Marketing
Marketing
Revisiting Bing and Yahoo Search Engines: Status and Outcomes in 2014
Most of us think about Google as synonymous with search engines and that is quite true. Google does not really have competitors and it has single handedly catered to users when they look for information. Despite this, Microsoft and Yahoo have tried hard to carve out a niche for themselves. Yahoo has been in the search engine business for a long time and its position was usurped by Google in the early 2000s. That situation is not going to change in 2014.
Will Bing and Yahoo be able to carve a niche for themselves in 2014?
Google will continue to be the undisputed ruler of search engines and much of the advertisements will be published on Google instead of on Yahoo! Search or on Bing, which belongs to Microsoft. In this article, let us try and understand what Bing and Yahoo may experience in 2014, and how the two search engines may fare in the months to come. One thing is for sure, neither search engine will see a future that is going to be pretty. Bing will suffer the most, whereas Yahoo still has a chance of marginal recovery and some amount of respite. Microsoft's Bing does not really have the capacity to compete with Google at all and even with Yahoo, it is a questionable case to be made.
Microsoft's Bing will have to struggle to succeed
Microsoft has not been willing to let go of its Bing search engine and for very wrong reasons. If Microsoft thinks people will begin to abandon Google and try to use Bing, it is truly mistaken. However, in its favor, Bing has usurped on the shares of even smaller search engines. On the flipside, this has not really helped Bing to gain any position vis-a-vis Google or Yahoo. What one needs to understand from this state of affairs is that Microsoft will not easily give up on Bing and Bing will not be any more successful in 2014 than it was in 2013. Since 2015, Microsoft has lost more than $11 billion, thanks to its Online Services Division.
Bing is one of the most expensive mistakes that Microsoft has ever made. While Bing is critical to Microsoft's ad revenues, its profits are not going to be helpful to Microsoft in the long term. One needs to wait and watch to see if some miracle will help Bing to regain a little bit of composure in the midst of what has been a very disappointing year. Microsoft may not even keep all its online properties to itself. It has already been rumored that it may sell its MSN news portal.
Yahoo may have a brighter future in 2014
Yahoo, on the other hand, has different problems to deal with. Ever since Marissa Mayer took on the responsibilities, Yahoo has consistently evolved to be at least slightly respectable. It has begun to understand the importance of mobile computing and it has also understood the importance of a clean interface. Yahoo's search business is quite disappointing and it will continue to be so in 2014. However, its e-mail business, its ad strategy and other aspects make us respect it a bit more than most would like to. It clearly has a lot of challenges and difficulties ahead but it is not a company that will give up easily.
We must also remember that Tumblr was bought by Yahoo and that was a very smart move indeed. Yahoo's future may actually lie in Tumblr and the fact that it has access to one of the most popular social networking tools in the form of Tumblr will alone help Yahoo to buy time for a couple of more years. How Yahoo will handle this new found social network is something that we all are trying to figure out.
It is not going to be easy for either Yahoo or Microsoft to conquer 2014. It will be particularly difficult for Microsoft to keep Bing afloat. Yahoo has the hope of depending on its e-mail service and its search engine. One just needs to wait and watch in order to understand what it is going to be like in the near future. Meanwhile, Google will continue to dominate the search engine realm.
Subscribe to our Newsletter