back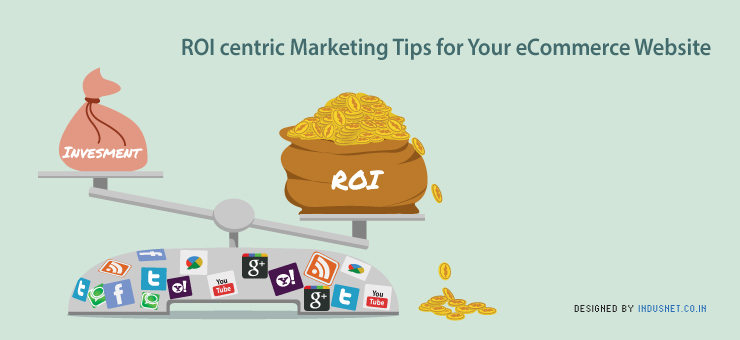 Digital Marketing
Marketing
ROI-centric Marketing Tips for Your eCommerce Website
Marketing professionals and business owners are often dumbfounded by the number of digital media outlets that are available in order to run campaigns. Social media, PPC ad campaigns, SEO, local advertising, public relations etc can seem very confusing to a business owner or a team of marketing professionals who are new to running eCommerce websites.
How to increase ROI without spending too much
The million dollar question that bothers everyone is, how exactly one can increase Return on Investment without spending too much. Companies often wonder how they can increase their ROI without spending too much on marketing their eCommerce websites. The answer is not simple and there is no single answer for any company.
Just like there are multiple marketing options available for an eCommerce entity, there are multiple ways to tackle the problem of increasing one's ROI. It may seem daunting in the beginning, but once a company learns to wade through the murky waters of eCommerce and digital marketing, its marketing professionals or owners will be able to handle marketing campaigns much better.
Here are some of the most ROI-centric tips for eCommerce website owners
eCommerce websites are different from other websites
An eCommerce store sells goods online. Amazon, Etsy, Net-a-Porter and other websites are all examples of ecommerce stores. There are a number of smaller stores these which sell niche products and such eCommerce businesses are becoming increasingly popular. Marketing an eCommerce store is a completely different ball game as compared with regular website.
A regular website may sell an idea, service or a particular product. Copy can be built around these specific ideas, products and services and a planned and coordinated marketing campaign can be launched. However, an eCommerce store sells several kinds of products that are shipped. This sets it apart from other websites. Hence, the way the blogs are written, the way product descriptions are mentioned and the way a digital marketing campaign is undertaken will be completely different.
Selling products online is similar yet different to selling offline
Selling products online involves having products in a warehouse and hen shipping it to customers who purchase it online. There is less expenditure on store display, salespeople and similar expenses. An eCommerce store on the other hand has to spend on digital marketing campaigns, online customer service, social media campaigns and CRM. While a brick and mortar store may still use social media and digital marketing to get people talking about it, an ecommerce store survives on digital and social media. Thus, allocating adequate funds for digital marketing campaigns is very important.
Identify your preferred vehicle for marketing
Once you get your digital marketing funds allocated, identify which are the preferred media for your products. This could be limited to using just Facebook, Twitter and a blog or it may involve using PPC ads and some good old SEO tricks. Each medium costs money and it is important to know where your audience is, and where prospects can be found easily. Identifying preferred digital media will help you to allocate your funds and use them carefully.
Use your financial resources intelligently
Once preferred digital media are identified and funds are allocated, it is important to ensure that the money is not squandered away. Money that is intelligently used increase ROI. The idea is to spend less and boost more sales. That can only happen when marketing professionals identify the right medium, write content that appeals to the target audience and then measure social media success. This involves measuring ROI and altering digital media campaigns as and when required.
Do not go overboard with your marketing spend
While it is tempting to spend on a number of campaigns and target every medium that seems attractive, one must not do that. eCommerce stores have a lot of expenditures and digital marketing campaigns should always match the ROI. The funds allocated and spent must be in proportion with the revenue and sales.
At the end of the day, measuring ROI constantly and comparing it with various marketing techniques used is a great way of ensuring that money is well spent. Money that is well spent also increases ROI and keeps a business healthy in the long run.
Subscribe to our Newsletter