back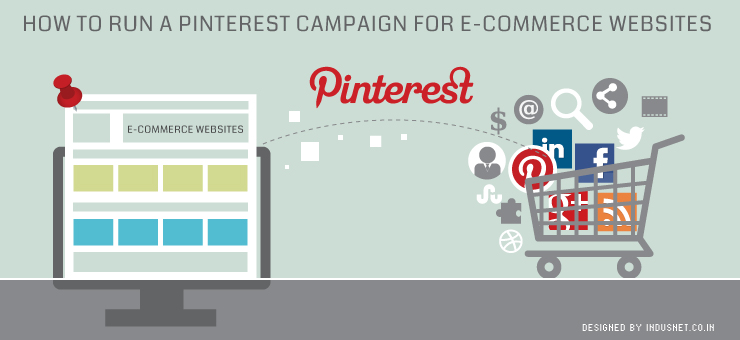 Digital Marketing
Marketing
How to Run a Pinterest Campaign for E-Commerce Websites
Pinterest is the third most popular social media networking site after Facebook and Twitter. Imagine a photo album with catalogues for different events in life. Pinterest is not just another social media to sell your goods, it is a visual delight exclusively designed to promote the images of your product and sell them through your e-store.
Pinterest is a visual social networking platform
We've already seen in the past how marketers use integrated Facebook stores and Twitter hashtags to sell their products online and increase traffic to their e-stores. We have also seen that these platforms are flooded with content like status updates, links to blog, articles, websites, images, videos etc in a textual format. Both these platforms undeniably serve good to meet your content marketing needs.
But if you see Pinterest, it is clearly focused on promoting content through visually charged content i.e. images pinned on a board of your choice. So whether you want to promote your content or sell a product, Pinterest does equally well to serve the dual purpose.
Pinterest allows you to upload any number of images on a board. The images on Pinboards are displayed with an embedded link to your e-store check-out page, thus, selling is faster and fun-filled. People love to re-pin images which they like and share it with their friends. Your products should be accompanied by a good quality image to attract viewers' attention so that it gets re-pinned more that drives traffic to your e-store. Another thing to note is that always prefer using an original image on your board with a washed out brand logo at the corner to stay distinct.
Two important components of Pinterest
Pinboard –
A pinboard is a set of images that have something in common. Every board has a different story to tell and different product category to sell. You can create and classify boards as per your choice. Every board has a different cover photo. And visitors don't follow you they rather follow your board.
Pin –
Images are called pins here. Visitors can like the image, share it on Facebook, send it to their friends and visit the source of pin. The source will be your e-store here.
Running a Pinterest campaign to boost traffic on your e-store
Make it SEO friendly by using sufficient links

Images pinned on your board have to be linked to your e-store.  Google identifies the images more that are linked to a verified website rather than just an image upload from your computer. Even if you are attaching image that is not directly linked to your e-store, make sure it is linked to your blog, website or other social media profile.This will ensure that your target audience is following you by hook or by crook. The image links can be embedded through Call-to-Action buttons like Buy Now, Visit, Browse e-store, Subscribe for latest offers and so on. You can even upload pins from different sources that have similar products as yours.

Create interesting boards with proper description and prices

Every pinboard you create should be specific to a single topic and share the images related to that content. In this case of promoting your e-store, you can display a particular collection on a pinboard like a stock clearance pinboard, new product pinboard, limited availability pinboard, best selling products etc.Every pin you want to sell should have a relevant description that talks about the usefulness and quality of the product to help people know about your product. Though your images are linked to your e-store, do not forget to add a hyperlink in the description to increase click through rate. Adding a price tag to the pin gives you an edge as people who are really interested in buying your product will click through it.

Embed Pinterest sharing buttons on blogs and website

To create awareness among your target audience about your presence on Pinterest, make it a point that you add Pinterest sharing button on your blog and website. This gives you an opportunity to increase exposure of your brand. And understand that getting those initial likes is completely driven by your content marketing strategy. A satisfied visitor will share your content with his friends.



Create shareable pins

Your pins don't have to match the product images on your e—store. These pins are used to attract users attention. For instance, if you are selling products for Valentine's day, you can use love quotes with roses as your pins. But try to keep some link between the pin and the image on your product page.

Hold activities

Ask your fans and followers to repin the best product from your board of new products. This will tell you the most popular product in the category. The products that receives maximum pins will be among the most popular one and you can set all those products in a trending now category.Once you pick up the most popular product, hold a caption contest for that product. Choose the best caption and award the participant with freebies or special offer on the entire category. Such activities will arouse visitor curiosity and enhance recognition to your brand.

Increase interaction with the board followers

People love to repin interesting pins. Why don't express your gratitude to the ones who repin it. Ask them to check your entire range of product on your e-store. Reply to the queries of your board followers. You also have the leverage to grant access to your ardent board follower to upload content on your board.Likewise, you can also repin the content from the board of your followers. Such gestures attract the attention of your followers and they are most likely to visit your e-store. It also increases your follower base. Added to that, you can start following the boards of your followers.

Pin exclusive offers

Create a unique pinboard for latest offers and discounts. Keep this offer time-bound and for Pinterest users only. This will spread word-of-mouth through your followers and your Facebook & Twitter users will start signing up for Pinterest. You can also spread this message through email notifications to your followers on other social media platforms.

Use tagging

Tagging gives importance to your followers. Tag them in your posts using @screenname, #hashtags. It impresses them and they actively participate in your campaign. Tag them in specific posts or while associating them with your brand name.

Stay attractive

It is easy to upload images but visitors are not attracted by bad quality images. Make sure you upload high quality pictures that grab users' attention. Also, a good presentation reflects the professionalism of your brand.

Include a pin button for every image

It makes it easier for your followers to share the content linked to your e-store. With this they can pin their favorite items to their board in case they want to purchase it at a later date. Items pinned by one person have the potential to be seen by all his friends. So you can well imagine the spread of your pin.

Pin at just the right frequency

Depending upon the response you are getting from your followers; choose the frequency of pinning new images. You can't just be pinning innumerable pins one fine day and keep sitting like a duck over it for the whole month. Your pins won't be appreciated accept those few initial ones and you lose their importance. Nobody feels interested to check your board if its loaded with same old images in bulk. Feed your followers in doses.

Pinterest Analytics

This analytics tool is specifically for Pinterest business users. Users can track the activity log including number of people pinning from your website, seeing your pins and clicking on your content. Use the information gathered by following what is shared and pinned by the followers alongside your pins. This can help you to create more appropriate pinboards.
Conclusion
Pinterest is not limited to the above mentioned techniques. You can experiment with your thoughts, run different types of campaigns and get more useful ideas. The main idea is to engage your visitors and pull them to your e-store. It is not necessary to pin your product images only, run a parallel content marketing campaign through images that direct your visitors to interesting, fun-filled blogs and articles. If need be, use infographics as a cover photo for your content rich pinboards.
Subscribe to our Newsletter