back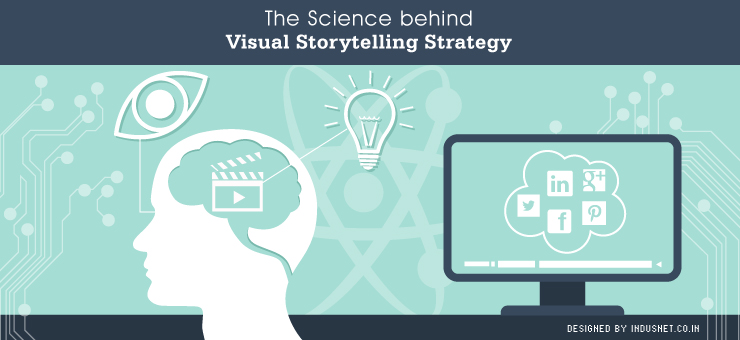 Explainer Video
Graphic Designing
The Science behind Visual Storytelling Strategy
Marketers have long focused upon writing great content pieces for their customers. The results have been stupendous for some and some have failed miserably. Without undermining the power of text, content writing is a time consuming process and not every marketer is capable of creating quality content. In the era of digital communication, there are no excuses.
With little resources at hand, even a small business owner can use the power of visual imagery to tell a story; a story, which would have been difficult to narrate without pictures and videos. Marketers, today, use graphic design, animation, diagrams, charts and other means of pictorial presentation to express their ideas. Visuals are an interesting way to capture your target audience. Visuals create thousand times more effect than words.
If you use words along with your visual content, it creates a rippling effect across the community. But you have to be sure that your visual story is backed by determination, conviction and reality. What you need here is a well-thought-out strategy before you step into action mood.
Secret behind communication through visual mediums
Marketers try hard to get their message out there in the market but stiff competition often bars their reach. Small-scale owners have limited resources to spend on commercial advertising, which makes it difficult for them to compete with large-scale businesses. Visual platforms like website, blog and various social media platforms have empowered a small business owner to create and share visual content conveniently.
It is congenital to humans to pay more attention to visual communication over written content. Effectively using words with pictures and videos amplifies the message and increases the retention, attention and recall of your message. Consumer decisions and actions are more often based on emotions than logic, especially, in the cases where product disparity is negligent. If a marketer is able to capture the emotions of his target customers, he is more likely to influence their decision-making process.
Visual mediums allow marketers to be effective in their communication. It is the fastest way of communication as customers don't want to spend too much time on reading and they believe what they see. Visual storytelling generates excitement and people are more inclined to engage with the content. The ability to share visual content is much higher on social media and various mobile multi-media messaging services.
Following considerations will help you to understand and frame your visual storytelling strategy:
1. Explore the power of visuals

Visuals possess immense power to influence the human brain. Marketers need to keep experimenting with different types of visuals. One way of experimentation is curation of content to suit social media. Social media carries enormous potential to spread your visual story. Social media users are instantly attracted by interesting visual imagery content stimulating them to share with their friends.
Visual imagery can be in the form of videos, images, presentations, infographics and so on. Even if you are attempting to explain the usability of your product, visual content in the form of explainer video has proved extremely helpful for many companies. What video can explain, text can't. For instance, Dropbox used explainer video on its home page to witness massive increase in the number of users over a short period of time. The main idea of the company was to make it easy for the customer to understand the product.
2. Relate with your target audience on social media
A marketer need not ever try to force the content down the gullets of consumers. Consumers, today, are highly selective and follow what they like. As a marketer, you need to be able to sense the mood of your target audience and engage accordingly. Every platform where visuals can be shared has its unique way of interaction. There are various tools and tactics unique to every platform & marketers need to invest their energy to attain maximum benefit out of it.
Different social media platforms like Pinterest, Facebook, Twitter, Google+ etc. allow the users to consume content in a different manner. Pinterest has a great capability to use pictures and infographics to tell a story. It is user-friendly and allows them to pin the pictures. The Israeli company, Smoyz, created a successful campaign on Pinterest for Kotak. The campaign, renowned as Kotak's Women's Inspiration Day, created a lot of buzz, as 50 lucky women who pinned the images on their board got real gifts as depicted in those images.
3. Focus on the content and its usability
Do your visuals tell a story? It is every marketer's goal to engage with its consumers. You can only do so if you are able to generate maximum value for them. Design your visual story by listening to what your customers say. Keep a tab on FAQs, trending topics in the user community, upcoming events and festivals, social issues & a lot more that concerns your target audience.
Clarity of content will help you design your visual strategy and create a successful campaign. Creating videos accessible via video feeds from leading YouTube channels like BuzzFeedVideo gets you a lot of exposure across the web. Search for the right and popular channels often subscribed by your target audience.
4. Share user-generated content and issues that affect people
As a marketer, you are capable of creating pictures and videos that drive on emotions and human values. Create interesting content that helps customers to relate with your brand. To take this initiative further, involve your consumers into content creation. Hold a contest on different social media platforms, where a lot of user-generated content can be created. Consumers with the best story can be awarded with special offers, service or a real gift.
People love to go through content posted by fellow consumers as it is real with no marketing gimmick involved in it. For instance, marketers use YouTube channels to showcase short videos uploaded by their customers showing how they use their product and talk about it. Such videos testify authenticity, build trust and create popularity for the brand. Videos can also be used to talk about a particular social issue through a social campaign. It might include challenges and solutions to deal with the issue concerned.
5. A narrative framework is essential
To start designing your visual storytelling strategy, you need a narrative framework. Your visual imagery can be selected only once you have a story to share. The story needs to resonate with your company's mission statement, short-term and long-term goals & achievements. It needs to also express your inspiration and motivation. Every company has a unique story. You need to be able to identify that story and express it into visuals. Let your story flow with unique ideas. Visuals allow you to be creative. Unleash your imagination and hit the bull's eye.
6. People love to see behind-the-stage setting
Many times, people just wish to know how you accomplish your company's goals. What is the force behind it? How does it happen? The intricacy, complexity and dexterity involved behind the stage for a successful presentation & service delivery. Let your audience see the pictures and videos of company meetings, events, corporate social responsibility initiatives and product launch ceremonies.
Let them experience the energy, which goes into portraying a success story of your business. Engage company employees to assist you in collaborating and share content that looks close to reality. Use your social media profiles to tag and thank employees & volunteers to celebrate the success of your business. Let your customers know that you care for your employees more than anything else.
Conclusion
It is every marketer's dream to be able to design content, which is accepted and shared by its customers. For small businesses, word-of-mouth plays a big role in getting more customers. Visual narratives are able to convince the customers soon and they can reciprocate the same to their friends. Visual content has a power to go viral instantly. Social media platforms like Twitter are designed, especially, to get the message across in real-time.
Various researches have been conducted in the past to establish that visual storytelling is the need of the hour. A research report by Professor Allan Fels, AO, the Dean of Australia and New Zealand School of Government, showed that 70% of what people learn happens through storytelling. To add to this, human brain thinks visually. This deadly combination is bound to bring resounding success to visual content marketers.
Subscribe to our Newsletter