back

AI & MI
Cloud
Digital Healthcare
Digital Transformation
IoT
Telemedicine
The Tech Opportunity In Indian Healthcare Services
The marriage of Indian healthcare with technology has been a productive one, with both parties anticipating a never-ending honeymoon ahead. If there were ever a metaphorical statement for the rapidly growing health-tech segment in the country, then this would be it. In fact, even NITI Aayog agrees, based on the clarion call given by its CEO, Amitabh Kant, highlighting the growing health-tech opportunities to the Indian healthcare system.
Governmental Innovation Is Propelling The Sector
The Indian Government is laying a steady foundation for the growth of digital healthcare and newer platforms. The Ayushman Bharat Digital Health Mission has been a game-changer and Amitabh Kant, the NITI Aayog CEO, stated that it is now on the technology players, start-ups, and healthcare players along with other stakeholders to create new offerings in the field of digital health which meet growing demand and spur the same as well.
Amitabh Kant's statements came at the 8th Annual Summit of Nathealth and assume greater significance once you consider the backdrop. The country already has the infrastructure to create "compelling, accessible healthcare solutions that provide equitable access and can be rapidly deployed and scaled up" as per Kant. Take other factors into consideration like the increasing penetration of internet connectivity and smartphones throughout the country and the increasing trend towards e-pharmacy, telehealth, and digital healthcare solutions during the COVID-19 pandemic, and you get the picture.
Digital healthcare or health-tech presents a massive opportunity for growth, particularly in still-nascent segments like technology-driven home healthcare, e-diagnosis, and e-pharmacy services. Conventional healthcare institutions, investors, and start-ups would find this the right time to enter the space and "build a position which would be hard to beat in subsequent years" according to Kant. Now take the National Health Policy of 2017 into context. It creates a roadmap for creating a digital health-tech-based ecosystem and integrates various aspects like health delivery, cloud, wearables, and IoT (Internet of Things). It also envisions a National Digital Health Authority for the regulation, development, and deployment of digital healthcare solutions throughout the entire care spectrum. The policy recommends deploying digital solutions for greater efficiency of the entire healthcare setup along with better outcomes, in addition to ensuring a healthcare information system that caters to all stakeholders. The aim here is to ensure superior outcomes in terms of quality, access, reduced disease burden, affordability, and better tracking of health-based citizen entitlements.
Some other Government initiatives that have struck a chord include the following:
The National Health Stack concept, which became the National Digital Health strategy and the final National Digital Health Mission, launched on 15th August.
Integrated health data and information portal with the aim to integrate EHR within the purview of the medical setup.
Pradhan Mantri Jan Arogya Yojana 2.0 IT portal which wishes to integrate insurance and provider platforms for various benefits.
Every individual will have a health ID, offering access to integrated healthcare solutions, enabling Universal Healthcare coverage and delivery.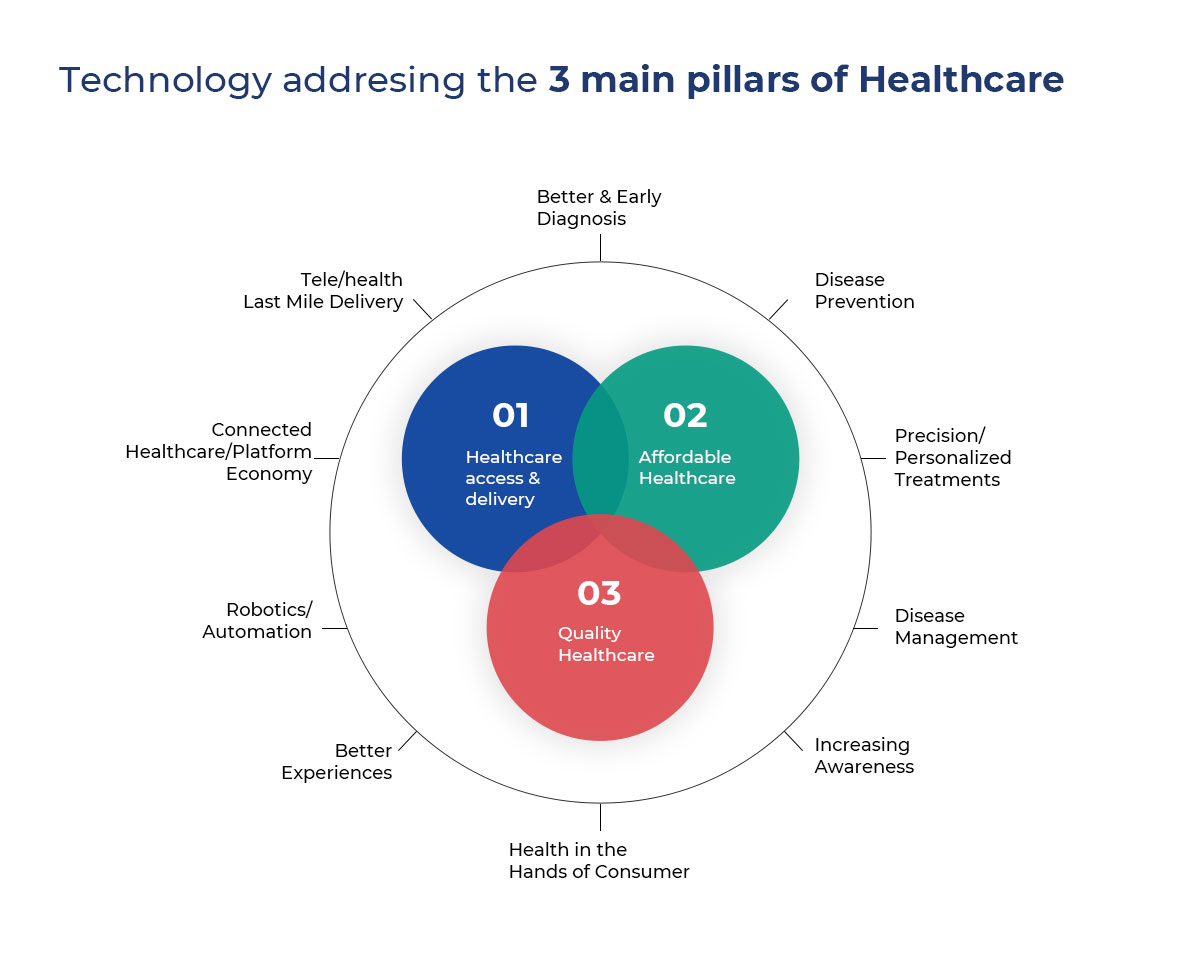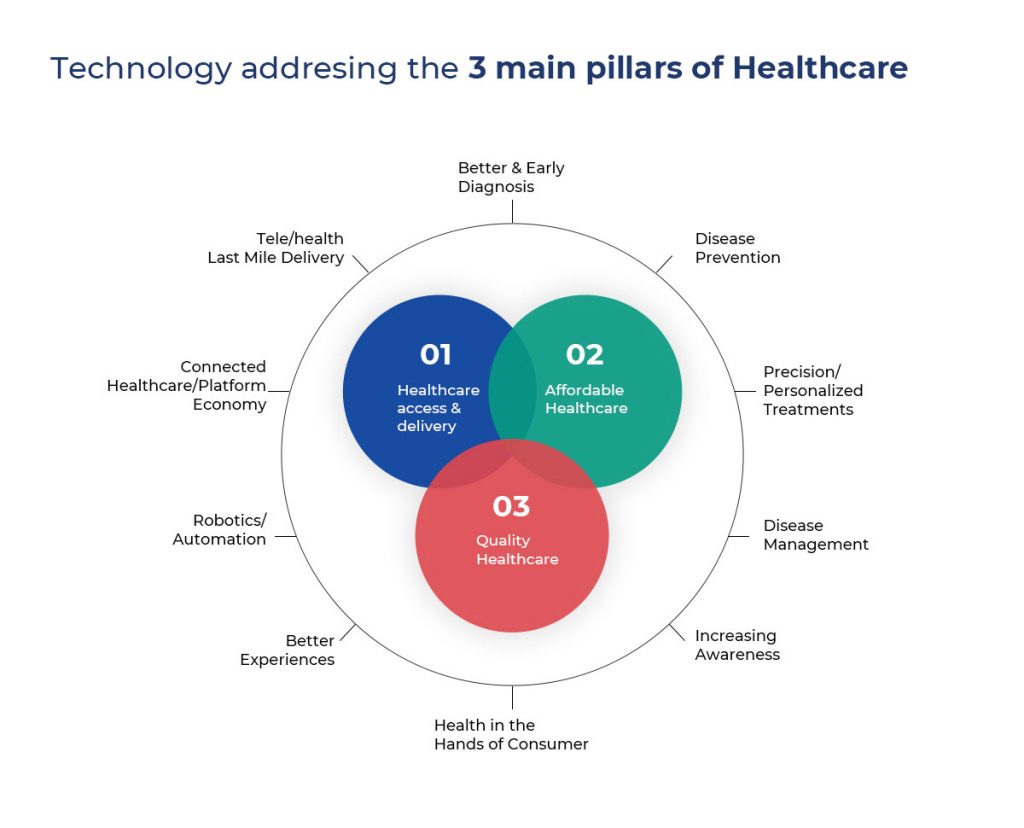 How And Why India Is Bullish On The Health-Tech Opportunity?
Consider a few facts in this regard:
E-health services and similar platforms may completely revolutionise healthcare. 65% of current e-commerce users are projected to use digital healthcare offerings in the future.
Nathealth created its vision paper which emphasised Rebuilding, re-structuring, and re-imagining resilient healthcare systems in India in a post-pandemic era. The clear takeaway is that the pandemic ushered digital healthcare into the mainstream and consumers now consider it a necessary service.
KPMG reports indicate a valuation of INR 116.6 billion for the digital healthcare sector in 2018 while this is anticipated to touch INR 485.4 billion by the year 2024, indicating a 27.4% CAGR (compounded annual growth rate)  in this period.
With face-to-face interaction going down, patients are increasingly opting for online services in healthcare, with a demand for solutions that enable more affordable healthcare consultations and accessible interfaces.
The digitalisation of the healthcare space is helping in filling up availability gaps in Tier-II cities and rural zones. E-Pharmacies have also helped in transparent price listings and better consumer options along with better accessibility.
KPMG estimates this opportunity at a whopping $30 billion in healthcare technology. It has also talked about how start-ups will play vital roles in enabling healthcare access throughout the country.
Estimates of 70% of the population of India (roughly 892 million individuals) living in rural zones with limited/zero healthcare access and the fact that India spends just 4.7% of the GDP on healthcare, throw up the magnitude of the opportunity.
KPMG encourages start-up hubs for encouraging more players to invest in the health-tech space and advocates national and local Governmental support for the same along with a health innovation fund. The biggest pharmaceutical players, hospital brands, and diagnostics brands should adopt a mentorship role and sync with these health-tech companies.
The market size was estimated at $830 million for telemedicine in India (as of 2019). It is projected to shoot up to $5.5 billion by 2025 (indicating a 31% CAGR).
The NITI Aayog and Ministry of Health and Family Welfare have already released their telemedicine guidelines, with more than 1 million consultations taking place by December 2020 via e-Sanjeevani in 550 Indian districts.
Health-tech in India grew by 51% (annual) in 2021 as per Redseer, collectively encompassing consultation, pharma, and diagnosis. 47% is the growth in the NPS (Net Promoter Score), indicating how customers are more inclined towards using e-health platforms and are clearly recommending them to their loved ones.
The Redseer report also highlighted how the average consumer acquisition cost had reduced for players, indicating scope for growth and profitability.
E-Pharma still dominates this segment owing to rewards and discounted offerings.
Redseer estimates acceleration in GMV to $9-12 billion by 2025 for the e-Health space and possibly $40 billion GMV by 2030.
The Take-Aways (What Is Happening And What Can Happen?)
Indian mainstream healthcare is at the tipping point of future-proofing itself through technology, while meeting rising demand via technology. These are the core takeaways that we need to keep in mind.
Indian healthcare industries need to embrace digital healthcare tools or e-Health solutions in order to keep pace with global innovation.
More and more Indian consumers prefer digital healthcare solutions and are increasingly recommending them to others.
Digital healthcare can not only meet under-served populations in Tier-II cities and rural zones but also make up for the non-availability of specialist doctors through telemedicine and consultations.
The Indian Government is already laying a digital foundation with initiatives like the Ayushman Bharat Digital Health Mission and the National Digital Health Mission along with the unique Health ID for all citizens. It has also emphasised greatly on telemedicine via e-Sanjeevani.
India only has a reported 1 doctor for 1,511 citizens and a single nurse for every 670 citizens. This is where health-tech companies can fill up the gap of specialists in non-urban zones or non-metros, offering consultation, telemedicine, and easy diagnosis solutions.
Wearables and other smart monitoring devices will soon enable families to affordably keep an eye on seniors and older patients with health complications. Medication management will soon become a smart appliance-driven practice, issuing alerts about informing family members about missed doses, timings of medication, and one-touch emergency facilities. This will be fully integrated with cloud medical reports, blood and plasma donation avenues, ambulances, BMI calculators, heartbeat figures, and speedometers.
The industry is already shifting towards IoMT (internet of medical things) and easier home healthcare access. The entire connected ecosystem of smart devices, software applications, and digital infrastructure functions seamlessly to enhance healthcare offerings. Solutions for remote tracking and home health are being created via IoT-linked technologies. These help in the swift assessment of patient health levels (real-time) and remote information exchange alike.
AI (Artificial Intelligence) and ML (Machine Learning) are helping streamline and automate workflows throughout the entire diagnostics, clinic, and medical care spectrum. AI has made healthcare administration and service procedures more optimised and efficient already.
EHR or electronic health records will greatly reduce the chances of errors while improving the accuracy levels of patient records. It will ultimately enable patient record transfers swiftly across service providers/hospitals. The Government's initiatives and health ID will play a crucial role in this regard as well.
As can be observed, Indian healthcare services have a massive tech opportunity that they simply cannot miss. With the Government embracing innovation and digitisation in healthcare, consumer preferences undergoing a 360-degree shift, and a pressing market need evident in the space, expect health-tech to predominantly change the Indian healthcare landscape (and dominate boardroom conversations as well) for a long time to come.
Subscribe to our Newsletter