back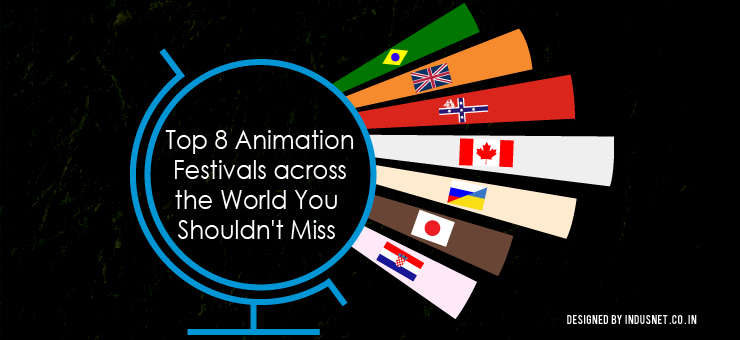 HRD
Top 8 Animation Festivals across the World You Shouldn't Miss
Being in the field of animation, web designing and development, you probably want to meet other professionals from different corners of the world. It is often said that a designer must visit the remotest corners of the world to find inspiration, when things start to get boring. Instead of going to remote places on earth, we have compiled a list of important and interesting animation festivals from across the world.
Whether you are an explainer video producer, web designer, animated movie lover or just someone who wants to travel and meet interesting people, these 8 animation festivals from around the globe will not disappoint you.
Note: They are not listed in any particular order.
1. Anima Mundi, Rio de Janeiro, Brazil
Anima Mundi is held in Rio de Janeiro, Brazil. It started as a festival to raise awareness about animated productions in Brazil, in 1993. The festival features short films, feature films, children's short films, animation courses and other activities. And when you are in Rio, do not forget to let your hair down at Ipanema and Copa Cabana.
2. Flip Animation Festival, Wolverhampton, United Kingdom
FLIP is organized by the Light House Media Centre in Wolverhampton, UK. It features professional talks, networking, special screenings, industry panels, workshops, competitions and other activities related to animation. It attracts submissions from more than 30 nations from around the globe.
3. Melbourne International Animation Festival, Melbourne, Australia
The Melbourne International Animation Festival is held every year and is supported by the Australian Centre for the Moving Image, the Australian Film Commission and the Melbourne City Council. Many artists, guests and animators from around the world visit the festival to exchange ideas and collaborate with each other.
4. Scotland Loves Animation, Edinburgh, Glasgow and Dundee, U.K.
Scotland Loves Animation is held every year in the Scottish cities of Dundee, Edinburgh and Glasgow. The festival started only in 2010 and is relatively new. Yet, it is one of the coolest animation festivals you could probably visit. It features full day of talks, workshops, panel discussions and other fun things.
5. Waterloo Festival for Animated Cinema, Kitchener-Waterloo, Canada
Waterloo Festival for Animated Cinema is held every year at Waterloo, Ontario, Canada. It seeks to promote animation as a narrative medium, as opposed to mainstream film-making. If you are into explainer videos, you have found your cause to visit this amazing festival. The festival seeks to bridge gaps and divides between anime and non-anime.
6. KROK International Animated Films Festival, Russia and Ukraine
The KROK International Animated Films Festival is held in Russia on even years and in Ukraine on odd years. It is one of the main animation festivals of the former Soviet republics. The festival takes place on a cruise ship named Taras Shevchenko. When in Russia, the ship moves along the Volga and when in Ukraine, it moves along the Dneiper. Some of the top animators, directors and professionals from the region visit the festival.
7. Hiroshima International Animation Festival, Hiroshima, Japan
Hiroshima International Animation Festival is held twice a year at Hiroshima, Japan. It was founded in 1985 by the Association International du Film d'Animation or ASIFA. The city, which suffered nuclear bombings during the World War II was chosen as the venue to hold the animation festival. It is now one of the most respected animation festivals in the world. When in Hiroshima, try and learn how animation artists have been working together towards world peace.
8. Animafest Zagreb, Croatia
Animafest Zagreb or The World Festival of Animated Film Zagreb is held in Zagreb, Croatia. This annual animated festival was initiated by the International Animated Film Association (the same ASIFA we spoke about in the previous entry). It has received worldwide acclaim and is one of the most important animation festivals in the world. If you are looking at meeting some of the biggest names in the industry, do not forget to attend this event.
If you happen to visit an animation festival that is not listed here, do let us know how you felt about it and if we must take a trip there too. We bet there are a number of other animation festivals that we haven't heard of!
Subscribe to our Newsletter