back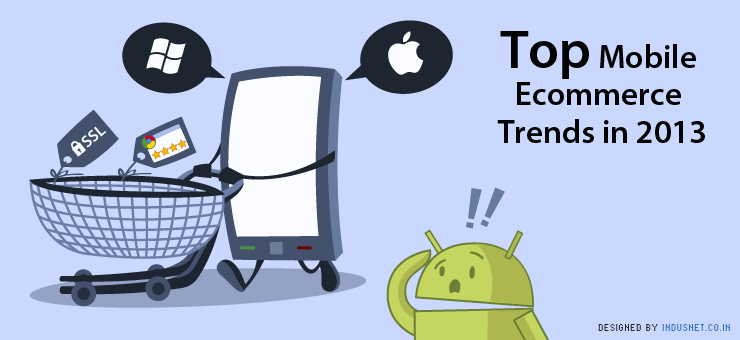 Mobile
Technology
Top Mobile Ecommerce Trends in 2013
Mobile e-commerce or shopping and transacting on a portable device has become very popular with the people of this age. With the advanced technology that is used in manufacturing these hand-held devices such as smartphones, tablets and the like, the stage is set for mobile e-commerce to be given a serious thought in order to reap rich benefits from stores of popular brands.
E-commerce is surely popular, but there is a need for businesses to look into mobile e-commerce too as it has an immense potential to eclipse the former. Mobile users may buy products while using apps on their portable devices or browsing on many popular browsers such as iOS or Safari. Here are a few popular trends that are and can be witnessed in 2013:
1. Emergence of Windows phones
Windows phones are gaining over iOS as Apple products have lost their exclusivity so much so that they are available in supermarket stores such as WalMart. Apple has lost its mojo to woo people who look for the next magical device. This has unfolded since the demise of Steve Jobs and the Apple consumer has lost his connect with the electronics giant. Lately, it has become increasingly dependent on the loyalty of its customers.
This signals a trend that tech-savvy people are getting increasingly besotted with the Windows phone and OS- Windows phone shipments grew more than 133 percent year over year and have almost doubled this year. Such trends signify the emergence of new e-commerce software that are compatible with Windows' phones and rely on the Windows OS.
Though it should be noted that smartphones with Windows OS do not have innumerable apps such as its competitive rivals like Android and iOS- apps being the sole factor for wielding complete control over this huge mobile market, Windows phones are fast growing and keeping up pace.
2. Android customers have limited means
Many people buying Android smartphones go for it mainly because of the price criterion. This is because Google wants to command over a large share of the market and has tied up with a number of vendors that are increasingly identified with the common man. This quantity over quality precedence has made Android not suitable for mobile e-commerce.
For Android lovers, their gadgets are a substitute to the high-priced Apple's products in the market. This indicates that these buyers want the 'cheap and somewhat best' phones and thus never compromise over the price, even if they are a few dollars more. Android has ended up garnering a huge market share nonetheless, the popularity of Android is a fad.
To sum this all up with the mobile e-commerce market, there is no doubt that Android phone users do not have the wherewithal to purchase products on the stores online and hence brands have to ignore them. They may even browse and hover over the products for the sheer fun sake of it and not necessarily buy these products. This can be put in the mall culture parlance as 'window shopping'. Entertaining these visitors is detrimental to the brands' profitability.
3. Increasing importance of iOS
There is irrefutable evidence to prove that iOS is becoming increasingly important for e-commerce. iPads are becoming popular for online purchases. The moment iPad was introduced, the visits from traditional desktop and laptop browsers became less frequent to e-commerce sites. They dropped from 92.33 percent to 81.60 percent in one year and mobile devices like the iPad have doubled their market share.
This growing prominence of iOS on the iPad is because of the fact that iPad has a comparatively larger screen to view the products listed on the e-commerce apps. This larger display of the products compounded with the clutter-free screen that is friendly to capacitive or resistive touches make the iPad the preferred device for e-commerce needs.
4. Mobile web design getting better
Mobile web design is getting better day by day. The browsers are also keeping up with time and adapting to consumers' needs. For example, Nokia has adapted to people's needs and has come up with a new version for its handset users. It has incorporated a number of user suggestions that it receives from the feedback button.
It has launched a newer version of its browser wherein it supports multitasking or in a more stricter sense, supports the browsing in multiple tabs that largely remained a handicap to its earlier phones. This is a welcome move as the user can open multiple windows simultaneously and can limit the use of desktop computers for work needs. Needless to say, mobile web design is evolving and can reach the zenith regarding flawless usability in the coming years. Mobile e-commerce can be as convenient as on the web then.
5. Mobile phones are getting stickier
Mobile phones are more suited for e-commerce needs when compared to desktops. An average mobile phone user shuns the use of desktops because they do not come handy. Imagine the scenario where the mobile phone user forgets to buy something for an occasion such as a gift for a special one and remembers it in the most unusual of places and owing to time constraints and the distance to the nearest store, he cannot purchase it. He can readily order it on the phone as it is 'sticky'.
'Sticky' in this sense, the mobile phone is portable. A desktop cannot help the user avail this privilege as reaching a nearest one can be a long walk. A simple reminder too can make the user aware of his special occasion fast approaching.
E-commerce store owners have to take advantage of this fact and make users linger more on their sites. This can be done by driving users towards their site through inbound links from social media sites, where these users can always be spotted. Online chat rooms can also be found teeming with these kind of users. These store owners can plan thoroughly and reap huge benefits.
6. Attractive mobile version for users
Mobile e-commerce store owners can utilize a lot of pointers from the recent habits of users. The product descriptions can be absolutely concise and to the point so that users don't have to scroll every now and then to get the required information. Mobile screens being small, there is no room for the content writers to be loquacious.
Comparison charts can also be added to make the most out of the opportunity and make the product convincing enough to buy for the user. Also, the tedious task of furnishing particulars for the transaction involved in buying can be made less time consuming, making the purchase worthwhile.
7. SSL certificates
Use of SSL certificates such as Verisign and others to let the users know that the transactions during the purchase are secure is a good move. This can induce trust in the customers' mind regarding the website and they need not waver a bit in coming to terms with their inner voice that raises security concerns, as a good amount of their money is at stake. This is very essential as many shady people are waiting to usurp illegitimate wealth by identity theft and credit card frauds.
8. Be prepared for changes
As this year draws to a close and a new year begins in a few months, it is wise for e-commerce website owners to be a move ahead by adapting to any changes that take place in the mobile e-commerce world. As this year saw the emergence of Windows phones, which outwitted many existing Android phones, it can be confusing for the unprepared as they set off for new ventures on the wrong foot.
This ever changing landscape can bring a whole lot of new challenges which make a monotonous or mechanical life very difficult for the e-commerce store owners, but they should all the more be open to meet them and adapt to the new trends. This can help them cement their place in this desired business.
Conclusion
These trends help a mobile e-commerce store owner to gear up for the unforgiving changes that crop up in this business, come what may. All that the store owner has to do is to be man enough to acclimatize and improvise. They should never retract into their cocoon and anticipate favorable weather, never feel victimized too and run short of ideas to tackle problems. It is advised that they should trust their hunches and expect the worst, lest they get caught unawares in the mire of too many seemingly improbable occurrences.
Subscribe to our Newsletter