back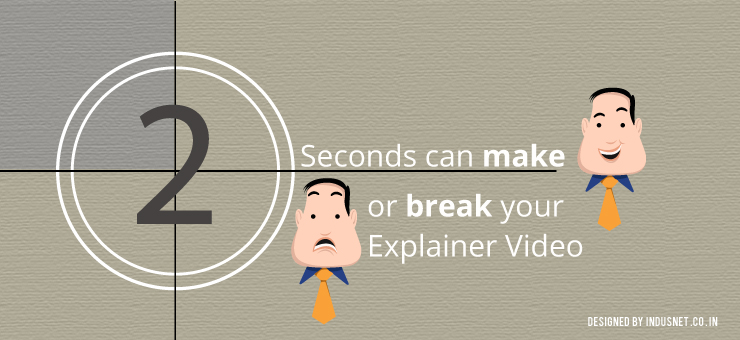 General
Two Seconds Can Make or Break Your Explainer Video
Almost every successful business makes use of explainer videos and the trend is only set to grow. Yet, many companies that have chosen to use explainer videos have often noticed that they are not getting the results that they want. They may have hired the best explainer video makers and the best animators. Yet, the traffic and the ROI are perhaps quite disappointing.
Why do explainer videos sometimes fail?
One of the main reasons why explainer videos are not successful is because they do not load fast. You read that right. If you do not ensure that the video loads fast, chances are, even the best explainer video will be ignored by web users. In fact, a recent study revealed that the first two seconds of a video are very crucial to it being viewed properly.
If the video takes time to load and does not start within two seconds, many web users simply move on to the next website. In this article, let us take a look at various tips to make sure that your website loads faster, so that your videos load too. And that will ensure that you stay on top of your business all the time.
In order to make sure that your audiences do not just close the tab and move on to the next rival, you need to make sure that you take a few steps. We have listed them below:
Invest in better hosting: It is a well known fact that many companies opt for hosting plans because the hosting company offers economical packages. But is it really saving you money or causing you losses? If the hosting company is not up to the mark, your page may not load fast enough and the video may not play at once. It may take a few seconds to start. And that is enough to get your audience get bored of you. Make sure that you have a contemporary and up-to-date hosting service that has negligible-none downtime.
Test if your website loads fast enough: A number of times, we may notice that though everything is in order, people are simply not staying on the web page for too long. One of the reasons is, your page is not fast enough. Make sure that you test your website's loading speeds regularly to diagnose any problems that may be happening in the background. There are a number of web add-ons that can help you to check if your website is running fast or not. WebPageTest.org, YSlow! and Google Page Speed are some of the tools that you can use to check your web page's speed.
Do your page elements load: You also need to check if all your other page elements are loading properly. Ideally, make sure that all other page elements load before the video loads. This makes sure that everything is not going to load at once.
Browser caching: If you enable browser caching, images that people download when they open your page need not be downloaded again. This reduces the time for the video to load as well. A simple yet effective method to increase the speed of your web page.
Seek professional help: If nothing is working and the video still takes a little while, you can always contact web consultants to help you out with faster loading pages. There could be errors in web designing or web development as well. A thorough check-up will make sure that your website is up and running, with all the videos loading fast.
Final thoughts
As a business owner, you need to be aware that explainer videos are immensely helpful, only if they can be viewed by the audience. What we are really trying to say is, if you do not make your videos load fast enough or you have some technical issues on your website, even the most expensive and the best produced explainer video will not do much.
Invest in quality hosting services, learn how to keep your website clean and load fast and seek professional help when you are unable to help yourself. These basic tips and tricks will help you to make sure that your explainer video loads fast.
Subscribe to our Newsletter