back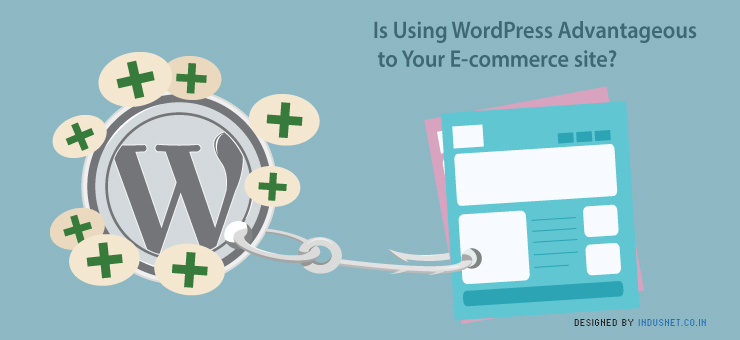 Inside Indus Net
Management
Is Using WordPress Advantageous to Your E-commerce site?
E-commerce sites involve a lot of transactions often carried out in the purchase of goods by the buyers. Hence, it is good for you to stick to a reliable e-commerce system like WordPress. Like many other people, I was not a big fan of WordPress because it was available free-of-cost without any licensing restrictions. Obviously, freebies don't thrill me.
But, later on this incident which I am going to share with you made me think otherwise. Read on.
I woke up from a deep, dreamless sleep one fine morning to the chirping of birds and a pleasant feeling that comes with the dawn of the day. Wanting to get a glimpse of the weather outside, I took a peep through the window and wondered what this day has in store for me.
Having my mind cluttered with the previous day's strenuous activities and badly in need of fresh air, I was gasping for breath. So, I hurriedly put on my track suit and stepped out of my house for a jog into the nearby park. It being a part of my daily regimen to end the jog with a glass full of juice, I headed to a nearby eatery.
Here, I was face to face with a man that I knew from my childhood. He wore expensive clothing and seemed to lead a lavish lifestyle with all the jewelry he had on his person. He was on the phone talking to an acquaintance about his business.
I overheard the conversation wherein he was talking about the recent e-commerce store that he had opened. By the ongoing conversation, it seemed that his store was doing brisk business and he was constantly in touch with various people entrusted with the responsibility of managing his business.
It was seeming impossible to recollect from my childhood days that he had an humble beginning. He was so less privileged that the bare necessity of a square meal would prove daunting to him. It was a luxury that he couldn't afford. So, he used to do odd jobs to support his bare necessities.
He was very meek in his appearance and always was at the receiving end of many taunts and insults of well-to-do people in the neighborhood- he never retorted back. He was always in the search of opportunities that would help him to wriggle out of this extreme poverty he was living in.
I slowly regained my senses- it was a bit of a shocker to me of his transition to a rich man from the abject poverty he was living accustomed to- and became more interested in this metamorphosis of his and pressed for an answer from a bystander living long in the locality that this man of ours was from.
The bystander revealed that the man had experienced a major upheaval of fortunes after experiencing many pitfalls and challenges compounded with the recent global slowdown that brought many otherwise brisk businesses to a screeching halt. He managed to found an e-commerce website and successfully kept it afloat in the professed aftermath of these turbulent times. Later, he shot to fame with this business of his.
I later learned from the bystander that he used the WordPress e-commerce system in his store. It is very heartening to know what this customer-centric system can do to your business. This man had reaped huge benefits of this e-commerce system that effected in him a great transformation- a rags-to-riches story. Let's look into a few of the benefits that come with using a site built on WordPress e-commerce system.
Benefits of using WordPress e-commerce system
Here are some of the benefits of using WordPress e-commerce system to build your store. Though there are a lot of benefits, only those benefiting largely are explored.
1. Dependable
WordPress e-commerce system is very popular with buyers the world over. It being a trusted brand, there is all the possibility of your site living up to the expectations. WordPress being downloaded to the tune of 300,000 and counting, this brings a kind of security among the shoppers regarding the usually large transactions made on the website.
This is a very important aspect in the e-commerce business as a sense of security creeps up in the mind of the buyer. The transactions being overlooked by such bigwigs of the e-commerce business and under such an authentic brand can be very rewarding to the store owner.
The brand that WordPress endorses also means that the money involved safely changes hands under the stipulated norms and guidelines, laying to rest rumors or more precisely, fears of the process involved in transactions being rendered incomplete midway by technical difficulties or other problems. The buyers are also guided with FAQs regarding the failure of the transactions as to how they can troubleshoot these bugs.
They can be informed about the steps they can take as to what glitch occurred and how they can resolve the issues. If problems in connectivity arise, they can be sorted out promptly by guiding them with the possible remedy. Bugs such as browser issues or other technical details can be explained with lucid and clear language.
2. Diverse payment gateways
WordPress comes with many pre-installed gateways such as PayPal-Express, Chronopay, Google Checkout, Paypal and Manual Payment. Manual payment can be used by your buyers for transactions involving money or cash orders. There are other alternatives too that buyers can opt such as eWay and Authorize.net. The possibility of a gold cart module may have to be explored by them to vouch for these options, though.
WordPress e-commerce also comes with built-in calculators for computing shipping rates. It has links to shippers too to maintain updated shipping rates. With Authorize.net international buyers can be entertained, thus expanding your business horizon. This gives you ever more exposure to a whole lot of prospects of making your business successful.
The gateways mentioned herein can make your clients feel more secure, but it is advised to arm yourself with SSL certificates. A lot of buyers' money being at stake, they may get annoyed at the irregularities and discrepancies when the promised features do not meet the specifications in the product. Better address them with suitable terms and conditions during purchase.
They may use abrasive language against you in forums and it may leave a dent in the reputation of your business. In the worst case scenario, they may even file a lawsuit against you and leave no stone unturned to apprehend and take punitive action against you. It is good if you bind them to certain terms and conditions as mentioned above.
If these buyers exploring other alternatives to your store are to be kept in check, it is best advised to incorporate all these useful gateways into your website and WordPress does just that. Rivals are constantly on the prowl for your customers and this means that you may end up relinquishing a large chunk of your income by not sticking to WordPress e-commerce system. This is a valued advantage to your e-commerce site.
3. Customizable with themes and plugins
There are a number of extensions available for WordPress to make the site sale-friendly and customer-friendly. These extensions include WP-polls, Google XML site maps, one piece SEO pack and Akismet. Akismet helps to get rid of your site of a lot of spammy comments; SEO pack helps to rank your site higher in SERPs; Google XML site maps makes the prospect of ranking higher in search sites very simple. There are other plugins too that allow you to back up your database so that you can retrieve it later. Interactive polls help you to engage your readers to your website.
There are innumerable themes available online for your WordPress e-commerce system. All you need to do is search online by keying your desired theme that suits your store. You always have the freedom of changing the default theme that came pre-installed with your WordPress e-commerce system copy. If you want to make your site more like a practical website rather than a blog, there are such themes available too on the internet.
Conclusion
This article has listed numerous benefits of WordPress e-commerce system that underline the advantages of it to make your e-commerce store a success. The incident shared with you and how I became aware of WordPress as a fitting option for your store changed my rather faulty notion of WordPress forever. Hope reading such personal experiences of mine would make you feel the same. In my opinion, it is better if you stick to WordPress e-commerce system. WordPress e-commerce site is always appealing to a customer too.
Subscribe to our Newsletter