back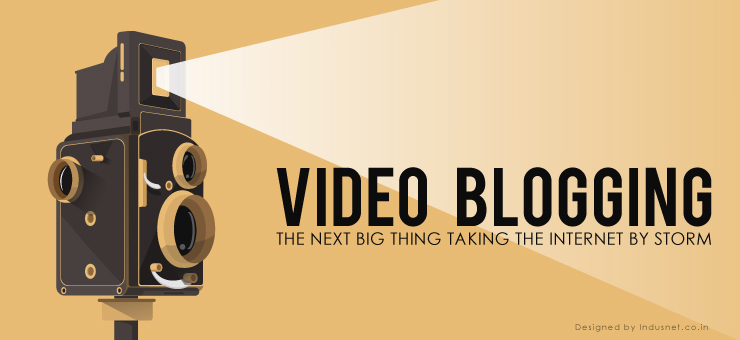 Content Marketing
Digital Marketing
Explainer Video
Video Blogging – The Next Big Thing Taking The Internet By Storm
Attracting more than 1 billion unique viewers every month is easy now. With video blogging (vlog), it is easy to engage your audience and let them know your story. Using video is simple and something very different for the marketers in their marketing space. It is amazing to see the use of video marketing right from the beginning of 2015. Apparently, it has increased the consumers understanding of products by 74%.
What's Behind The Winning Video Blogging Strategy?
Successful video marketing is not just about the format, but the execution of the right plan. However, inefficient ways of using video blogging can ruin its entire purpose. Here's how marketers seeking to use this super video platform can follow its simple etiquettes
Keep It Simple
You don't always need a professional photo shoot kit for your blog's video. You can sit in front of your Smartphone camera and make a short and interesting video. The How-To videos help your business stand out of the crowd. Moreover, embedding the videos onto your website can increase the interaction and engagement factor, especially if you can include your video with a relevant blog.
Keep It Short
Make your videos less than five minutes for giving it more in-depth. All you need is a 60 seconds video and establish a rhythm in your posting.
Style Your Video
Include your artwork, updated content, images, custom URL in your video and link it to your website and social media pages. Choose the best thumbnail and upload a custom thumbnail.
Use Humor
Nothing can be better than making people to smile or laugh. Include subtle comedy in your script. This helps people to lighten up and develop the right attitude towards your products and services.
Have A Plot
Your videos need to have a story. The story should be engrossing and well connected to the products you are selling.
Let Your Video Talk
People prefer to watch than to read. Limit the use of text in the video and let your ideas flow through creative drawings and animation effects. Viewers grasp more from what they see rather than what they read.
Relevant Marketing
Choosing topics that are always relevant to your audience's need works the best. News, questions & answers, events & happenings or commercials & press can make your video bogging go instantly viral.
Explore Multiple Distribution Channels
In order to reach out to the maximum audience, you need to create an integrated network of distribution channels. Share your video across multiple and specifically targeted sites if you want to explore its full potential.
How Do You Do Video Blogging to Inspire Your Creativity?
#Frequently Asked Questions (FAQ) Video
When you do product reviews or create a how-to-video, put in more questions that needs further explanation and demonstration to clarify the points. FAQ video helps the existing, future and potential customers to get the answers of those frequently asked questions. This shows your responsive nature to your viewer's needs, thereby increasing the trust and the like factor.
#Featured Video In Your Facebook Page
Video posts have the maximum organic reach of any type of Facebook post. However, your Facebook Page video should be a good representation of your business. Uploading video directly to the Facebook page enhances the reach of your video posts. A short video slideshow or a video clip can reinforce your post's content.
#15 or 6 Seconds Video To Reach Instagram Or Vine Users
15 seconds video on Instagram or 6 seconds video on Vine, it is possible to show people 'behind the scenes of your operation' demonstrating something inspiring and valuable. With Vine and Instagram, you can upload short video clips to easily reach different section of audience with video content.
#Product Review Video Blog
Video blog to review products is an effective method to gain the attention and create more loyal customers. Unboxing a product to show viewers exactly what they get when they buy products earns you a trustworthy entity. People become more confident to get associated with your products. They believe this as unbiased reviews and is a source they can trust.
#Curated Videos To Create YouTube Channel
Even if you do not create your own videos you can create a YouTube channel by curating the best YouTube videos created by others. Once you've a YouTube channel comprising of videos of top industry thought leaders, you're already having a subscriber base especially when you start posting your own videos.
#Embedded Videos to Improve Blog Post
You can increase your social engagement and enhance blog post by embedding video posts on your website. In this context, you can also embed Facebook and Twitter video post. Embedding the Facebook post allows people to view and like the video without leaving your blog post. Facebook allows you to embed Facebook videos directly into your website or blog. Similarly, when you embed a tweet with video, visitors can watch the embedded video, follow your Twitter account, reply, retweet, and favourite that tweet directly from your blog post.
What Is Most Important Behind A Successful Video Blog?
Although there are several effective steps to build a perfect video, the real success relies on the quality and relevance of its content. This means you need to create interactive and engaging content and guarantee a high standard of audio and visual effects.
Your videos can be your sales superstar. People love to watch videos that have stories to tell. As a result, effort should be made to optimize videos to garner the attention and build a larger and more motivated audience.
Subscribe to our Newsletter