back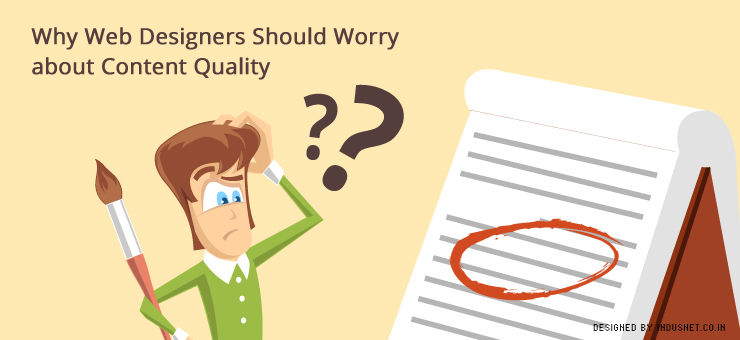 Design
Web design
Why Web Designers Should Worry about Content Quality
A number of times we come across websites that are designed really well. The logos are in place, the flash or HTML 5 usage is excellent, it loads fast and everything looks really pretty. However, there is one big fault. There are a number of grammatical errors, punctuation blunders and content quality is miserable. Even if content is good, it might not be up to the mark. Certainly, such websites will not do well in the business.
What we designers must know about content quality
Web designers know that content quality is very crucial to a website's success. Apart from knowing this importance, what else do they need to know? They should know that content quality is not simply the domain of content marketing teams but also of the designers themselves. Web designers often do not realize how important their contribution to content really is. With deep and profound knowledge about all design and technology aspects, they can really spot errors and blunders in content related to web content. If you are a web designer and are wondering why you must worry about content quality, here are some of the major reasons:
• Content might not be the king but it surely is important
There is this platitude that content is king and everyone gets annoyed when that is said. While it is an annoying banality that is uttered by everyone in order to seem educated, the truth remains that good content is very important. If content is not up to the mark, you and your websites will not be taken seriously. If you are designing a website for a client and you are not sure about who is going to write the content once you design it, you need to ask to speak to the content team. Once you know that they are good enough, you can go ahead with your designing tasks.
• Bad content drives the focus away from your design
When content is bad, people focus on the mistakes and blunders. They get busy criticizing the content more than appreciating your design skills. After all, people visit websites to read the content, most often. If the content is bad, it simply drives the attention away from your well-designed website. Thus, content is very important when it comes to making sure that you are well-respected and appreciated for your design skills. Have a word with the content team and ask them to show examples of their writing so that you know where they stand. If content writers are not knowledgeable or if their knowledge is limited, you might do well by suggesting they hire other writers.
• Factual errors can cause embarrassment
Sometimes, content can be written excellently. There will not be any grammatical errors, no punctuation blunders and the choice of words might be excellent; the writing style maybe as lucid and clear as possible. Still, it might fail. The content writers simply may not understand what technology they are writing about. If you think you know what they are writing about, ask for a subject matter expert's review. An SME might not be great at writing but he or she will certainly know how to spot actual errors; and that is a quality that we all need for our websites to succeed.
• Poor content is not taken seriously
The final argument to be made in this case is that poor content is just not taken seriously. People might not even stop to look and admire at your design skills if the content is bad. Good content stands on its own but good design unfortunately cannot stand on its own when it comes to websites. Thus, in a way, web designers are hugely dependent on good web content in order to ensure that their websites succeed. If the content is not good enough, the design will not be taken seriously and ultimately, your design business might be at risk of being ignored on account of being associated with bad content.
If you are still wondering how you could possibly ensure that your website is taken seriously, begin with reading the content samples provided by your content marketing teams. Suggest changes and provide feedback related to technical information. Once you have a working relationship with a team, you can always go ahead and begin to design your cherished website.
Subscribe to our Newsletter