back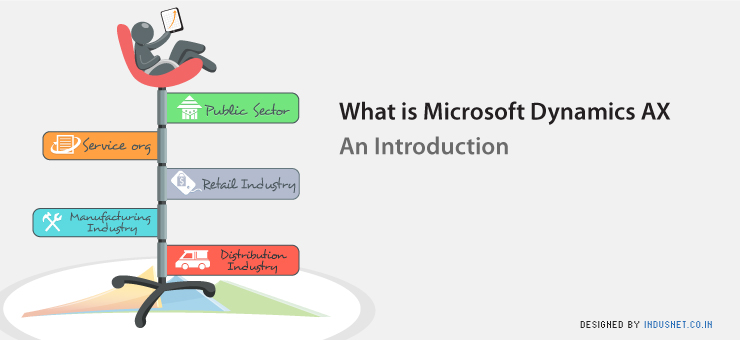 Technology
What is Microsoft Dynamics AX – An Introduction
Microsoft's enterprise resource planning software products are known for their versatility, ease of use and affordability. Its Microsoft Dynamics family is one of the top selling ERP systems in the world. Of them, Microsoft Dynamics AX is often confused with its more popular cousin, Microsoft Dynamics NAV (formerly Navision).
It was originally developed as collaboration between a company known as Damgaard and IBM. In July 2002, Microsoft acquired Navision A/S and launched a new version of Microsoft Dynamics AX 2012 in September 2011. At the moment, it is one of the most versatile software programs and is available in 25 countries and an astounding 23 languages. Let us try and understand what Microsoft Dynamics AX is all about.
What Exactly Is Microsoft Dynamics AX and Who Is It For?
Microsoft Dynamics AX is an enterprise resource planning solution that is purpose built. It serves 5 industry areas and is one of the most important ERP systems in the world today. It also comes with a core and comprehensive ERP functionality that is dedicated to human resources, operations management and financial development. It allows employees to assess, predict and brace for changes that take place in the industry so that a business can fight against the tides of time and thrive.
The single global solution is a packaged solution that works across manufacturing, distribution, retail, services and public sector. Being a purpose-built system, the Microsoft Dynamics AX helps clients meet business requirements easily without having to worry about nitty-gritty of a number of functions. It helps companies to use ERP systems that are specifically targeted at their industry area.
Manufacturing Industry
Microsoft Dynamics AX is a great ERP solution for companies and organizations that are into manufacturing. It is ready for a world that is social media driven and a market that has shortened product lifecycles. Moreover, it is also well equipped to provide the manufacturer with faster and immediate feedback and then handle customer service efficiently. The powerful but agile software program allows you to mix lean and discrete processes across a number of sites and locations. It even tells you if your company is being environmentally friendly or not!
Distribution Industry
If you are a distributor and were looking for the right enterprise resource planning system, Microsoft Dynamics AX is the answer. It connects you with people, partners and operations so that you can manage distribution across the world in a truly global way. It helps in streamlining distribution processes which are until now chaotic and unmanageable. You can find suppliers who are environmentally friendly, comply with existing regulations, trace finished products and report properly on volume and use. At the end of the day, it drives productivity in the distribution process.
Retail Industry
If you own a retail store and wanted the right ERP solution to keep your customers happy and increase productivity so that margins increase, you will benefit from using Microsoft Dynamics AX. It provides a complete shopping experience and Microsoft Dynamics AX 2012 for Retail is one of the best solutions that can be provided to a retailer. You can foster customer relationships and then drive value from your other IT investments. The best part is, Microsoft Dynamics AX 2012 for Retail helps you to conduct all this over the cloud, which means, reduced price and cost.
Service Organizations
If you are into providing services, you will certainly benefit from using Microsoft Dynamics AX for service organizations. It can be used to build, mine and transform connections into capital. Microsoft Dynamics AX helps you to market effectively and provides you with great engagement models. The annuity services and cross sales will increase and following clients into adjacent and foreign markets becomes easier. Moreover, the software helps you to streamline all your activities and maintain lasting relationships with your clients, customers, employees and partners.
The Public Sector
Microsoft Dynamics AX for public sector organizations is one of the best thought of ERP solutions directed at workplace modernization. it enables open governance, meets with compliance requirements and enables fiscal accountability for those in power. This ensures that NGOs and public organizations remain transparent and less bureaucratic.
Microsoft Dynamics AX is certainly one of the most important ERP solutions that are specifically targets at the above mentioned 5 industry areas. We have helped a number of companies and organizations to use ERP systems which have directly increased their ROA and revenue. Do contact us for further details.
Subscribe to our Newsletter