back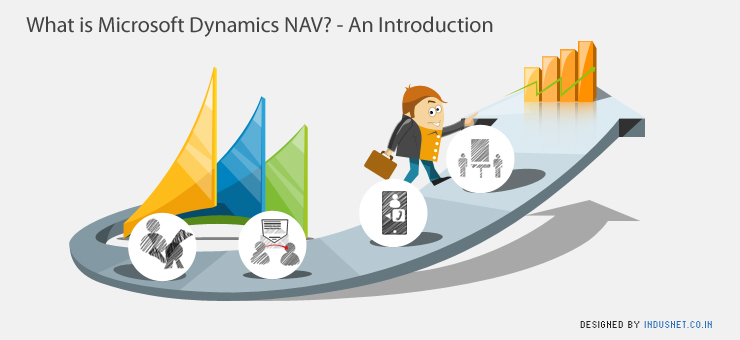 Technology
What is Microsoft Dynamics NAV? – An Introduction
When a company or organization wishes to integrate internal and external management information so that manufacturing, sales, services, customer relationship management, finance and accounting and other processes, they should begin to use a well-established enterprise resource planning (ERP) system. An ERP system makes it easy for a company to facilitate flow of information across several departments and functions and maintain boundaries and circles within and outside an organization. In this article, we shall learn more about Microsoft Dynamics NAV (formerly known as Navision), an ERP software by Microsoft.
Getting to Know Microsoft Dynamics NAV
Part of Microsoft Dynamics family, MS Dynamics NAV (Navision) helps companies to integrate their manufacturing, finance, customer relationship management, supply chains and ecommerce functions under one software. value-added resellers (VAR) can customize the software easily, as they also have access to the business logic source code. The software was purchased by Microsoft when it was known as Navision. However, the name has still stuck with many people and they continue to use the word 'Navision' in place of the lengthier Microsoft Dynamics NAV.
Microsoft Dynamics NAV 2013 Is Cloud Integrated
Microsoft Dynamics NAV 2013 was launched on the 3rd of October, 2012. It is also being touted as the first ERP solutions from the Microsoft Dynamics line that is directed at Windows Azure. This will help customers to move to the cloud the way they wish. It comes with the familiar look and feel but comes with several updates to the previous version. The cloud enabled NAV solution is just right for a world that is increasingly moving towards ditching hardware storage devices and other bulky servers. Multiple services and functions can now be accessed from wherever an Internet connection is available. This makes Microsoft Dynamics NAV 2013 one of the hottest ERP software programs in the market.
4 Reasons Why You Must Use Microsoft Dynamics NAV
When clients ask us why they should use Microsoft Dynamics NAV, we have 4 reasons to state. It helps you simplify your business with just a single software program. Secondly, it increases productivity and people who are trained to use Microsoft Dynamics NAV are many, and a significant issue related to hiring can be avoided. The intuitive user experience reduces the amount of time spent in training and learning, and increases productivity. Thirdly, it helps company to make decisions smartly. These smart business decisions are a result of simplified access to functions and processes which otherwise take a lot of time and cloud decision making processes. A range of reporting and analytical tools help business leaders to predict, choose and apply. Fourthly, Microsoft Dynamics NAV helps people to implement decisions quickly and meet business needs that are unmet. It comes with added functionalities, custom applications and online business capabilities which are tailor made for a world that is increasingly dependent on the Internet.
Microsoft Dynamics NAV 2013 Requires Very Little Professional Assistance
The best part about Microsoft Dynamics NAV 2013 is that it is simpler than the previous versions. It comes with a number of usability features that make retrieving, analyzing and implementing data easy. Thanks to transactional efficiency, you can ensure that there is a greater amount of flexibility. Users may choose to use Microsoft SharePoint or Microsoft Excel documents to access information alongside NAV.
The easy-to-use debugger ensures that simple problems and issues can be solved without any professional assistance. When a company or organization requires professional assistance related to Microsoft Dynamics NAV, there are programmers and professionals who can help companies and organizations to save time and money. It is always cheaper and cleverer to hire a professional who knows about Microsoft Dynamics NAV than trying to figure out oneself. Though it is an excellent ERP system that is intuitive and hardly requires any professional assistance, it may be useful to hire or outsource specific projects that seem too complex to handle.
Using an ERP like Microsoft Dynamics NAV can help companies to reduce costs and increase productivity as all functions are brought under a single program. Considering most enterprises are already deeply rooted in the Microsoft ecosystem, using NAV is the best idea. We have helped a number of organizations and companies to install and use Microsoft Dynamics NAV and they have achieved excellent business results.
Subscribe to our Newsletter