back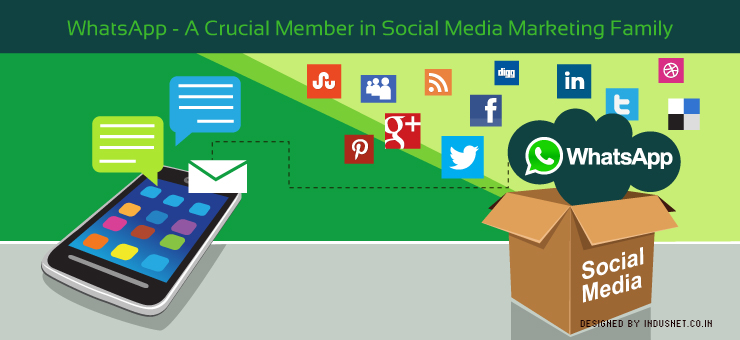 Digital Marketing
WhatsApp – A Crucial Member in Social Media Marketing Family
Our super busy life demands instant upshots. Everything that can be seen and done within a wink of an eye are highly acceptable in today's world. Consequently, marketers would need to think out of the box to showcase their brand in this competitive market. And one such instant cutting-edge method could be the comprehensive use of 'WhatsApp messaging service' – the new social media marketing member in the family.
Well! the social media family is getting bigger and as it is rightly said- 'the bigger the better'. No wonder this instant messenger was Mark Zuckerberg's first choice to encourage more conversations on Facebook. However, this little app has successfully spread its wonder all over the world. But have you ever thought of making this messaging service a direct marketing tool?
It Is The Right Time…
With 600 million users, WhatsApp is one of the most important communication tools. It is the leading mobile instant messaging application that is being checked over 100 times a day. Yes, you heard it right! This quick and easy to use app can effectively engage and enrich your customer experience. Even content marketers are finding it a powerful weapon to engage their customers. All you need to know is 'How'? Here you go…
Discovering The Profit Gained Through This Multi-purpose, User-friendly, Connectivity Application…
#Broadcasting
WhatsApp allows users to form a group and send messages at once without revealing the recipients to one another. The direct messages sent to the recipient's phone are treated no differently than those sent by friends and family. It is an instant way to reach audiences, as messages are opened and read within a few minutes, rather than hours. You can instantly feed your clients about latest announcements of your business.
Initially the recipient's capacity of Broadcasting was 50; however, it has increased to 256. Oxford mail readers can now receive the major breaking news alerts directly to their mobile phones with WhatsApp service. Oxford Mail chose this instant service because it works across all smart devices and is such a natural fit. However, they used the broadcast function to keep reader's details confidential.
#Customer Engagement
Customers simply hate to see the influx of messages in their inbox. Neither do they like the inflow of SMS in their phones. It is not just messages but plethoras of other interesting things like images, videos, audios, GPS map location, emoticons, and vouchers which can be send to the clients via Whatsapp. Unlike emails which have all kind of filters, WhatsApp messages are received directly by the person you send it to. Most recently, it has also announced WhatsApp video calling feature to streamline communication. You have the best way to delight your customers and conduct business with a greater ROI.
#Cost-effective Brand Management
Businesses especially small ventures keep minimum budget for branding and online marketing. And this where WhatsApp can be used exhaustively. It becomes an effective communication medium to stay in touch with the customer's changing preferences. Integrating WhatsApp service with your branding strategy is beneficial for brand positioning and management.
#Expanding Facebook's Advertising Reach
WhatsApp has more room to grow its user base. WhatsApp will get access to all Facebook's tools for selling advertising. It enhances the power of the current platform that delivers three important things – frequent interactions, convenience, and emotional connection.
The Growing Popularity of Instant Messages
An instant message is a form of personal interaction which can provide a benefit of learning more about customers on a closer level. With an expected 2 billion Smart phone users by 2015, WhatsApp is becoming the leader among the wave of Smartphone-based messaging apps. This evolution in online marketing is sweeping across the entire North of America, Asia and Europe highlighting its value across the masses. The platform has become bigger than Twitter's 284 million and Instagram's 300 million users till date.
Subscribe to our Newsletter