back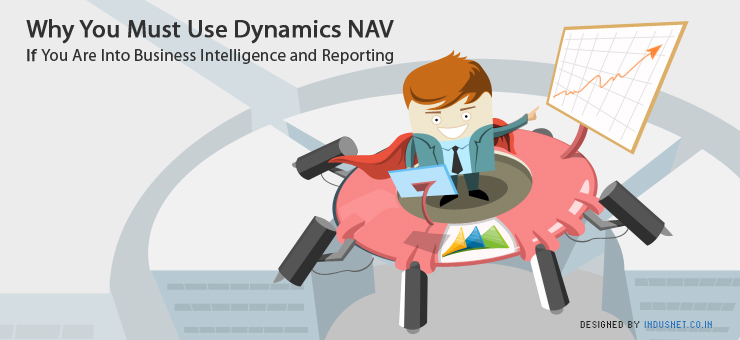 Technology
Why You Must Use Dynamics NAV If You Are Into Business Intelligence and Reporting
If you were wondering how Microsoft Dynamics NAV can help you with business intelligence and reporting, you are not alone. We receive a number of queries from organizations and clients asking us how best we can help them to achieve business-critical information in the shortest span of time and view reports that will help them to make informed decisions. Our answer usually revolves around choosing a good ERP system, one of which is Microsoft Dynamics NAV. In this article, let us take a look at how Microsoft Dynamics NAV can help you in business intelligence and reporting.
Using Microsoft Dynamics NAV for Business Intelligence and Reporting
Microsoft Dynamics NAV provides you with direct access to information that is real-time and related to your organization. With the help of real time business-critical information, you will be able to manage your budgets, create, access, retrieve and consolidate business reports and understand various trends and relationships that are affecting your organization. The best part is that Microsoft Dynamics NAV is built on an industry-standard technology which comes directly from Microsoft,. This makes the software very versatile, adaptable and universal in nature.
Microsoft Dynamics NAV is a Versatile ERP System
We must remember that Microsoft Dynamics NAV is an ERP software program and it is an excellent one at that. Being a software program that is comprehensive and umbrella-like in its nature, Microsoft Dynamics NAV helps you to consolidate processes and information within your organization. It also integrates with other Microsoft BI products and services. One of the most attractive features of the software program is that you could begin with basic modules such as Microsoft Excel and then add greater functionality as and when you require them.
How Microsoft Dynamics NAV Will Boost Your Business and Make You Efficient
Let us take a look at how Microsoft Dynamics NAV can help you with increasing business intelligence. With an increased and easier access to real time information and insight, you gain valuable insight into the revenue and profits that are a direct result of various products and services. It helps you to know which market, product or even individual is crucial in keeping your business successful. With an up to date information and powerful analysis related to employees, one can monitor their performance and it can also be used for self monitoring as well. The software program gives valuable insight into potential problems before they occur.
Microsoft Dynamics NAV Is Easy to Use, Easy to Install
Those who are familiar with platforms such as Microsoft Excel will find it easier to work with Microsoft Dynamics NAV, which integrates easily with Excel sheets. Thus, employees who have never trained before on NAV will be able to access, analyze and share real time information without going back and forth from person to person, or program to program. What sets Microsoft Dynamics NAV apart is that it provides an organization with a 360 degree view of business performance and creates graphical reports that can easily be used in conferences and meetings.
Microsoft Dynamics NAV Makes Running a Company Easy Efficient
At the end of the day, Microsoft Dynamics NAV is a great software program to access business intelligence that is crucial to help decision makers take those decisions. The program provides great graphical data such as online analytical processing (OLAP) cubes, charts, graphs and other such information which is easy to understand and present to others. Such reports help a company to make informed decisions and drive profitability.
Microsoft Dynamics NAV Reduces Costs and Increases Profitability in the Long Term
Moreover, in the long run, Microsoft Dynamics NAV has proved to be affordable in the long term, which directly increases both profitability and margins thanks to a double edged sword – increased awareness and reduced costs. This complete ERP solution is great for small, medium and large businesses and those who find it difficult to use it, or if they are in doubt should contact professionals. Our team has worked with several organizations and helped them to install ERP systems that have drastically brought down costs, time taken to generate reports and also increased overall health of companies and organizations.
Subscribe to our Newsletter