back

AI & MI
Hackathon Diaries
Technology
Hackathon Diaries #5 – Fraud Detection in Discharge Summary
It's time for the 5th edition of Hackathon Diaries. This time around, we are thrilled to present a project that is both timely and crucial – Fraud Detection in Discharge Summary. With healthcare fraud on the rise, there is a pressing need for innovative solutions that can identify and prevent fraudulent activities in the healthcare sector.
Our team of talented developers and data scientists have come together to tackle this challenge head-on and develop a system that can effectively detect fraudulent activities in discharge summaries. So, fasten your seatbelts and get ready for an exciting journey as we take you through our journey of building this game-changing solution.
Fraud Detection in Discharge Summary
Are you ready for a game-changer in the world of healthcare fraud detection? Our team of talented developers has come up with an innovative solution that will leave fraudsters shaking in their boots – the Fraud Detection in Discharge Summary project. By analysing a patient's discharge summary, our system can quickly identify any suspicious or fraudulent activity and flag it for further investigation. 
Say goodbye to financial losses due to fraudulent healthcare practices – our cutting-edge technology will help ensure that healthcare remains transparent and trustworthy for all.
The Team (Data Wizards)
Problem Statement
Calling all healthcare warriors. Are you ready to take on one of the biggest problems facing insurance companies today? Providers falsifying or exaggerating hospital discharge summaries to receive higher reimbursement rates from insurers is costing them a fortune – and compromising the integrity of medical records.
Besides financial Losses for insurance companies, the overall procedure consumes a good amount of time and also demands extensive levels of manual interventions.
Proposed Solution
The proposed solution is based on cutting-edge AI technology and is divided into two phases, each designed to accurately identify fraudulent activity and notify the relevant stakeholders.
In Phase 1, the team developed an AI model that analyses contextual data and structural patterns within discharge summaries to identify any signs of fraud. This model is designed to identify inconsistencies and irregularities that may indicate fraudulent activity, and immediately notify the necessary parties to take action.

Phase 1.1 focuses on the development phase, where the AI model will be trained to recognise and prevent fraud in handwritten discharge summaries. The implementation of AI-based content prevention techniques will be done to identify and flag any fraudulent activity.

In Phase 2 (our future scope), the solution was taken to the next level by identifying discrepancies between discharge summaries and medical billings. The AI model is further trained on historic data to identify inconsistencies between provided discharge summaries and ideal discharge summaries. This would help identify fraudulent medical billing practices and notify the relevant stakeholders, helping to prevent further financial losses due to healthcare fraud.
With this innovative solution, insurance organisations can rest assured that fraudulent activity in healthcare will be quickly and accurately identified to take appropriate actions to prevent further losses.
Tech Stack
Front-end: Django/Flask, HTML, CSS, and JS
Back-end: Core Python, OCR, OpenCV, Database
The Workflow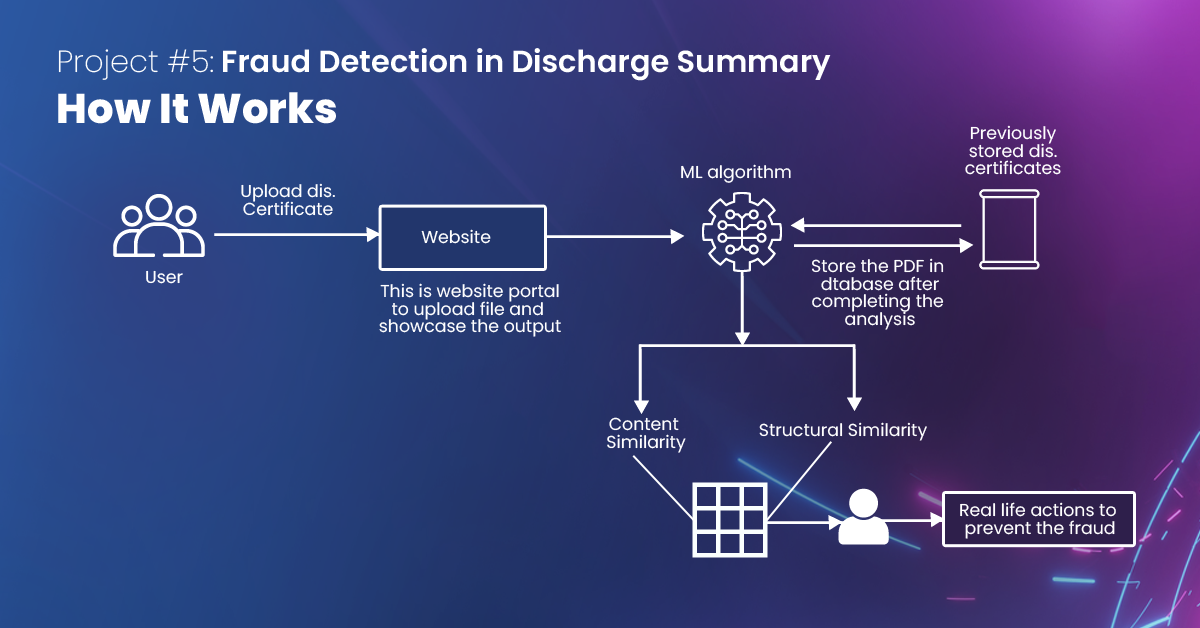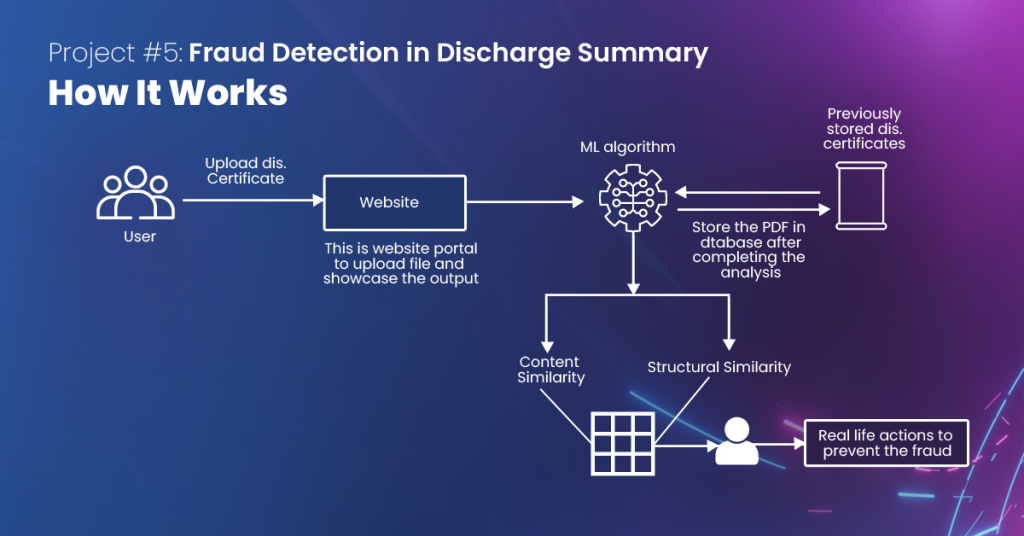 How We Stand Out
The solution is a first-of-its-kind that collects different fraud detection models under one umbrella, making it easier and more efficient. It boasts a blazing-fast processing time, taking an average of just 2.5 seconds per analysis. That means you can quickly identify and prevent fraudulent activity in real-time, without having to wait hours or days for results.
Don't settle for outdated and inefficient fraud detection methods – upgrade to our innovative solution today and take control of the fight against healthcare fraud.
Subscribe to our Newsletter