back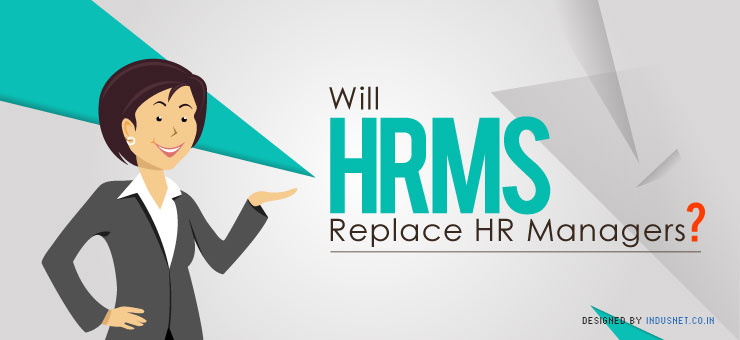 HRD
Web Development
Will HRMS Replace HR Managers?
The HR profile in a company has long been a desk job loaded with papers to recruit and pay the employees. The HR executives worked to the best of their potential but often found themselves overloaded with hoards of employee information as the company began to grow. Then came basic HR softwares to store and manage information on computers which eased their pain to a certain extent.
HRMS and HR: A changing environment
But with the introduction of HRMS (Human Resource Management System), the profile of HR management has been given a new definition. It goes far beyond just managing employee information. HRMS has a strategic importance for a growing company. It is a valuable asset that differentiates a company from its competitors. It has empowered small-scale business owners to think innovatively.
It not only helps the employers but also the customers. The role of HR managers will become even more competitive. The question is not about replacing HR managers, but rather about helping them to make informed choices with HRMS. Through its set of modules, HRMS can perform myriad tasks and revive the HR management strategy for the companies struggling with it. The article below will discuss the abilities of HRMS and how it helps HR managers perform better than ever.
How does HRMS help HR managers?
1. Recruitment Management
Recruitment is an on-going process for an organization. The task is complex as it takes a number of steps to recruit a suitable candidate. It involves creating a job profile, posting a list of openings, short listing the candidates according to the desired skills, scheduling interviews and final selection.
If an employee leaves the organization, then you need to post job vacancy and go through the entire chain of recruitment process again. Through its centralized data structure, HRMS can store list of all candidates, shortlist them as per the desired skills and helps in scheduling interviews. It posts a vacancy which is visible to all the employees to open the possibility of internal recruitment. The whole system of recruitment is automated and candidates can apply online directly to the organization.
2. Payroll Management
Deducing the salary of employees becomes a tedious task with so many factors involved. Employees have different pay structure as per their hierarchy and department. There are certain employees with a mixture of fixed and variable component, for instance, for a sales executive. The other factors involved include tax deduction, provident fund, investments, declarations, reimbursement, arrears, interest accrued on loans and so on.
There can be other factors depending upon the needs of the company. HRMS includes all these factors in the system and automatically calculates accurate amount to be paid to every employee. HR managers also have the provision to do manual adjustments wherever required. The payroll system can also generate automated pay-slips for every employee. Thus, it is a major relief for HR managers to handle payroll.
3. Leave Management
Leave management is fully automated with HRMS. Employees can apply for leave online, get approval by their superior and track the leave balance. Leave policy is often different for employees, according to their gender and job profile. Number of leaves, paid or unpaid leaves and carry forward leaves can all be viewed by employees through a self-service portal. It eliminates use of paper and reduces burden on HR managers to answer unnecessary queries of employees. Apart from that, employees can view the list of holidays in the company calendar.
4. Training Management
Regular employee training is essential for many organizations to keep their employees competitive. HR managers can create, manage and classify programs that they consider important for all employees or for certain job roles. Common programs might include leadership skills, communication skills, negotiation skills, virtual collaboration tools training, software skills and likewise.
Managers can categorize programs into compulsory and optional. HRMS also allows you to form training groups, according to the training requirements and suitability of time. Training schedule can be created and employee feedback can be taken online to improve the training programs. Training budget can be allotted to keep the actual expenses under check.
5. Appraisal Management
HR managers often find themselves struggling with appraisal management. A systematic appraisal system ensures transparency and improves employee loyalty towards the organization. Appraisal system can involve many parameters to measure the performance of the employees like objectives, KPIs (Key Performance Indicators), experience, targets achieved, skills etc. HRMS cuts down the administrative effort by introducing self-appraisal forms that can be easily filled by employees online.
It collects information from employees about their aspirations and career plan. HR managers can track the performance of every employee and decide upon the increment or promotion to be given. The holistic performance of the employees will give an idea to the managers about the progress of the organization towards its mission. They can identify and work to fill those gaps accordingly.
6. General Administration
Employee information has to be stored systematically to reduce errors and avoid redundancy. HRMS have templates that allow you to store exhaustive information about every employee like date of joining, past experience, address, contact details, family members, job profile, department, photo and a whole lot of personal information. It stores complete information about their pay package, compensation and benefits.
If an employee quits the company, you can capture all the details in the system to identify problem areas, improve the experience of existing employees and generate final settlement slip for the exiting employee. Besides that, you can set notification alerts, birthday reminders or use it for any kind of announcement. It also helps in displaying organizational or departmental structure and employees' name for reference.
7. Attendance Management
HRMS integrates the daily attendance of the employees with their salary computation matrix. There are RFID cards and biometric devices that track the entry and exit of employees in the office premises. The accurate time recorded, thereby, reflects their punctuality, shift time, half-day, overtime and so on.
For virtual employees, employee portal can be used to mark online attendance. If your organization has multiple shifts, HRMS can record the attendance of all employees working in different shifts. The automated attendance system promotes a culture of discipline and punctuality in the organization, besides bypassing the manual record maintenance.
What is the future of HRMS?
HRMS is about to bring a paradigm shift in the employee management policies of the organization. With a continuous growth in virtual employees, HRMS will be aligned to seamlessly manage them at par with their office counterparts. The future of the organization can easily be predicted by considering the analytic report generated by HRMS.
Such reports clearly help the HR managers to assess the requirement of human resources, restructure the organization, fire under-performers, carry out layoffs and make significant changes in the HR policy of the organization. Organizations will be rated on the grounds of employee-friendly environment as achieved by deploying HRMS.
Cloud computing has been widely introduced in the ERP models of the companies. Quite soon, HRMS systems will be cloud-based to allow the employees and employers to synchronize & collaborate in real-time from the device of their choice.
Cloud computing in HRMS will open new gateways in improving the efficiency and productivity of employees. For instance, it can be used to play strategic games that can help both virtual and office employees to work more effectively as a team & enhance their problem solving skills. It will also build harmony and friendship among the employees.
Final thoughts
HRMS significantly sheds the load from HR executives' shoulders and leaves them with more time to reform policies, concentrate on developing HR strategies and focus on their core job rather than wasting energy on mundane tasks. All HR related functions and administrative practices will be reformed. Employees will feel motivated, be happier and generate better work satisfaction. Information access will become fairly simple.
Security of HRMS plays a crucial role for many organizations as sensitive information of employees is at risk and subjected to attack from hackers. HRMS vendors are working hard to improve the security standards by using encrypted data. The maintenance cost of on-premise HRMS, usually, bothers small-scale organizations but the kind of value it generates is incomparable. Cloud-based HRMS will significantly reduce the cost of operation of HRMS.
The HR department in a company has always been underperforming and given the least importance strategically. With HRMS, they will be empowered to make informed choices and get the long-due respect they most ardently deserve. To say the least, HR managers are always here to stay.
Subscribe to our Newsletter