back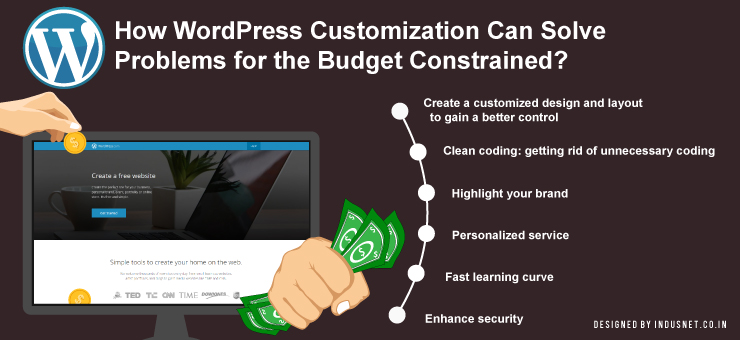 Design
Web design
How WordPress Customization Can Solve Problems for the Budget Constrained?
WordPress is the most commonly used and easy to install content management system employed by bloggers. There are many default modules and themes available in WordPress that helps in starting a website within minutes. But if you want to create a unique website, it is always recommended to customize WordPress. Customization results in a unique theme with design, features and content management tailored to your needs.
Customization gives you more control over your website and you can change every section of the website to suit your specific business needs. It is rather the best choice to revitalize your existing website, add value and increase traffic and conversion rate. Web design, development and digital marketing trends are evolving rapidly. Meeting growing demands of visitors and gaining an edge over your rivals can only be achieved through customization. Furthermore, customization ensures repeat visits and smooth operation of website.
Benefits of WordPress
Website hosting on WordPress is loaded with benefits. It gives you a variety of tools and utilities to customize your website. Pre-set design doesn't work for specific needs. WordPress is well-documented and has a huge support community. Custom theme can be designed in any manner as you are free to experiment. But you have to be careful as poorly coded themes create a problem in the long run. Moreover, customization is not a one-time task.
You require periodic customization to avoid anachronism, maintain up-to-date security, add latest features and functionalities, keep it engaging, user-friendly, and business ready. Obsolete websites are at a higher risk of attacks from hackers. Though creating a basic website is not a tough task, you need a dedicated team of WordPress developers who have thorough knowledge about design and development for a creating an advanced website.
The problem with premium and free WordPress themes
With a pre-designed theme, you can't be sure whether the code is clean or not. And then you are worried with a long list of questions. Does it support core functionalities of your business? How do you troubleshoot? What is the frequency of updates? Even if you get satisfactory answers, you will always feel restrained owing to limited customizability.
Many business owners don't mind shelling out $100 to buy a premium WordPress theme from great resources. While others look for a free theme that matches closely with their business needs. After realizing dissatisfaction with these default themes, many business owners turn to designers and experts to turnaround their themes and make them more usable. Unfortunately, this exercise goes in vain and they are stranded. The best way out to this problem is to create one-of-a-theme from scratch to be happier in the long run by realizing full potential of your website.
Most small business owners have a limited budget for website creation and they don't want to go beyond that. It is important to note that customized solutions do cost more than the default solutions but it assures that you don't have to spend more money in overhauling the website owing to a poor design. Poor design engenders loss of business and customers.
Even though you have had a budget constraint, you end up spending more in frantic alterations. There is a difference between alteration and upgrading your website. While alteration may involve massive rework on the website; upgrade means building upon existing functionalities of the website. The following article will enlighten you about the importance of a customized WordPress solution.
Importance of WordPress Customization
Create a customized design and layout to gain a better control
A template does help you to create a website, but it is not something what makes you unique. Many businesses use a template and fail to differ from their competitors. Spending a little money to create a custom design will go a long way for your business. Visitors remember you as you are able to offer them a unique experience. With customized design, you can choose various aspects of design to meet the needs of your target audience besides reflecting your personality into the website. As a good marketer, you must look up to create a unique browsing experience for your customers.
A website owner can control every element of the page through customization. You can choose how images are displayed and have the ability to change font size and color. You can also have a custom-coding in sidebars. Having a control on slider lets you adjust height, width, text, images, speed and links from images. Blog excerpts displays, footer displays and contact form options are just the way you want it to be.
The website layout is completely under your control as you can design home page layout, page to page layout and blog page layout. You can't enjoy a similar freedom with templates. Customization is really helpful and is a mark of conscientiousness.
Clean coding: getting rid of unnecessary coding
Clean and lean code is necessary to improve the interaction of your website with search engine algorithms. And it is critical to have your website working on all browsers and mobile platforms. Clean coding done by an experienced developer is a must to skirt errors and operational problems on your website. Even the templates don't guarantee a clean coding; in fact coding is often overlooked while choosing a template. Moreover, many templates have a poor coding that interacts negatively with certain plug-ins. With clean coding, all your worries about plug-ins are put to rest and developers can do without one.
As businesses go online, website design forms the foundation for the brand. Whether its brand logo, brand identity, corporate identity, brand personality, color design or visual style; a customized design can incorporate everything. All these brand elements are there on the screen forever as long as the visitor stays on your website. A customized theme is branded with your brand name and not any theme designer's name. As a business owner, it is your responsibility to put forth and promote your brand in every design element of the website and you can do so only through customization.
You get personalized service and support from theme developers when you purchase a customized solution. A long sustaining relationship with your developer is important so that they understand your vision and long-term business goals. A good developer will communicate effectively and address all your concerns meticulously. On the other hand, opting for a free theme does not assure any support from developers and you have to fend for yourself.
With WordPress CMS, you can get hands-on experience with your website, especially with non-technical elements. You can learn to edit content, post new pages, add photos and images easily. Every time you wish to change or add something, you don't have to contact the developer.
A secured website is pivotal for gaining customers' trust and to ensure repeat visits on your website. If a website is hacked and customers come to know about it, it takes a long time to win their trust. Many website owners have expressed disappointment with WordPress owing to security breaches. Security breaches happen when due care is not taken while designing. A good developer ensures that codes are well-written and hacker proof. Moreover, WordPress is a leading CMS and offers all it can to prevent security breaches. On the other hand, a randomly picked theme will create a security problem for your website down the line.
WordPress Customization: Money spent is money earned
It is true that you have to pay a certain upfront cost for a customized WordPress website. But the results you get are phenomenal for your business. A business represented online should be memorable for visitors; else there is no point of representing it. A strong website can only be built through a customized solution.
Many startup companies feel the pinch while spending money on website development. They often go for a free theme to get started while many others have a limited budget. Even with a budget constraint, you can create a great website for your business. You only pick and choose those functionalities which are absolutely necessary for you at a given point of time. Gradually, when you start realizing the benefits of customization through positive customer feedback and high traffic, you can extend the features and functionalities. Customization pays in the long run and you get what you have been wanting.
Subscribe to our Newsletter