back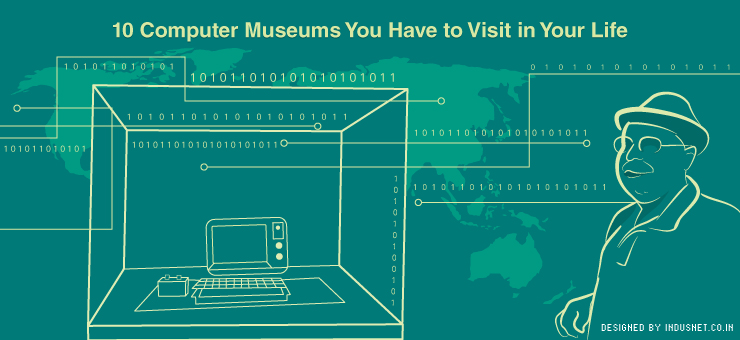 HRD
Inside Indus Net
10 Computer Museums You Have to Visit in Your Life
It is quite probable that your career depends on a computer or some aspect of this wonderful machine and technology. Computer science has evolved so much that Charles Babbage wouldn't be able to recognize or even understand computers and computer science as they are today. The computer itself has evolved over the last century and through the current one.
Its history may be short in terms of numericals but it is a very significant one, to say the least. Not surprisingly, there are a number of museums in the world that are dedicated to computers and allied technologies. These museums are great destinations for anyone who has the time and interest to travel.
If you are on a business trip to one of the cities that we have listed below, you could certainly make some time to visit these wonderful museums that are dedicated to computers. In this article, we have listed ten museums that are dedicated to computers. From the Computer History Museum in Mountain View, California, to the computer museum in Haifa, Israel, we have got them all covered.
Computer History Museum, Mountain View, California, U.S.
The Computer History Museum started in 1968 as a quest to collect all historical artifacts related to computers. It not only has a great collection of artifacts of the information age but also presents the stories in a unique way.
Photoshop 1.0.1 source code, a Difference Engine designed by Charles Babbage and a historic PDP-1 minicomputer are some of the exhibits at the museum. If you love computers as much as we do, you will surely love the time you spend here. When you are in sunny California, this is one place that you should not miss at any cost.
Musée Bolo, Lausanne, Switzerland
The School of Computer And Communication Sciences is already one of the most important centers of computer science in the world. Part of the École Polytechnique Fédérale de Lausanne (EPFL) in Lausanne, the Musée Bolo is one of its kind and has different exhibits related to video game consoles, microcomputers and different computers from different countries.
It exhibits more than 50 computers and is a great place to spend an hour or two, after walking in the charming streets of Lausanne. Switzerland is one of the most beautiful countries but it is also one of the most scientific in the world. Its museums curate some of the most important technological artifacts in the world.
The Centre for Computing History, Cambridge, England
If Cambridge weren't already charming enough, The Centre for Computing History adds to the intrigue and mystery of the university town. The museum contains a number of historic computers and vintage gadgets that are almost education in nature. Some of the computers that you can find at this museum are Apple II series, Altair 8800 and the Sinclair ZX Spectrum.
The museum is open from Wednesdays to Sundays and is a great way to learn the history of computers. It also houses a number of magazines, computer manuals and other publications that are related to computers. If you are in Cambridge to attend a conference, you can certainly make some time for this wonderful museum.
The National Museum of Computing, Buckinghamshire, England
This is a museum that has dedicated itself to the act of collecting and restoring historic computers. It opened in 2007 and is located at the Bletchley Park in Buckinghamshire. The building houses a Colossus computer and several examples of antique computers. The museum does not receive public funding and is maintained with the help of private sponsors and supporters.
You will need to pay a small admission fee in order to support the upkeep of the museum. After you visit the museum, you could totter around the quaint streets of Buckinghamshire and discover the quintessential English way of living.
Personal Computer Museum, Brantford, Ontario, Canada
Brantford in Ontario is a quite little town but it also houses the very important Personal Computer Museum. This museum houses computers from almost all the important manufacturers. Whether you want to learn about the Atari or Commodore computers or take a look at the initial Radio Shack machines, you will find them all here.
You will also find machines by Mattel, Timex, IBM and Apple. Another interesting detail is that the museum is located in a former city building which was built from the reclaimed bricks of Brantford Opera House. Make sure that you arrive here on a clear Summer day, as Ontario can get pretty chilly during the winters.
Charles Babbage Institute, Minneapolis, Minnesota
The University of Minnesota is a great institution of learning and researching about computers. Without a doubt, it also houses one of the most important computer museums in the world. The Charles Babbage institute is a research center that is dedicated to the preservation of digital history.
It has artifacts and documents related to programming, software, computer networking and others. It holds several important archives related to computers in electronic and paper form. Montana has some amazing hiking trails as well. Once you are done with the museum, grab your trekking shoes and discover nature in its true form.
The Israeli Personal Computer Museum, Haifa, Israel
Israel is one of the most important IT hubs in the world. In fact, many people insist that it has more important companies in the Tel Aviv area than the entire Silicon Valley of California does. That may not be untrue and there is only one way to find out. You must go ahead and visit Israel! When you are there, make sure that you visit The Israeli Personal Computer Museum in Haifa, a northern city. The museum was established by Yariv Inbar, who started to collect old computers in 1993.
The museum is free of charge and you can view a number of artifacts which describe the evolution of computers. Israel is a very ancient country and is the cradle of human civilization. When you are in this magical land, do not forget to visit amazing cities such as Tel Aviv, Beersheba, Jerusalem and Netanya.
Australian Computer Museum Society, Sydney, Australia
The Australian Computer Museum Society contains a number of documents, software, hardware and operating systems. It is a charitable institution that is registered with the government of Australia. It was established in 1994 and houses a number of unique machines that were built and designed by Australians. When you are in Sydney, make sure that you visit this interesting museum.
We do not often hear about computer museums in Sydney but this one is certainly something that you should check out. When you are in Sydney, do not forget to get some sun at Bondi beach. That is as important as visiting this museum.
Microsoft Visitor Center, Redmond, Washington, U.S.
Microsoft was once synonymous with computers. Personal computers became popular because of Microsoft and even today, Microsoft-run computers are probably more popular than any other kind of computers. The Microsoft Visitor Center exhibits the culture and history of the company. You can take a look at the very first personal computer and the various machines it has released for both home and business use.
If you are in Redmond for a meeting, this is a museum that you should not miss. Redmond has always been associated with Microsoft. In fact, if you are traveling to Redmond, you are probably going there for something related to Microsoft. Just make sure that you drop in at the museum as well.
American Computer Museum, Bozeman, Montana, U.S.
The American Computer Museum was founded in 1990 as a non-profit organization. Located in the picturesque town of Bozeman, Montana, this museum is dedicated to showing the viewers the history of computers in the world.
The collection includes Signed microcomputing artifacts, Altair, IMSAI, Commodore PET, SOL, Apple II, III, Lisa, Mac, KIM, SYM and other microcomputers; mechanical, electrical, and electronic toys; an Apollo Guidance Computer, and many other artifacts. This is a huge museum that no computer fan should miss out on visiting.
These museums can be great destinations themselves. If you ever visit any place near the cities where these museums are located, do visit them without fail. Have you ever visited any computer museum that inspired you? If we have missed out on any museum that you think should be here on this list, do let us know in the comments section below.
Subscribe to our Newsletter