back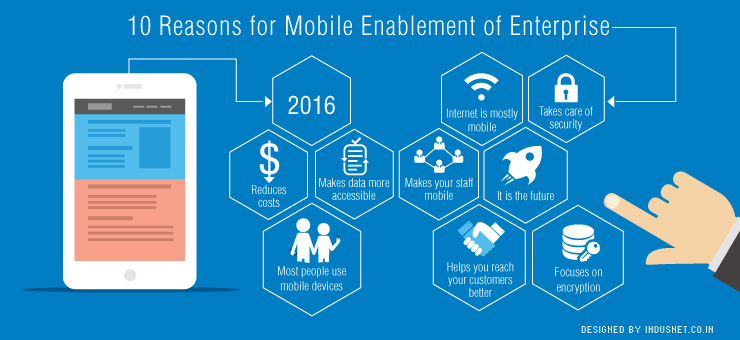 Mobile
Technology
10 Reasons for Mobile Enablement of Enterprise
Enterprise mobility is an idea that started out as a suggestion but is not something that even the smallest of companies agree that they can't do without. More and more companies are lunging forward to include app strategies and mobile websites in their IT policies. This is certainly helping them in almost all respects.
By ensuring that mobility is given the respect it deserves, companies are able to reach target audiences which were once invisible. This is especially true in emerging economies such as India and China, where most people access the Internet using mobile devices. Not only this, enabling mobile enterprise helps you to kick start next generation ERP and HRMS modules, all of which help you to become a leaner and better organization.
With this reality in background, it makes sense for you to understand why you must go ahead and engage in mobile enablement of enterprise, if you still have not done it. In this article, let us take a look at 10 reasons why you must enable enterprise mobility now.
1. It is 2016
It goes without saying that we are hurtling towards 2016 and beyond. It just makes practical sense to enable mobile enterprise, which includes coming up with a strategy to develop apps, design responsive websites and also using cloud services on your mobile devices. As we move farther into the 21st century, we will realize that it is going to be a truly mobile world.
2. Reduces costs
Enterprise mobility is done with a purpose. IT not only increases efficiency but also reduces cost. You will not have to spend money on legacy systems and software programs, all of which also need additional expenses with respect to storage. Enabling mobile enterprise helps you to save costs and even make some profits in the long term. Cost reduction is certainly one of the most important goals of all companies today.
3. Makes data more accessible
Data is usually saved and stored in cloud servers. When it comes to mobile applications, all the data generated will be stored in secure servers, which helps to ensure that you have a steady access to whatever you have saved, whenever and wherever you choose to access it. The days of lugging around a storage device are long gone. Making data should be a priority for a number of reasons such as ease of access, reduction of time and increased efficiency.
4. Makes your staff mobile
Technologies such as field force management and options such as BYOD (Bring Your Own Device) make staff more mobile. They will find themselves freer and more at liberty to concentrate on important tasks. This invaluable freedom translates to enterprise profits in the long term. Certainly, who would want to lose these benefits in days like these? Staffs that are mobile will always be able to reach your target goals easily.
5. Helps you reach your customers better
Mobility is one of the best ways to reach your target audience. No matter where they are, you can always reach them on their cellphones and storage devices. This helps you to gain their loyalty and also send notifications when required. At the end of the day, this translates to more leads and converts and better sales. Enterprise mobility will certainly help you to target a larger audience. Customer acquisition is an important part of enterprise mobility.
6. Most people use mobile devices
It is becoming increasingly clear that people have begun to use mobile devices more than desktops and laptops. This is because mobile operating systems are vastly superior to what they used to be back in those days. Moreover, mobile devices are more democratic, making computing more accessible to everyone. This means, more people use mobile devices than legacy systems like they used to just a couple of years ago. With Android and iOS taking over the world, you simply can't afford to be left behind.
7. Internet access is mostly mobile
Most traffic that websites receive today originates from mobile devices. This means, most people are accessing your websites on mobile devices. To add to this, people prefer using apps and that means, you need to start investing more in enterprise mobility. This is a trend that is likely to become a pattern in the next couple of years. This habit will likely continue in the years to come.
8. Takes care of security
All data is stored on cloud-based servers. Your data and information remain safe and security is taken care of. Moreover, whenever you wish, you can choose options such as remote wipe, which will delete all data on certain or all devices if you choose to do so. Certainly, this is something that will interest most enterprise clients. Security must always be one of the most important priorities for every company.
9. Focuses on encryption
Mobility is all about data security, privacy and encryption. Encryption is one of the main reasons why people and companies are choosing to use mobile devices and applications. World class encryption technologies ensure that no information is lost or deleted or accessed by people who do not have permission to do so. This bit of technology is what is making a number of companies to go mobile. Encryption may sound complex, but it is also very important in today's world.
10. It is the future
Last but not the least, mobility is the future. You simply have to do what everyone else is doing, even if you have your own hesitations. By choosing to enable mobile enterprise, you will reduce costs, increase efficiency, automate manual tasks and also gain new leads and customers. After all, this cannot be too bad for your company, could it be? Brace yourself for future and go mobile!
Conclusion
We have already witnessed a paradigm shift with respect to enterprise mobility. You can choose not to be part of this revolution at your own risk. While you may feel it is something that does not concern you, it is becoming increasingly clear that no one can escape the onslaught of mobility in the near future. The sooner you plunge into this, the better.
Subscribe to our Newsletter