back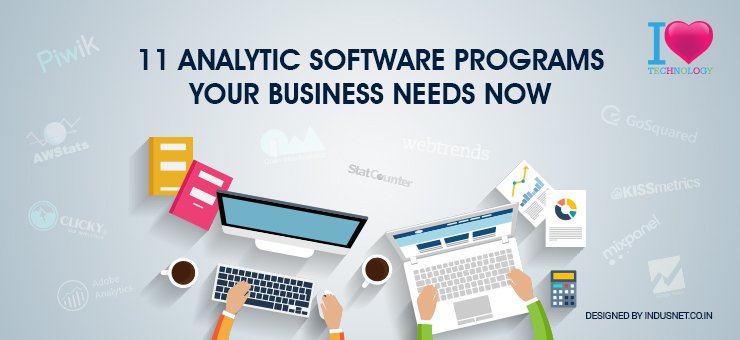 Strategy
11 Analytic Software Programs Your Business Needs Now
Imagine a business trying to differentiate its website through specific keywords or step up its appeal to specific demographic characteristics.  The whole exercise of website improvement and reform is futile if it is not backed by analytics. It is like chasing a wild goose that leads you nowhere.
There are a number of analytical software and tools available today that support you to accomplish your goals. The following article is a compilation of some of the most useful analytical software.
Google Analytics
Google Analytics is the most commonly used analytical tool. It is comprehensive and good for websites of all sizes.  It can be used to track events like button clicks and video plays. It allows you to generate multi-channel funnel reports.
With Google Analytics, you can set up goals and track them. Specific actions of visitors can be tracked like what prompted conversion.  It further allows you to set user permissions and customize dashboards.  Keyword optimization is another significant feature of Google Analytics.
However, setting up event tracking feature is bit complicated. Though there are number of support videos to understand Google Analytics, an amateur may still find it overwhelming.
[php snippet=1]
Adobe Analytics
Adobe Analytics is one of the best analytical solutions.  It works across multiple platforms (web and mobile).  Adobe Dynamic Tag Management helps you to update and manage tags through online console.  Its APIs smoothly amalgamate with different online experiences.
This solution is quite flexible. Data can be easily extracted from the tool and seamlessly merged with other data sources.  It also provides conversion variable level control quite similar to Google Custom Dimensions.
There are some limitations though, unlike Google, this tool integrates well only with Adobe products. Too much flexibility often works against it because lack of user experience leads to wrong configuration.
KISSmetrics
This powerful and robust tool allows you to fulfill all your analytics needs. Unlike Google Analytics, its user-friendly interface makes it easier for analysts to understand individual user purchase behavior across the web.  It can track and store all user interactions with your business.  Funnel analysis in KISSmetrics allows you to build ad hoc queries and get specific information through reports.
KISSmetrics lacks in automated events so it necessitates creation of many events that need to be tracked. Though event creation can be done through their interface, many events require additional Javascript interference.
Mixpanel
Mixpanel software is known for its ability to send push app notifications. It is quite dear to mobile application developers because of its ability to track user activity across application, track bugs and user needs. It frequently rolls out new features to make analysis even easier.
Setting up complex queries is a lot easier and faster than Google Analytics. It provides easy-to-use API to export data and run database queries.  Mixpanel is an excellent tool overall though tracking differences between two funnels can be a bit complicated.
Webtrends
Webtrends has a strong support team and is renowned for its customer service. PPC management is quite easy with its ability to integrate with Marin Software. It is a rugged platform to understand correlation for various metrics and KPIs.  It is equipped with advanced functionality with a strong focus on usability.
Webtrends Stream helps you to follow real-time traffic activities and campaign performance. What's more, its powerful graphical interface helps to save a lot of time.  Despite all that, too many options make Webtrends not a very easy-to-use tool.
Piwik
This easy to configure and easy to install analytical tool offers intuitive user-interface and is able to delve into environments unsuitable for Google Analytics.  It has the ability to closely analyze traffic by tracking IP address.
Piwik can add multiple users and vary their permissions. It works effectively with cloud services like Amazon Web Services.  Another big advantage offered by Piwik is that data is stored on your own servers.
As compared to Google Analytics, it lacks some features and also lacks integration with Google Adwords.
GoSquared
GoSquared guides you in the simplest manner during set up.  Its real-time tracking ability is far more superior to Google Analytics. Individual campaigns can be easily monitored enabling you to react quickly.
Its Person tracking feature allows you to ascertain acquisition source of user and track their journey across multiple sessions and multiple platforms.  The company has a strong feedback system that keeps it in line with the clients' demands.
StatCounter
StatCounter is a fantastic analytical tool for day-to-day monitoring of websites. It has a number of tit-bit features absent in Google Analytics.  Its Paid Traffic report is quite useful to filter fake clicks.
It provides more keyword information as compared to other tools. Apart from keyword analysis, it provides information on entry/ exit pages, search engine statistics, referral information, engagement and other details about your visitor. Visitor Paths feature allows you to track user navigation pattern on your web pages.
StatCounter lacks a real-time dashboard like Google Analytics. However, a free tool like this is worth your time.
Clicky
Clicky allows you to dig deep into user data and provide valuable insights. It is an effective tool to create campaigns and measure website effectiveness. You can monitor Twitter mentions right from your dashboard.
Clicky is intuitive and has an uncluttered user-interface. It allows you to track visitor actions, bounce rate, top content, top search terms and traffic sources.
Open Web Analytics
The user interface of Open Web Analytics is quite similar to Google Analytics.  Some of its common features include real-time tracking and conversion tracking. It excels in funnel analytics, and other special features like mouse-tracking and heatmaps.
Being a completely free tool, Open Web Analytics has a lot to offer and can be implemented across multiple sites and accounts.
AWStats
AWStats is a useful tool that records accurate data usage and keeps a track of bandwidth utilization. It gives you real-time information with narrow breakdown of time and website activity.  AWStats can further track operating systems and browser types of users.
However, this tool falters when it comes to identifying difference between bots and actual users.
Looking forward
Over the years, website analytics has fascinated everyone from business website owner to informal blog owners. The power of analytics allows one to measure, analyze and report traffic on their website.  It enables you to understand visitors' behavior to optimize website. If you wish to succeed in this dynamic digital world, you will have to use analytics software to process reams of data, including big data to create better business.
Subscribe to our Newsletter